American Standard VorMax Plus Self-Cleaning Toilet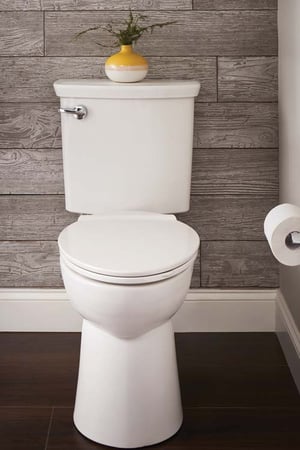 The VorMax Plus toilet from American Standard is a high-efficiency unit that cleans and freshens the bowl each time the toilet is flushed, reducing the elbow grease needed for one of the least-favorite household chores while also saving water. But the product's single-jet water release also solves the biggest issue with high-efficiency toilets: bowl cleaning and bulk removal performance during a flush.
VorMax Plus has earned WaterSense certification from the U.S. Environmental Protection Agency (EPA) for providing high performance while using 20 percent less water than traditional 1.6 gallons per flush (gpf) toilets. It has achieved the highest bulk removal score on the Maximum Performance (MaP) test, an independent report of toilet performance, successfully flushing 1,000 grams (2.2 pounds) using 1.28 gpf. The toilet's flush alone has been independently verified to clean the bowl two times better than conventional toilets.
An even greater benefit is the toilet's ability to infuse pleasant-scented VorMax Plus FreshInfuser cleaner—conveniently hidden in an easy-to-access compartment in the seat—into each flush to help prevent hard water buildup and stains, keeping the bowl clean and fresh. All of these features combine to make the first flush the only one needed to get the job done.