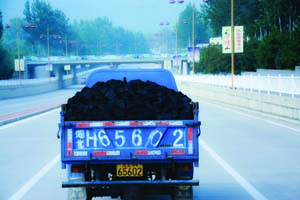 CHINA'S AIR POLLUTION problem has grown to mythic proportions. Nowadays, almost all Chinese cities of any size are shrouded in a thick, gray haze for days, or even weeks, at a time. Driven by a growing fleet of automobiles and a seemingly insatiable appetite for coal-fired power, air contamination has been climbing for decades. But until recently, most Chinese seemed willing to accept the situation as a worthwhile sacrifice to maintain the country's torrential economic growth.
That may be changing. If so, the turning point may have been in January of last year, when pollution in Beijing, the capital, reached levels 40 times the World Health Organization's recommended limit, and visibility plunged to a few hundred feet. Internet commenters quickly dubbed the phenomenon "Airpocalypse."
Environmentalists have been sounding the alarm about China's growing pollution problem for years, their concern fueled by a steady drumbeat of studies that have found mounting costs associated with pollution. One study found that residents of Northern China, where air pollution is the worst, have a life expectancy five years shorter than their southern counterparts. Another found that 350,000 to 400,000 people die prematurely each year in China due to the effects of air pollution. And innumerable studies have documented the contribution of China's emissions to global climate change.
"Airpocalypse," however, seems to have crystallized the issue in a way that studies and data have been unable to do. At last, the country's leadership appears to be taking air pollution seriously. In March of this year, Prime Minister Li Keqiang gave a speech in which he expressed their new resolve by declaring a "war on pollution." A few weeks later, China's national legislature adopted sweeping changes to the country's Environmental Protection law, giving authorities and some civil society organizations stronger powers to crack down on polluters.
Then, in early August, state-run media announced that the import of "high-ash and high-sulfur coal" would be discontinued as early as September of this year, and coal would be completely prohibited in Beijing by 2020. It was also announced that Beijing had cut coal use by 7 percent in the first half of the year, and that the country's solar power target for 2014 alone had been increased to 13,000 megawatts, more than all the solar in the U.S. China appears to be upholding its reputation for swift, decisive action.
The task, however, remains daunting. When Mr. Li announced the war on pollution, it was one of nine "Major Tasks for 2014." But this is a long-term challenge. China Daily, an official English-language newspaper, acknowledged as much in July when it published an article entitled: "Beijing Expects Healthy Air by 2030." It went on to explain that it would likely take at least 15 years—possibly much longer—to bring pollution down to safe levels in the capital. It remains far from clear whether China will succeed, in Beijing or across the country. For the moment, however, we can at least celebrate that the issue is finally on the front burner, where it belongs.
---