Aiming for Net Zero with Flex House
The Flex House's net-zero-energy readiness includes an efficient and airtight envelope, lowered demand and a responsive renewable power system.
With its tough building standards, California is a good incubator for The Flex House, which will be built in a local factory, then transported to sites within and outside the state. The Flex House is designed to function as a net-zero-energy (NZE) home, says Jeff Cretcher, who recently joined Shelter Dynamics as the company's new CEO. There are a number of efforts underway to help the structure reach that status, starting with the home's thermal envelope.
"[That envelope] is designed to be airtight and features a combination of insulation techniques," Cretcher says. "[That includes] closed-cell, low-[Global Warming Potential] spray foam insulation throughout."
The Flex House Envelope
The Flex House is built on a steel girder system that gives it the required stiffness during transport. All exterior walls contain three inches of Accella's BaySeal closed-cell spray foam insulation; ceilings contain five inches. BaySeal uses a next-generation blowing agent with a very low Global Warming Potential (GWP) of 1, which represents a 99 percent reduction over conventional blowing agents.
DuPont Tyvek HomeWrap serves as the weather-resistant barrier, and DuPont flashing products, including FlexWrap NF, are used around windows and openings. Tyvek HomeWrap functions as an air barrier and provides bulk water resistance, yet it is also vapor permeable, allowing any moisture that does enter the wall to escape. FlexWrap is a self-adhered flashing tape that is flexible enough to wrap into and around corners and custom-shaped openings to create an air- and water-tight seal.
BayBlock HT, a fluid-applied elastomeric roof coating from Accella, serves as the finished roof. This system is ideal for the curved roofs that distinguish both modules of The Flex House. BayBlock serves as waterproofing and effectively seals the joints between the two modules and around the solar panel mounts. The 100 percent acrylic coating reflects harmful UV rays, and the light color enables the roof to function as a cool roof, mitigating the heat island effect and preventing solar heat gain.
Though the prototype utilizes conventional framing techniques and does not include continuous exterior insulation, subsequent iterations of the house will, says Cretcher.
Lowering Demand
The next component on the path to NZE is reduced demand. At 760 square feet, the small-footprint Flex House requires less energy than a standard house to begin with. Reduced demand is also achieved through high-efficiency Sylvania LED lighting from LEDVANCE and a suite of Energy Star-certified appliances, efficient HVAC system and water heating, all supplied by Bosch.
The sleek 24-inch European appliances and Greentherm condensing tankless water heater are ideal for small house design. The Climate 5000 ductless mini-split supplies separate zones, so that heating and cooling are only delivered when and where they are needed. Sensi, a smart Wi-Fi-enabled thermostat from Emerson, controls the HVAC system, and can be managed with a smartphone or via voice commands, thanks to Amazon Alexa.
The Flex House is demonstrating Amazon Echo Plus, a speaker and smart hub that uses Alexa to give the homeowner control over various home systems and devices, including lighting, HVAC and entertainment. Over time, Alexa learns the user's speech patterns and preferences, which enables more-precise and customized responses.
A Complete Renewable Energy Solution
The Flex House uses renewable energy system to bring the house to net zero in grid-tied situations. This holistic and integrated renewable energy solution incorporates solar energy, battery storage and clean transportation in the form of a plug-in hybrid electric vehicle that can be charged at home. Here's a look at each component: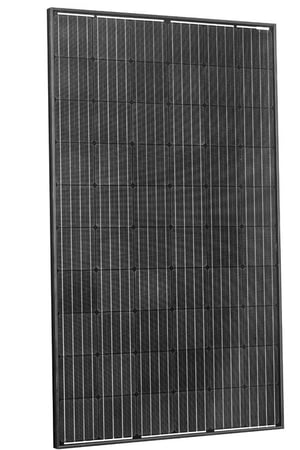 Efficient PV Modules The Flex House roof supports a 3.36-kW array with Eagle 60 310 W mono-PERC modules from JinkoSolar. These modules have a maximum power (Wp) of up to 310 with an impressive 18.33 percent efficiency. The high efficiency is made possible by passivated emitter rear contact technology, which introduces a layer to the back of each solar cell that reflects back any light that didn't generate electrons on its first pass through the cell. PERC cells can also better capture light at longer wavelengths than conventional solar cells, improving the modules' performance under cloudy or low-light conditions. The all-black Eagle 60 modules have a striking aesthetic and complement many roof types.
JinkoSolar is a global leader in the solar industry. The company is continually working to develop ever more efficient and versatile products, including mono-PERC modules that incorporate half-cut cells, which allow more cell surface area compared to a traditional module. This technology is expected to boost power output an additional 10 watts or more and to have fewer power losses through improved temperature coefficients. The company is also offering an integrated "plug-and-play" AC module that comes with an Enphase microinverter mounted on the module's backsheet, making for quick and easy installation.
Eco Intelligent Battery System
EIBS, an all-in-one residential solar plus storage solution from Tabuchi Electric, includes a hybrid inverter, storage batteries, automatic transfer switch and energy management. The DC-coupled battery allows for efficient charging from the solar array. The hybrid inverter seamlessly manage three power sources—the grid, solar array and storage battery. This flexibility allows the optimal use of electricity produced by the solar array.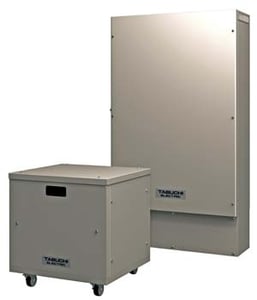 For example, during times when grid-supplied electricity is inexpensive, the system may choose to send power generated by the solar array to the storage batteries. This allows it to be used in the evening when demand and rates are higher. The battery can also be used for backup power in case of grid outages. Users can access real-time data about power consumption, generation and battery storage via the remote or online application.
Tabuchi Electric developed the system in response to growing interest in solar energy following the 2011 tsunami and subsequent meltdown at the Fukushima facility in Japan. As more solar arrays came online, utilities became worried that a significant spike in solar electricity generation would destabilize the grid by creating large swings in demand between day and night.
"This system merges stability for the utilities with customer demand," says Masa Someha, director of business development at Tabuchi Electric of America. The two-battery EIBS is also a proven system for net zero. According to the company, the advantages of this system are its simplicity and reduced number of components.
Though Tabuchi may be a new name in solar in this country, the company has a 90-year history and is the world's fifth-largest manufacturer of inverters. Tabuchi has installed at least 1 million inverters and at least 20,000 of the newer hybrid inverters worldwide.
Plug-in Hybrid EV
Building on the success of Prius, which since its launch in 2000 has consistently remained the most popular hybrid vehicle in the U.S., Toyota released the Toyota Prius Prime in 2016. This hybrid electric vehicle has a larger 8.8-kWh battery pack and uses a series parallel hybrid system, which can drive the wheels using electric motors and/or its gas engine. When the battery is fully charged, Prius Prime can run on the electric motors only, and it has an "EV mode" range of 25 miles. Once the battery drains down, it operates like a Prius, relying on the gas engine and the batteries. Drivers with shorter commutes can potentially rely on all-electric driving most of the time. Its EPA-estimated total driving range is 640 miles.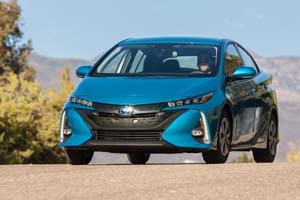 Other features that separate the Prius Prime from a growing pack of electric vehicles include its styling, safety and comfort features. The aerodynamic form is made possible without sacrificing headroom by lowering the engine, electric motor and seats. A heat pump provides climate control when the gasoline engine isn't running, down to temperatures as cold as 14 degrees F. Toyota also provides a suite of apps to manage charging and climate control, and to find services such as charging stations.
The Prius Prime can be charged using a standard wall outlet, but much faster charging is available using a 240-volt Level 2 EVSE, or Electrical Vehicle Supply Equipment, commonly referred to as a charging station.
Toyota is committed to offering a full suite of alternative-fuels vehicles, including full-sized fully electric vehicles and hydrogen fuel cell vehicles. In 2016, the company launched the Toyota Environmental Challenge 2050, a set of six challenges that address global environmental issues. Goals include eliminating greenhouse gas emissions from its vehicles, operations and supply chains.
Safe and Convenient EV Charging
The Power Max 2 charger from Bosch provides charging for the Toyota Prius Prime. Power Max is available in 30-Amp or 40-Amp options, for EVs that can accept the higher current.
California's Title 24 requires that single-family homes have the conduit installed, and that the panel has spaces for the over current protective devices—and the ampacity for a 40 amp circuit for a future EV chargers. Other jurisdictions will follow the Golden State's lead, predicts Jeff Hudnut, EV product manager for Bosch Automotive Service Solutions. With that in mind, Power Max 2 was designed for simple installation, and it can be hard-wired or plugged in to a NEMA 6-50P receptacle. With its compact and attractive design, this charger is a good fit for smaller spaces such as The Flex House. It also comes with an 18-foot or 25-foot charging cord and, with its NEMA Type 3R enclosure, it can be installed inside or outside.
One of the most appealing things about the Power Max 2 is its safety features. The plug includes a thermal sensor; in the rare case of heat build-up, it will stop charging and allow the unit to cool off.
Power Max 2 can be used to charge any EV that meets SAE J1772, the standard connector used by most electric vehicles in North America. The Power Max 2 Plus also includes Wi-Fi connectivity. http://bit.ly/2Afl3q4
---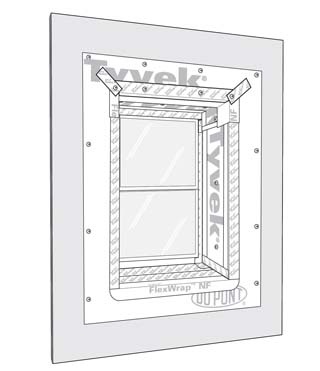 Beyond the Product
DuPont offers resources that help builders incorporate WRBs and flashing products as part of an effective system.
DuPont Tyvek HomeWrap has been around for nearly 40 years—long enough for it to become the go-to house wrap for many a builder. But while the product itself—a durable, vapor permeable fabric made with fine, high-density polyethylene fibers—hasn't changed much over the decades, construction methods have. As the drive for ever-more-efficient buildings ramps up, contractors and designers must ensure they are meeting their efficiency goals without compromising the durability of the building envelope. Air tightness is a particular concern as builders prepare to face increasing standards.
"Increased market demand for improved energy efficiency, coupled with more-stringent building codes and energy requirements, is forcing many builders to change the way they build," says Laura Dwyer, global manager at the DuPont Building Knowledge Center. "You can have a great product and great installation best practices, but if they're not carried out in the field, you're not going to get the optimal performance."
Recognizing these challenges, DuPont has ramped up its efforts to support and educate builders. The DuPont Building Knowledge Center is a hub through which builders can access a range of resources, including installation guidelines CEUs, case studies and white papers on specific topics. For example, DuPont recently produced a series of flashing guidelines for recessed windows—one set for recesses that are less than 4 inches deep; a second for recesses that are greater than 4 inches deep—to follow before or after the house wrap is installed.
"Guidelines like this reflect our systems approach," says Dwyer. "On a practical level, we want builders, contractors, architects and designers to understand how all DuPont Weatherization Systems products work together to help protect the structures they design and build today and into the future."
DuPont Tyvek Specialists Network: http://bit.ly/2siYcoW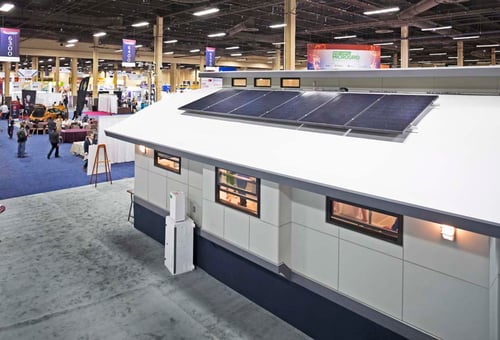 Net Zero Ready?
If trends are any indication, net-zero-energy (NZE) homes will soon be everywhere. To Zero and Beyond, an inventory of NZE residential projects in the U.S. and Canada, shows that the number of NZE units grew by 33 percent in 2016, compared to the baseline inventory conducted in 2015. "A lot of people think net zero is pie in the sky. But it's happening now," says Dan Varvais, West Coast regional manager for Accella, which provided spray foam insulation and the roof coating for The Flex House. "Often, it's a matter of commitment."
He points to a recent commercial project, a 1970s concrete building owned by LinkedIn, which was retrofitted to improve daylighting and energy efficiency. Accella provided spray foam insulation and a new acrylic roof for the retrofit, which also included new skylights and the addition of a 245-kW solar PV array. The company is seeking Net Zero Energy certification for the building in Sunnyvale, Calif.
California is leading the charge for NZE buildings. This is not surprising, given the State's mandate that by 2020, all new residential construction must be net zero. (All commercial buildings must meet the standard by 2030.) Ann Edminster, net-zero and green building consultant, believes a combination of policy and grassroots activity creates "hotbeds" of NZE construction. But when comparing the 2016 map of NZE buildings to the previous year's, it's clear that the movement is starting to expand.
When contemplating NZE, the first thing many builders want to know is how much extra it's going to cost. But Edminster says that's the wrong question.
"The right question is, what do I need to do differently to achieve this?" she says. Builders should also apply design thinking rather than taking an "applique approach" to net-zero buildings, she adds. "Builders who begin with NZE integrated as one of the project goals distinguish themselves in the market and will have an advantage once stricter energy codes come online," she notes.
Either way, the NZE wave is coming. "You can either pretend it's not happening and pretend that you don't have to evolve," Edminster says, "or you can say, 'I believe this thing is coming' and actually design to make it happen." Read the latest NZE buildings report.