At least once a generation, urbanites give living on or next to a farm—now dubbed an "Agrihood"—a shot. And then we forget.
In this generation and the last, Agrihood has primarily meant luxury living in a rural setting, but such neighborhoods can and should include affordable housing. Farms may also solve some problems faced by the 100+ golf course communities faced annually with course closures.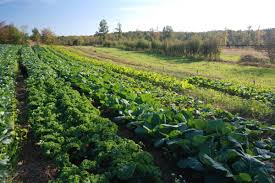 The farm is integral to life and community at Serenbe near Atlanta
Farms Essential
Historically, North American settlement brought European-style farms to feed the immigrants who birthed our founding fathers. Hand in hand with farms came various iterations of utopian communities. Each time we developed one, when it matured we forgot the community's antecedents. Right: Serenbe's Farm is organic and next door.
Our agrarian economy shifted following World War II. By the 1950s about 36 percent of the populace still farmed. Even in decline, we romanced the farm, as the popularity of TV's Lassie confirmed. However, Agribusiness changed farms. Machines replaced many people. Today, according to the Population Reference Bureau, only one percent of the U.S. population live on farms. However, according to the Census Bureau 59 million people, 21 percent of U.S. population live in rural areas, which I guess means that many are looking at farms, something CBS newscaster Mark Strassmann discussed when he interviewed Steve Nygren, Serenbe's developer) November 22.

Rise of the Agrihood
The 1960s brought the commune movement. By the '80s, some pioneering developers were incorporating orchards into their communities. The 90s brought Prairie Crossing in Grayslake, IL, commuting distance from Chicago. There were many other sustainable, new urbanist communities throughout the United States. In the 1990s, these conservation communities were duking it out with popular golf course communities. The 2000s have brought a new name—the Agrihood. The 1,000-acre Serenbe outside Atlanta with its 25-acre organic farm is a prime example.
Strassmann, on CBS Sunday Morning, also spoke to Ed McMahon, Senior Resident Fellow Charles E. Fraser Chair for Sustainable Development and Environmental Policy at the Urban Land Institute (ULI), Washington, D.C. McMahon said, he used to be able to count the number of developments like Serenbe on both hands. "Today," McMahon says, "there are literally hundreds of them, and I hear about a new one virtually every week." McMahon expects to see many more such developments and so do I -- many I think, will be golf course rehabs.
Golf Courses Hit the Rough
In 2013, 160 of the 18-hole equivalent golf courses closed, the eighth straight year of net closures, according to the National Golf Foundation (NFS). For 2014, fewer course closed, but the trend continued. The 2014 data still does show 14,437 courses.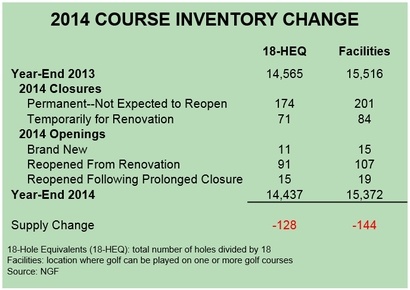 Above: Chart shows golf course numbers, closings, renovations, etc.
Between 1992 and 2002, at least 60 percent of new golf courses were linked to residential development, Richard J. Moss, writes in his book, The Kingdom of Golf in America.
ULI's McMahon says a farm is a relatively low cost amenity. When private community golf courses close, many residents are unhappy. Afterall, those along the perimeter of the golf course paid a premium for the vistas and the status.
In Tucson, for example, a now historic and expensive neighborhood grew up around the winter resort, the El Conquistador Hotel. In 1960, the area around the mid town Tucson hotel became the city's first shopping mall -- the El Con. Homes that formerly had desert views now looked at parking lots. Owners walled themselves off from the mall. After a value decline, homes became desirably historic.
Right: The El Conquistador community ameneties that are now part of Oro Valley public parks.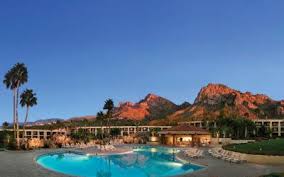 In 1982, another iteration also called El Conquistador sold homes as part of a luxury golf course community anchored by a Hilton Hotel and a country club in Oro Valley (within 10 miles of Tucson). In May 2015, after much wrangling and controversy the Town of Oro Valley turned the private facility into the town's public community and recreation center via an increase in its sales tax. Oro Valley acquired 324 acres, a 31,475 square-foot building, a restaurant, 31 tennis courts, 45 holes of golf and two swimming pools for $1 million paid. Gone was the exclusivity and much of the status, though at least those with homes on the edge of the golf course may still have views.
Developments wanting out of their expensive to maintain golf courses are certainly not uncommon. In many climates, a farm might be the menu to conservation rejuvenation as an Agrihood. The rub is that Agrihood status brings luxury development. Where's the affordable housing, for which there is so much need? At Serenbe, for example, the typical home sells in the $700,000 range.
McMahon says, "Putting a farm in the middle of development is relatively low-cost, and it's something that seems to resonate with lots of people. So I think we're gonna see a lot more of these kinds of projects going forward."
Because of the sculpting used to create golf courses and the chemicals often used to maintain them, golf courses might be more expensive than flat land to transform into an Agrihood, but a farm or a forestry program might solve existing developments' problems.
CBS interviewed the farm manager who clearly loved her job and the people to whom she provided food. Unanswered was where she lives and how far she has to commute to work.
Other examples of Agrihoods include
Prairie Crossing, shown, originally conceived in the 1990s as a way to restore Illinois' historic prairies, the community includes a 100-acre farm and condos.
The Cannery, Davis, Calif., near Sacramento features a 7.5-acre farm and a slogan, "Life Tastes Better Here." It's no surprise Davis might be trying something new in urbanism, an Agrihood -- The Cannery claims to be the state's first one. Davis is also home to Village Homes, a sustainable community built in the 1960s. The Davis Agrihood will be 500 or so dwellings on 100 acres that once housed a tomato-processing plant. And, like the other Agrihoods, close proximity to food comes at a cost of at least $400,000 for condos and $700,000 for single family homes. The community Website does say there will be rentals and affordable homes.
Willowsford takes it all a step further with 300 acres set aside for not only fruits and vegetables but also chickens and goats. At least 10 companies are building homes that range from $600,000 to more than a million dollars, in Loudon County, West of Dulles Airport in Virginia.
Serenbe near Atlanta.
Links:
Urban Land Institute (ULI) Ed McMahon.
Fore Sale, a 2012 article on the sad state of golf course living Wall Street Journal.
A December 2014 article in the Economist calls golf handicapped.
Kingdom of Golf in America, Richard J. Moss, University of Nebraska Press.
Oro Valley Buys El Conquistador Country Club and Golf Course, Arizona Independent
Statistics National Golf Foundation (NGF).
Watch the CBS Sunday Morning segment about Agrihood Serenbe.
The YouTube below is ULI's dase study of Willowsford