Throughout much of Africa, the Post-colonial era has often been shaped by bleak circumstances: poverty, famine, disease and political instability. Such attributes continue to define the continent in the minds of many Westerners. But Africa is changing. It's hard to generalize about more than 50 distinct countries, but it's fair to say that across much of the continent, Africans today are making great strides to build a better future. Economic growth is averaging about 5 percent across the continent, and seven of the world's ten fastest-growing economies are in Africa. Rural populations are urbanizing and the middle class is growing. As a result, the demand for electricity is rising fast.
Africa has enormous unmet demand for power. The entire continent, with over a billion inhabitants, has just 133 gigawatts (GW) of installed generation capacity. For comparison, France, with just 66 million people, has nearly as much—about 124 GW of capacity. According to the United Nations, 600 million Africans lack access to electricity entirely, and many more have unreliable service. Such widespread energy poverty is one of the biggest inhibitors of economic growth.
All this means that in the coming decades, African countries must invest billions in new power. This presents a tantalizing prospect for supporters of renewable energy: that Africa could go renewable in a big way. There is no guarantee Africa will choose this path over more traditional sources of power, but there are some good reasons for hope.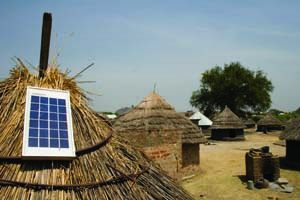 First, with abundant sunshine, wind and geothermal resources, Africa is ideally situated to derive a significant portion of its power from renewables. Second, steadily falling costs are making renewables more attractive with each passing year. A recent study by the consulting firm Frost & Sullivan estimates that solar will hit cost parity with coal in South Africa by 2018, and by 2020 will cost just half as much. Finally, growing awareness of the environmental hazards associated with extracting and burning fossil fuels is also driving renewables demand. In 2013, mounting concerns about climate change prompted the World Bank, the U.S. government and numerous European countries to announce plans to stop financing coal-fired power plants overseas. As environmental concerns continue to grow and spread, so will the pressure to find alternative sources of energy. There are signs people are beginning to recognize the opportunity in Africa. Between 2004 and 2011, investment in renewable energy there grew from $750 million to $3.6 billion. Looking ahead, the United Nations forecasts annual investment could reach $57 billion by 2020.
Africa is on the cusp of a potential renewable energy boom. But to realize its potential, it will need effective policy, technological expertise and continued investment. That will require education and action. African leaders first need to understand that renewables represent a real alternative to fossil fuels—energy that can power their future. Then they need to put in place a solid framework for renewable energy growth. If that happens, we may be able to celebrate an Africa that is not only developing, but developing sustainably.