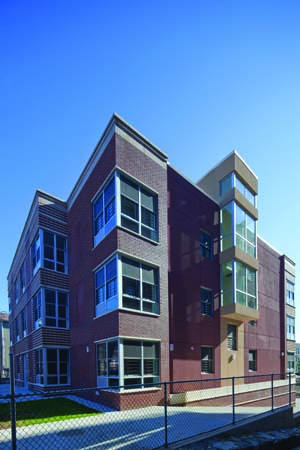 AT WAKEFIELD APARTMENTS, the rooms are bright, the windows large.Natural light brings out the warm tones of the hardwood floors.
"This project is often described as affordable housing that doesn't look affordable," says Ian Pinto, associate AIA and vice president of Design AIDD, a New York firm that specializes in affordable and moderate-rate multi-family housing.
Wakefield Apartments on East 231st Street is a new three-story building, comprised of fifteen one- or two-bedroom units with rec rooms, a parking garage, common bicycle room and landscaped yards. It's the first multi-family building in the borough to utilize ICF construction, and raises the standard for affordable housing in the area.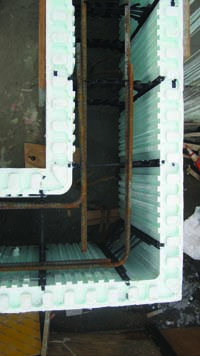 In ICF construction, two panels of interlocking rigid foam insulation served as permanent forms for the concrete. The system created a superior building envelope, compared to concrete block construction, and also enabled cantilevers. Designing the building with offset façades allows every living room and many of the bedrooms to accommodate true corner windows on two faces. These windows bring in ample daylight and promote cross ventilation; low, wide sills also function as window seats.
Orienting the building on the east-west axis helps maximize winter solar gain. The ICF walls provide thermal mass, and along with the recessed windows, help minimize solar gain in the summer. This energy-efficient construction meant smaller boilers could be specced.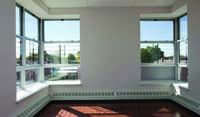 "We were also able to cut down on mechanical systems by 30 percent," says Pinto. Locating the boiler on the roof, rather than in the basement, reduced penetrations through the building. The roof was also designed to accommodate a future solar array.
The project came in ahead of time and under budget. Developer Lemle & Wolff chose to invest the savings on upgraded finish materials, including hardwood floors and solid-wood cabinets, porcelain-tile countertops and a marble floor in the building's lobby. The open kitchens feature all Energy Star appliances. The building, which was completed in 2012, is expected to save 20 percent in energy costs.
Apartment Rehab Corp. acted as general contractor for the project, with Antonucci & Associates as engineer. Wakefield Apartments qualified for funding under New York Energy Research and Development Authority's (NYSERDA) Multi-Family Performance Program, and has garnered accolades. ICF Builder Magazine recognized Design AIDD with its "Best in Class" Multi-family Award, and the American Planning Association Sustainable Communities Division recently honored Lemle & Wolff with their Sustainable Building Project Award.
The two firms have teamed up on other projects, including a rehab of two multi-family buildings on Arden Street in Washington Heights.