Affordable Net Zero Housing—Everybody Wins
The McKnight Lane project is the first in the nation to feature net-zero affordable housing for lower-income families.
BEING LOW INCOME does not mean having to live below safety standards—especially when you're talking about living through the frigid winters of Waltham, Vermont.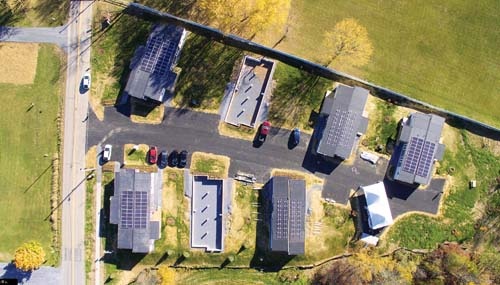 Residents of McKnight Lane Affordable Housing Development receive free electricity, thanks to each home's solar array and battery storage system.
That's why a team consisting of a smart-home builder, an architect, an energy storage system maker, Vermont's electric utility, and local nonprofit and government agencies decided to play it "smart" and create the nation's first net-zero affordable rental home community for low-income tenants.
At a modest $3.7 million, the McKnight Lane Affordable Housing Development also rid the community of a longtime eyesore: a defunct mobile home park that had turned into a brownfield following an oil spill.
In that way, the project was as good to the environment as it should be to the residents of the 14 new solar energy-efficient mobile homes, according to Cindy Reid, director of development at Cathedral Square, one of McKnight Lane's developers. "This project's benefits are multiple and long lasting," she says. "Fourteen new affordable homes help to address the area's need for affordable housing, the site is clean and no longer a brownfield, and the homes are net-zero energy and have resiliency."
The modular homes, designed by Shelburne, Vt.-based Pill-Maharam Architects and built by Wilder, Vt.-based VERMOD, each have a roof-mounted, 6-kWh AC solar array and Sonnen sonnenBatterie smart energy storage battery system for backup power. This is a crucial item during the winter, when storms can turn the lights off for hours, according to Clean Energy Group (CEG) Project Director Todd Olinsky-Paul. CEG, based in Montpelier, Vt., is one of McKnight Lane's project coordinators.
During a power outage, the system automatically disconnects the home from local utility Green Mountain Power's grid and switches to the solar backup batteries. These can power the home's essential elements—such as appliances, ventilation, and the heating and cooling systems—for about six hours at night and continuously during the day, as the solar panel replenish the batteries.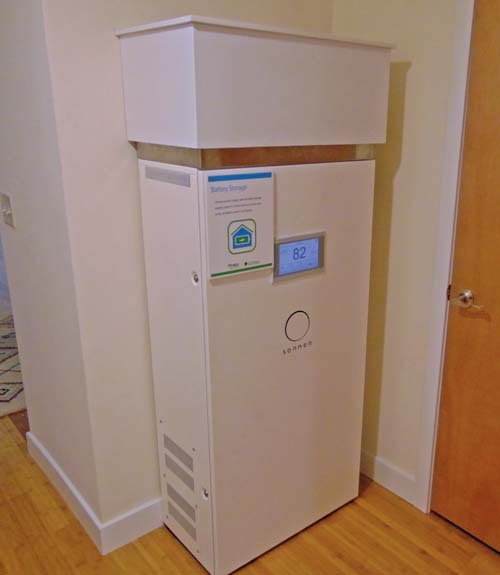 Each modular home's solar array charges up a sonnenBatterie smart energy storage system, in case the local grid goes down.
"This nice thing is the homes are all-electric, so all of their appliances can still function when regular power is down," Olinsky-Paul says. "Of course, if they get carried away, the battery won't last as long as it could. But if people are conservative, they'll do alright."
Once grid power has been restored, the system's automatic transfer switch reconnects the home to the utility grid in about five minutes.
Combined, the energy efficiency, solar PV and battery storage systems bring economic and energy security benefits to tenants, developers note.
Meanwhile, Green Mountain Power can manage peak energy demand and reduce cost for all customers.
Solar PV-battery storage systems—a.k.a. solar + storage—are relatively new, and offered by companies such as Sonnen and Tesla (www.tesla.com/energy). But most customers tend to be from wealthier households. The systems haven't made their way to lower-income families, who in many cases need the product even more, according to CEG President Lew Milford.
"There's a lot more attention paid to housing for people with low to moderate income in cities," Olinsky-Paul says. "For those in the rural areas, it's a lot tougher. It's important that people who are underserved—who typically don't get new technologies until they trickle down through the wealthier classes—get those benefits now."
Extra Perks
In addition to the solar array and battery, each home has numerous energy-saving amenities that make the solar + solar system even more efficient. These include triple-pane windows, Energy Star appliances, extra insulation and cold-climate heat pumps, according to Chris Faulk, Cathedral Square's director of media communications.
Good Bones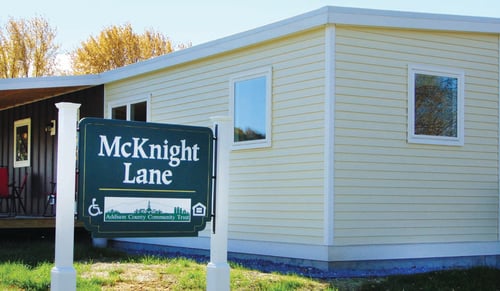 Resilient Features
McKnight Lane is the first resilient zero-energy modular housing development for a rural, low-income community.
Each of the 14 modular homes has a 6-kWh/4-kW AC smart solar energy storage system.
Smart energy storage systems will work in conjunction with a 6-kW rooftop solar PV system to provide resilient power to tenants.
Each energy storage systems is able to automatically disconnect from the grid and enable power from the solar panels to provide resilient, reliable and clean electricity to tenants during a grid outage.
Electricity cost savings to McKnight Lane homes are expected to be 100 percent, making them net zero.
Even the home's construction upon a solid foundation acts as an insulator, preventing energy from leaking out through the floor, Faulk adds.
Simplified use by tenants is a key element. Each home's solar + storage system is automated—residents don't have to handle a thing—and Green Mountain Power, Sonnen and project co-developer Addison County Community Trust (AACT) monitor all functions. The system automatically shuts down if any serious system errors occur.
More important, from the tenant's point of view, is the lower utility bill. The energy savings will mean a smaller portion of the family budget will go toward keeping the lights on, according to ACCT Executive Director Elise Shanbacker.
"Nearly half of Addison County renters are burdened by their housing costs, paying more than a third of their incomes in rent and utilities," Shanbacker says. "Not only is McKnight Lane affordable to low-income Vermonters, the net-zero homes (and their) resilient energy storage systems ensure residents won't have to choose between purchasing groceries or paying their fuel bill to stay warm this winter."
The Sonnen batteries are "prepared to weather storms and outages for years to come," Shanbacker adds.
Sonnen CEO Christoph Ostermann says the company's goal is to provide everyone with clean, affordable and reliable energy. "Projects like the McKnight Lane development enable us to bring new technologies like solar + storage to lower-income communities, providing cost savings and peace of mind for these homeowners," he says. "It (stimulates) the local utility grid and contributes to greater clean energy equity."
In addition to providing McKnight Lane residents with resilient power, the McKnight Lane project will demonstrate how solar energy storage systems can improve the grid's safety, reliability and performance while delivering cost savings to its customers, Sonnen notes.
CEG and the Clean Energy States Alliance (CESA) (www.cesa.org) will work with Sonnen and Green Mountain Power to collect performance data on the energy storage systems and provide system optimization analysis. Once the data is in, CEG and CESA will work with stakeholders to implement similar projects in Vermont and throughout the Northeast. VERMOD andEfficiency Vermont, one of the project's stakeholders, have already identified at least two other such locales.
"We'd like to be able to use this as a replicable model," Olinsky-Paul says. "There are lots of places in the rural Northeast that are just falling to pieces. It's not a quick process, but something like this can go a long way toward helping a lot of people."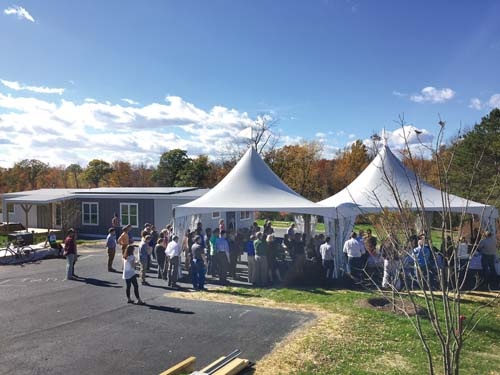 McKnight Lane's grand opening in Waltham, Vt., drew dozens of clean energy enthusiasts and project-related groups.
Group Effort
The McKnight Lane Housing Development resulted from collaboration by numerous organizations, including:
Project developers Addison County Community Trust and Cathedral Square, architect Pill-Maharam Architects, general contractor Champlain Construction, and builder VERMOD Homes.
Project funding contributors Vermont Housing Finance Agency, Vermont Housing and Conservation Board, Vermont Community Development Program, HOME Investment Partnership, People's United Bank, VLITE, Clean Energy Development Fund, Vermont Community Loan Fund, Vermont Department of Environmental Conservation, Agency of Commerce and Community Development.
Additional funding by the City of Vergennes, National Association of Realtors, Efficiency Vermont, the Town of Waltham and the City of Vergennes.
Solar battery storage system funding by Green Mountain Power, Sonnen, Efficiency Vermont, High Meadows Fund, the Vermont Community Foundation Sustainable Future Fund through Clean Energy Group, and the Clean Energy States Alliance.
Inspiration by former ACCT Executive Director Terry McKnight, who died in November 2014. The project was named after him in honor of his desire to transform the old mobile park into something modern that residents would be proud to call home.