Across-the-Board Environmental Commitment
This Eco-Leaders winner believes that net zero begins with bold environmental goals as well as teaching the public about the merits of going green.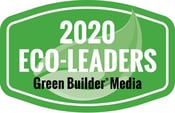 Embracing a net zero imperative future beyond efficient products, LG Electronics USA is taking its environmental commitment to the next level, setting its sights on achieving carbon neutrality by 2030. It plans to do so through a variety of strategic initiatives such as:
Highly energy efficient buildings.
Renewable energy.
Fleet electrification.
Carbon offset projects that encourage the development and adoption of a low-carbon lifestyle.
The company hopes to meet the goal through a variety of strategic net zero carbon emissions goals for its global operations.
LG Electronics USA has already achieved its ambitious goal to reduce greenhouse gas emissions in the United States by 50 percent by the end of 2020, compared to a 2008 baseline. The company accomplished this goal a year ahead of schedule with the help of energy efficiency upgrades and energy conservation, and by utilizing more than 80 percent renewable energy across its operations.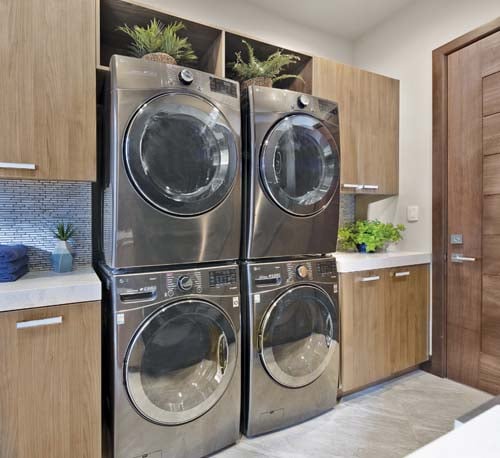 Smart technology-driven appliances, such as LG's TurboWash and TurboSteam washers and dryers, help keep energy efficiency at the forefront of consumers' minds. Courtesy of LG Electronics
To achieve the reduction, the company invested in energy efficiency projects using LG's own highly efficient technologies, such as HVAC and energy management systems, across its U.S. facilities—including its 1 million-square-foot distribution center in Fort Worth, Texas.
Employee-led campaigns in energy conservation had a direct impact on energy consumption in offices and distribution facilities. LG incorporated renewable energy through green energy contracts for power and renewable energy credits from recognizable sources across six facilities in four states.
In 2019, LG opened its first carbon neutral building, the Experience and Design Center in Napa, Calif. This is the company's brand immersion hub for builder and design trade communities.
LG has achieved LEED certification for its new North American headquarters campus. Opening during 2020 in Englewood Cliffs, N.J., the facility incorporates energy efficient technologies and generates clean solar electricity onsite to help reduce carbon emissions.
The new building is 100 percent powered by renewable energy, "further underscoring LG's commitment to greener living," the company notes. In addition, the onsite "LG Exploratorium" science and environmental learning center will educate school-aged children about environmentally friendly technologies and products.
Corporate LG has lofty goals also. According to the company's 2019-2020 Sustainability Report, they include:
Increasing the ratio of Green 3 Star-certified products up to 80 percent by 2030 as part of internal eco-friendly product assessment
Achieving a 95 percent waste recycling rate at production sites by 2030.
Ensuring sustainable growth in the areas of renewable energy and electric vehicles that "reflects future-oriented, eco-friendly and human values."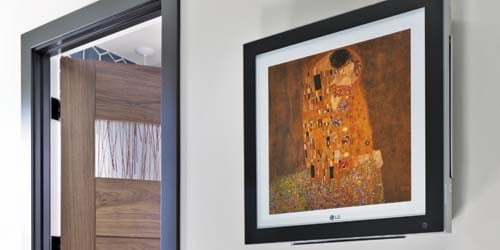 LG offers super-efficient HVAC systems and controls that complement any home's unique design characteristics. This includes the aesthetically pleasing LG Art Cool Gallery and Mirror. Courtesy of LG Electronics
Carbon reduction remains on the docket. To achieve carbon neutrality by 2030, LG Electronics continues to invest in reduction technologies to minimize carbon emissions, as well as proactively engaging in external carbon reduction activities such as securing carbon credit units.
LG Electronics CEO and President Brian Kwon says success comes down to universal appeal. "LGE has been committed to creating economic, social, and environmental value for over half a century," he notes. "Going forward, we remain fully committed to providing better value to our stakeholders, customers, the environment, business partners, local communities, and employees. [All it will take is] continued support and interest in our journey toward sustainable development founded on growth, change, and innovation."
---
Alan Naditz is the managing editor of Green Builder magazine. He has covered numerous industries in his extensive career, including residential and commercial construction, small and corporate business, real estate and sustainability.