Achieving Zero
Ed Mazria, esteemed architect and founder of Architecture 2030, has been a leading zero hero for over a decade, calling for zero emissions in the built environment by 2050. His seminal work has helped create a shift in the way we think about the world around us, impacting policy and programs across the globe. Mazria will be presenting his goals and vision at our upcoming Sustainability Symposium 2020 on January 20, 2020 in Las Vegas.
According to the U.S. Green Building Council, the building sector accounts for nearly 40% of CO2 emissions each year—more than any other industry. Commercial and residential buildings use more than 70% of total electricity use in the U.S.
Given those numbers, it's no wonder that the United Nations, scientific community, and most global leaders afform that we must reach zero emissions in our built environment by as early as 2040 if we are to avoid massive ecosystem collapse.
As stated by U.N. General Assembly President María Fernanda Espinosa Garcés of Ecuador, "We are the last generation that can prevent irreparable damage to our planet."
Fortunately, companies, countries, and individuals throughout the world are feverishly working to solve for the challenges presented by climate change. Ed Mazria, prominent architect and climate advocate, is playing a pivotal role in transforming the global built environment through Architecture 2030, founded in 2002 to develop strategies and tools for reducing carbon emissions and embodied carbon from homes and buildings.
Mazria is feeling optimistic. "The built environment in the United States is down 4.3% in energy consumption from 2005, and emissions are down 21.4% in the sector globally," he says. "But there is more work to do to get to the goal of net-zero carbon energy use by 2040 and 50% less embodied carbon by 2030."
He is emphatic that codes are an essential part of the emissions reduction equation, so he is working tirelessly to implement the ZERO code, a net-zero energy stretch code that would achieve zero carbon operations for all new buildings immediately and 65% reduction for major retrofits by 2030; 40% reduction in embodied carbon for new structures and 65% in major renovations by 2030; and zero carbon emissions for the entire built environment by 2040.
The ZERO code was adopted by the state of Oregon, and it is currently under consideration in California for adoption in the next code cycle.

"Widespread adoption of the ZERO Code will accelerate emissions reductions, ensuring that new buildings do not contribute any operational carbon emissions," avows Mazria. "Additionally, just phasing out coal generated electricity and replacing it with renewables over the next 10 years would reduce sector emissions an additional 45.5%."
Mazria also has his sights set on reducing the embodied carbon of infrastructure, buildings, and materials, which he believes until recently have been largely neglected.
"Just two materials—concrete and steel—are responsible for roughly 50% of all global industrial CO2 emissions, or about 20% of total global emissions," claims Mazria.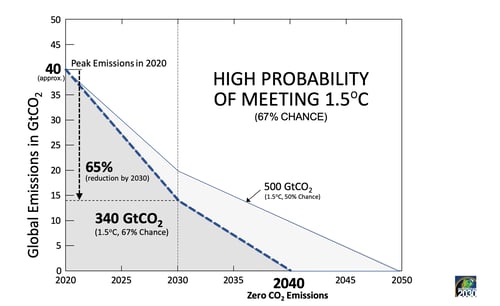 "It's showtime," Mazria continues, "and we have to galvanize the global community before it's too late. Timing is everything. Our stated goals might seem massive, but humans have implemented this type of paradigm shift before with primitive tools. Today, we're working at warp speed with innovative technology that will expedite transformation, so I'm confident we can get to net zero by 2040."
Mazria's calm optimism is infectious—after listening to him present his organized and logical plan, it's hard not to believe in his vision.
Fortunately, you'll have the opportunity to decide for yourself—Mazria will be delivering a keynote address at Green Builder Media's fourth annual Sustainability Symposium 2020: Improving the Human Condition, scheduled for January 20, 2020 on the UNLV campus in Las Vegas, focusing on the nexus between sustainability, social equality, and financial abundance.
We invite you to join us for a day of inspiration, education, and networking, as Ed Mazria and other internationally esteemed experts impart their wisdom.
And, don't miss the celebration of our annual Home of the Year and Sustainability Awards winners at a special gala dinner on January 19, 2020 on the Zappos Campus.
Click here to register for the Sustainability Symposium 2020: Improving the Human Condition and Sustainability Awards gala. Space is strictly limited and by reservation only, so reserve your seat today! Register for the Symposium before November 22, 2019 using the code EarlyBird and you'll receive a $50 discount.
A sincere thank you to our generous sponsors, Ingersoll Rand, Mitsubishi Electric Trane, and Zappos, for helping to make the Symposium and gala dinner possible.
To learn more about the Sustainability Symposium 2020: Improving the Human Condition, visit the event microsite.
Have questions about our annual awards program or Sustainability Symposium? Write to me at sara.gutterman@greenbuildermedia.com.
Want to read more? Follow me on Twitter and Facebook. For more information about green building and sustainable living, visit Green Builder Media at www.greenbuildermedia.com, like us on Facebook, and follow us on Twitter for regular updates and breaking news.