Accoya
Careful selection of fast-growing trees avoids excessive deforestation.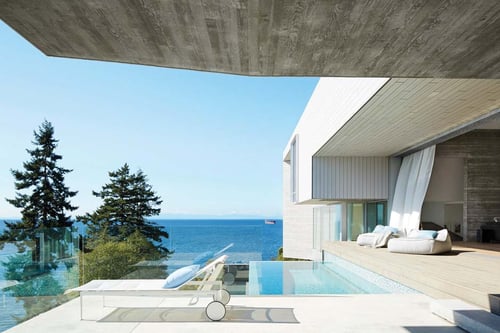 This West Vancouver, Canada, home used Accoya as siding, railing, fencing and soffits.
Company Profile
Founded: Accsys Technologies in 2005
Headquarters: London
Leadership: Paul Clegg, CEO
Products and Services: Accoya Wood
Employees: 121
Website: www.accoya.com
ACCOYA, AN ALL-NATURAL wood created by Accsys Technologies PLC, is a 100 percent biodegradable, non-toxic product that produces extreme low greenhouse gas emissions during its entire lifespan.
"It's a sustainable product, class leading and competing with materials that we believe aren't sustainable materials," says Laura Ladd, head of marketing for Accsys. From its production, use and end of life, Accoya provides the builder a wood product that won't harm the environment.
Production
Accoya is made from Radiata pine and alder trees that are abundant and fast growing from certified, sustainably managed forests and plantations. Using fast-growing trees from certified locations are important factors in avoiding deforestation.
Use
Just because Accoya is sustainable doesn't mean users sacrifice performance. It provides more thermal insulation than other wood products, resulting in lower heating costs and energy bills. It's also extremely durable with a Class 1 rating—the highest durability rating possible. In addition, Accoya provides high dimensional stability that requires less frequent coatings maintenance.
End of Life
No other chemicals or additives are inserted in Accoya during its production, so the product is completely natural and biodegradable. It can be reused, recycled, burned or even composted with no negative environmental consequences.
Recognition
With programs such as LEED, Accsys could predict future demand for sustainable products. And Accoya meets that demand. For the past five years, it's held a Cradle to Cradle (C2C) overall rating and was awarded the Cradle to Cradle Products Innovator Award, which recognizes leaders that are designing for upcycling and making products with safe ingredients.
Accoya also earned C2C Platinum Standard certification in the Material Health category, as well as Gold Standard certification in C2C's other categories: Material Reutilization, Renewable Energy & Carbon Management, Water Stewardship and Social Fairness. In addition, it earned the highest score available in Portico, Google's Healthy Materials Program tool.