Amid pioneering demonstration homes, groundbreaking events, revolutionary market intelligence, and award-winning content, 2019 promises to be a sensational year for Green Builder Media. Check out the exciting projects we have in the hopper!
Since our inception in 2005, Green Builder Media has helped set the standard for excellence in sustainability, quality, resiliency, and wellness in the built environment. Everything that we do—from generating award-winning content, to developing cutting-edge demonstration homes, to hosting thought leadership events, to offering pioneering market intelligence, advances our goal of improving the performance of the built environment in North America.
We've had the privilege and opportunity to engage in some incredible initiatives and projects over the years, and we're delighted to convey that 2019 promises to be one of our most exhilarating years yet! Here's a glimpse into what we have in store…
The Align Project: A Rendezvous with Reality
The excitement begins next week when we bring The Align Project to the Consumer Electronics Show (CES) in Las Vegas. The Align Project challenges entrenched ideas about how we live in the U.S. and offers suggestions for how we can align our lifestyles with our changing socio-economic and environmental realities. Through The Align Project, we explore how we can harmonize our spaces, technology, finances, and mobility solutions with our health and wellness, enabling us to live with grace and age with dignity.
The cornerstone of The Align Project is an "Intuitive Home", where all of the smart home technology is methodically designed and built into the home, connecting the central platform with devices, HVAC, water heating, lighting, water monitoring, appliances, irrigation, and more not just to respond to the homeowner's commands, but to teach itself to optimize home performance, even without human intervention.
If you're not attending CES next week, don't fret—you can also see The Align Project next month in the KBIS Salon during Design & Construction Week in Las Vegas on February 19-21.
Sustainability Symposium 2019: The Desert Shall Bloom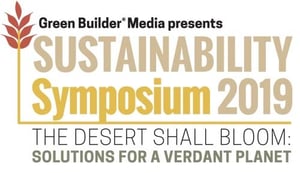 If you are planning to be in Las Vegas for Design & Construction Week, you absolutely can't miss the event of the year—Green Builder Media's annual Sustainability Symposium 2019 on Monday, February 18 at the UNLV campus.
Given the urgency of our environmental realities, full-scale deployment of comprehensive climate solutions is imperative (the UN's World Meteorological Organization recently issued a report stressing the urgency of climate action with conviction, asserting that the "Earth's climate is now changing faster than at any point in the history of modern civilization, primarily as a result of human activities.") We have thus designed the Sustainability Symposium 2019 to address head-on critical climate change topics, from global economic stability to national security to water to clean energy.
Brimming with vision and ingenuity, the event's agenda includes luminaries like retired four-star General Wesley Clark, Academy-Award winning actor Jeff Bridges, visionary venture capitalist Andrew Beebe, esteemed water expert Kim Shanahan, and NBA legend and passionate sustainability enthusiast Bill Walton.
We're also hosting a VIP dinner the night before the Sustainability Symposium on February 17 at the exclusive Mr. Chow in Caesars Palace to honor our Home of the Year and Sustainability Award winners, offering guests the opportunity to network with the industry's most innovative green building professionals and pioneering sustainability advocates.
Click here to register for the Sustainability Symposium 2019 and VIP dinner. Space is strictly limited and by reservation only, so reserve your seat today!
COGNITION Smart Data: Vanguard of Innovation
Green Builder Media recently developed COGNITION Smart Data, a pioneering suite of market intelligence services that is different than anything you've seen before!
COGNITION leverages cutting-edge artificial intelligence technology to collect proprietary data and track comprehensive market insights. COGNITION provides us with a crystal ball, so to speak, so that we can predict trends, purchasing patterns, and behaviors, enabling us to remain the vanguard of innovation. Watch for a series of trailblazing market repots from us that are based on COGNITION Smart Data, which will help us all make better, more informed business and lifestyle decisions.
VISION House Seattle Cascades: The House the Experts Built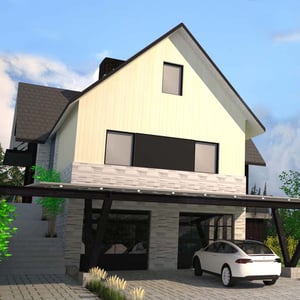 It's not often that the opportunity comes along to redefine sustainability and set a new standard for building green in the current marketplace. But that's precisely what Green Builder Media is aspiring to do with the next project in our VISION House demonstration series, as we work with brilliant building scientist CR Herro (VP Innovation at Meritage Homes), internationally esteemed architect Stace McGee (Founder of Environmental Dynamics Inc.), and our very own Ron Jones (President of Green Builder Media), considered to be one of the fathers of green building and sustainable development, to design and build a template that can be replicated across the country.
The VISION House Seattle Cascades, located on a spectacular 20-acre parcel approximately 30 miles southeast of Seattle at the base of Mount Rainier National Park, will unite sustainable design techniques with advanced products, systems, and technologies for optimized performance and wellness at a reasonable price point.
The goal of the project is twofold. First, we want to highlight and exemplify the gamut of issues that building professionals and consumers should consider when building green homes in today's market, including novel design approaches, advanced products, enabling technologies, efficient building systems, and renewable energy.
Second, we plan to utilize the project to debunk the price per square foot and lowest upfront cost valuation metrics that have been stifling our industry for too long. These metrics are no longer valid, and they are wholly insufficient for measuring cumulative quality, performance, resilience, intelligence, wellness, and environmental impact.
Through the VISION House Seattle Cascades, we plan to demonstrate the benefits of long-term thinking (for example, we'll validate how investing in efficiency, resiliency, renewables, smart home technology and indoor air quality saves money), highlight lifecycle value, and showcase how we can fully monetize sustainability.
Flex House: Right-Sized Living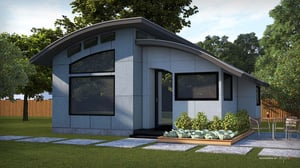 We'll continue to spotlight the Flex House, a finely crafted modular home by Shelter Dynamics that embodies the concept of "Right Sized Living". At 768 square feet, the Flex House makes a big impression with its high ceilings, arched doorways, rounded corners, clerestory windows, and U-shaped flow.
But Right Sized Living doesn't just refer to flexible spaces and square footage, it also means using exactly the amount of resources that you need—no more, no less, which is particularly important in the U.S., where we've grown accustomed to living large. The prefabricated Flex House is designed to be net-zero, healthy, and wholly sustainable.
Through the Flex House, we'll continue to examine how we can invest in resource efficiency and resiliency to enhance robustness, resourcefulness, rapid recovery and redundancy in the face of our changing climate, intensified weather patterns, and amplified natural disasters.
The Flex House is now in production, so order yours today!
Passionate Commitment Leads to Award-Winning Content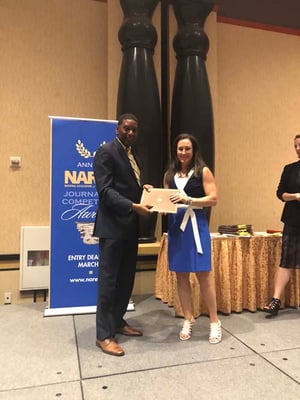 There are many things that differentiate Green Builder Media, beginning with our unwavering commitment to and passion for making the world better, cleaner, and healthier. That commitment translates into internationally esteemed content that wins us annual awards—in fact, Green Builder magazine has been deemed Best Trade Publication for six years in a row by the National Association of Real Estate Editors (NAREE).
In 2019, we'll continue to produce the same premium, award-winning content that is distributed through our Green Builder Media channels. We're also expanding our editorial offerings with a creative lineup of Ebooks that will be released throughout the year about relevant topics like Resilient Housing, Building Science, Smart Home 2.0, Renewables, and our annual Homeowner's Handbook.
And, our CodeWatcher initiative is more important than ever! With codes in the spotlight as severe weather continues to pummel the U.S. housing stock, building professionals need to know code—and better-than-code—practices down to the nitty-gritty detail. CodeWatcher is the only industry title devoted to covering building codes to make sure today's houses and buildings are safe, energy efficient, and able to withstand increasing weather-related threats. Sign up to receive our bi-weekly e-newsletters with information about overall code trends, regional code battles, new regulations and safety issues, green programs and rating systems, and much more.
As you can tell, we're hard at work, diligently developing ideas, inspiration, and information that will help facilitate the transition to a sustainable future. And while we're wildly excited about the coming year, we realize that none of it would be possible without the ongoing support and encouragement from you, our readers.
We invite you not only to join us for this exciting journey to the frontiers of sustainability, but also to reach out to us with creative ideas about how we can improve our work and serve you better. If you have constructive comments, please write to me at sara.gutterman@greenbuildermedia.com.
Want to read more? Follow me on Twitter and Facebook. For more information about green building and sustainable living, visit Green Builder Media at www.greenbuildermedia.com, like us on Facebook, and follow us on Twitter for regular updates and breaking news.