A Primer on Windows
Window manufacturers are not only creating more durable and energy-efficient products, they're tailoring glazing options for specific climates.
WINDOW TECHNOLOGY HAS IMPROVED by leaps and bounds over the past few years. Today, you can get a high-performance window that looks good and performs well at any price point. The windows you select for your house—whether retrofit or new—must meet your local energy code requirements at a minimum, and ideally should be Energy Star-qualified for your home's climate.
Energy Costs: The Right Window.
If you want to reduce utility bills, you need to consider the impact of windows. In climates with a significant heating season, windows have represented a major source of unwanted heat loss, discomfort and condensation problems. But today it is possible to have lower heat loss, less air leakage and warmer window surfaces that improve comfort and minimize condensation.
Similarly, in climates that mainly require cooling, windows typically represent a major source of unwanted heat gain—but low-E finishes that reject solar heat without darkening the glass have changed the rules. These glazings significantly reduce solar heat gain and improve comfort, at the same time providing clear views and daylight.
As an example, a study by the Efficient Windows Collaborative (www.efficientwindows.org) shows that the annual heating cost of a typical house in Boston drops from about $750 a year to $550 (24%) by switching from double-pane windows to triple-pane with high solar gain, low-E glass. Keep this in mind when you are assessing the "first cost" of new windows.
Comfort: Know the Science.
For homeowners, how comfortable a house feels can be just as important as its energy efficiency. An older window with a lower glass temperature feels colder because more heat is radiated from a person's body to the window.
Cold glass can also create uncomfortable drafts as air next to the window is cooled and drops to the floor. This sets up an air movement pattern that feels drafty and accelerates heat loss.
High-performance windows with lower U-values will result in a higher interior window temperature in winter and thus greater comfort. Proper installation along with weatherstripping designed to seal tightly will also improve comfort by reducing cold air leakage.
During the summer, direct sunlight strikes people and surfaces, creating overheating and discomfort. Windows with low solar heat gain coefficients will reduce the solar radiation coming through the glass. That's where low-emissivity (low-E) glass comes in—reducing heat gain while still providing sufficient light and view.
Less Fading and Condensation: Block the Rays.
High-performance windows with new glazing technologies make homes more comfortable. They create warmer interior glass surfaces, reducing frost and condensation. High-performance windows with warm edge technology and insulating frames have such a warm interior surface that condensation on interior surfaces is significantly reduced under all conditions.
Another concern for homeowners is the effect of sunlight on the home and its contents. Many organic materials, such as carpet, fabrics, paper, artwork, paints and wood may fade upon exposure to sunlight. Window selection can influence the type and intensity of transmitted radiation.
Ultraviolet (UV) rays are the most harmful radiation in sunlight. They are the most energetic and thus most likely to break chemical bonds, leading to fading and degradation.
Finishes on glass can reduce the UV transmitted by up to 75%. UV absorbers can be incorporated into thin plastic films in multilayer windows or as an interlayer in laminated glass.
In both cases, the UV transmission can be reduced to less than 1%. However, it is important to note that the remaining visible light that is transmitted can still cause fading in some materials. Using low-E coated glass or windows incorporating plastic layers rather than clear uncoated glass will reduce fading.
Another Window Perk: Smaller HVAC Equipment.
High-performance windows can reduce utility bills, and they also reduce peak heating and cooling loads. The peak load for a building is the maximum requirement for heating or cooling at a given time. This load is important, because it determines the size of the furnace, heat pump, air conditioner and/or ventilating fans that must be installed. Reducing the peak load may allow homeowners to install a smaller HVAC system, which costs less up front—and less to operate.
Properly sized HVAC systems offer a number of advantages to homeowners. First, by running more constantly, smaller equipment provides the best air quality and comfort. Second, HVAC systems that are more closely matched to peak cooling loads achieve better dehumidification, which prevents mold. Several calculating procedure can be found to help with proper sizing of HVAC equipment. That's really the HVAC installer's job, but if you want to do your own calculations, there's a simple piece of software out there called the HVAC-Calc Residential 4.0, which costs $49 (available at www.hvaccomputer.com). You enter in some information about your home (or proposed new home), and it helps you figure out the optimal size and type of equipment you need for best performance and energy efficiency.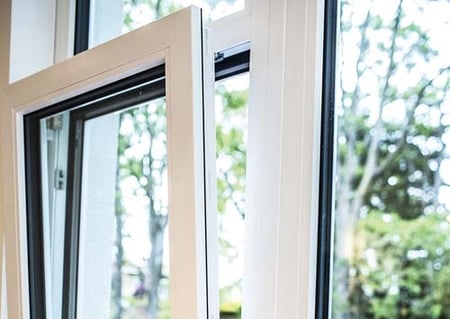 ThermoPlus Windows from EuroLine Windows Inc. are made in North America. The triple-pane glass can be customized depending on the window location.
Tilt-and-Turn Advantages
European-style tilt-and-turn windows are gaining popularity in the U.S., in part because of their performance in Passive House projects. Tilt-and-turn windows are designed to swing in like a casement window or tilt in at the top. The design offers several advantages: Cleaning and Egress. The windows swing in, allowing for quick air exchange, easy cleaning and optimal egress in case of emergencies. Ventilation. The tilt-at-the-top function provides draft-free air exchange between rooms. Energy Efficiency. The complete seal on tilt-and-turn windows keeps air from leaking through. Their design also allows for double and triple glazing that is often thicker than in other window types. Security. One handle moves the multi-point locking hardware into place, locking the window on all sides for higher security and a tighter seal. Customization. Walls facing the south and west can be fitted with a glass combination that captures heat from the sun during winter, while providing a good thermal performance. On the north and east, a glass combination designed to minimize heat loss through the windows can be installed.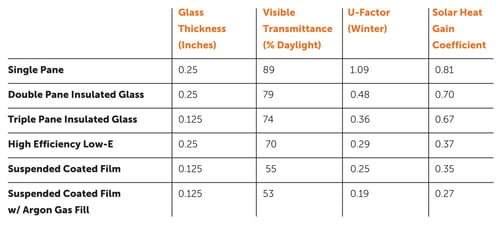 Credit: Whole Building Design Guide
A Breakdown on High-Performance Windows
Windows are an important factor in improving the performance of the building envelope. But with so many options available, selecting the right window can be challenging.
To increase insulation, homeowners should choose a double- or triple-pane window. Between each pane is an insulating air pocket, so more panes means more insulation. These windows can be filled with gases such as argon or krypton to provide better insulation than air.
In addition, insulated windows can include low-emissivity (low-E) coatings, which can reduce energy loss by 30 percent to 50 percent, according to the U.S. Department of Energy (DOE). Some windows are tinted or coated with heat-absorbing glazing, which absorbs solar radiation and reduces the solar heat gain coefficient, visible transmittance and glare.
Storm windows are another option for efficient windows. Though they don't add more insulation, but they can help reduce the amount of air flow through windows, which can help with heating and cooling costs.
This table demonstrates the performance of common high-performance windows compared to standard single-pane windows.