A Primer on Cabinets and Countertops
From the incorporation of recycled materials to the use of non-toxic finishes, many makers of cabinets and countertops are finally offering truly green options.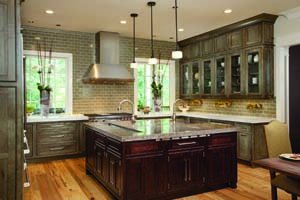 BACK IN THE MID-1990S, IT WAS ALMOST IMPOSSIBLE to find off-the-shelf cabinetry that didn't contain particleboard saturated with formaldehyde, with the exception of one or two semi-custom high-end or European manufacturers. It's easier now, but primarily because of the efforts of small-scale cabinet shops. The U.S. cabinet industry at large, like the carpet industry, has been a follower—not a leader—in the arena of environmental responsibility and pollution control.
In 2006, the Kitchen Cabinet Manufacturers Association (KCMA) launched an in-house sustainability benchmark called the Environmental Stewardship Program (ESP). The program has some flaws, but at least it's a move toward the light. Many firms have used ESP guidelines as a baseline for how to improve sustainability. Keep in mind that not every green cabinet line will be KCMA certified, any more than every eco-friendly builder's work is LEED certified. But those that do get the ESP seal have at least taken some steps to clean up their practices and products.
PRO TIP: Remember the Range Hood. If you go to all this trouble to keep the air clean in your kitchen, then fail to install an vent fan on your range, you will be disappointed in the overall air quality in your home.
ESP offers manufacturers 105 possible points. They have to get 80 to qualify for certification. It should be noted that they self certify by sending in documentation (often from other industry-friendly organizations such as the Composite Panel Association) to prove that they have met certain criteria.
A cabinet company looking for the ESP label must achieve a minimum number of points in each of the following categories:
Air Quality - 30
Product Resource Management - 30
Process Resource Management - 20
Environmental Stewardship - 15
Community Relations - 10
Some points are sound—such as the 5 points awarded under ESP for "reviewing the environmental practices and policies of its key vendors and contractors," although reviewing it should be noted, does not guarantee any changes. Unfortunately, other point criteria act as loopholes that weaken the program. For example, a company can earn 10 points in Air Quality if "75% of finished products are finished domestically, and finishes used emit no greater HAPs (hazardous air pollutants) than allowed by local plant operating permits." We'd call that simply playing by the rules. They also can earn 5 Community Relations points for not getting any citations "from any federal, state or local environmental regulatory agency in the previous 12 months." Again, they can rack up points simply for staying on the right side of regulations. Our point is not to bash the KCMA, but to urge its many members to think much bigger about what it means to be green. We often write about ESP-certified cabinet brands that are being used in our demonstration homes and other projects. We know these companies, and they've indicated that they want to get real about sustainability. We believe they're sincere, and we expect exciting new cabinet products soon.
Homeowners and builders have been frustrated too long by the lack of readily available green cabinetry and shelving. It's time to give them more options. For people with asthma, chemical sensitivity, or infants in the house, the only alternative in the past has been to take matters into their own hands, to have their cabinets custom built and finished with low-VOC paints, or to seal in VOCs and formaldehyde with surface sealing paints. They shouldn't have to work so hard.
A few brands are pointing the way by offering low-VOC water-borne finishes and safer adhesives, along with straw core shelves and wood for both door faces and veneers that is certified by the Forest Stewardship Council. Change is coming.