I recently attended the 'Race to Zero' student design competition hosted by the Department of Energy (DOE) at the National Renewable Energy Laboratory in Golden, Colorado.
The competition challenged student groups from universities across the US and Canada to design zero energy homes. Awards were offered for sustainable design, effective technical integration, and cost effectiveness. As is usually the case with such competitions, the students displayed impressive imagination, contagious curiosity, and encouraging enthusiasm.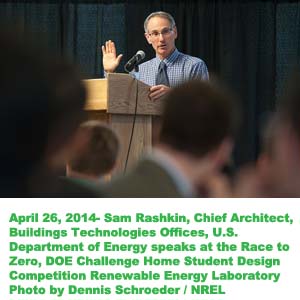 During the program, Sam Rashkin, DOE's Chief Architect of the Building Technologies Office, offered the students some pearls of wisdom, encouraging them to shape their careers based on a firm understanding of market drivers. "If you can recognize the hard trends that define the marketplace," Rashkin said, "you can predict the future."
Rashkin asserted that the convergence of rising fossil fuel energy prices, increased demand for energy efficiency, and renewable energy price parity will ensure the proliferation and widespread adoption of net zero energy homes.
"Electricity prices have increased approximately 37% within the last decade, affecting an 80% increase in home energy bills," Rashkin emphasized. "Increasing energy costs will have a strong influence on how we build in the future, informing decisions about location, orientation, product specification, and even homeowner behavior."
The vigorous dynamics of consumer pull and manufacturer innovation are already driving the energy efficiency and renewable energy markets forward—so much so that some builders have cracked the code on delivering net zero energy homes at no extra cost. And, with much painstaking work on behalf of regulators and sustainability advocates, these vital market forces are bolstered by each code cycle as more stringent efficiency requirements are adopted (2012 energy codes represent an approximate 30% performance improvement over 2006 codes).
While energy was the star of Rashkin's message, he also pointed out another essential market driver: building science. "Builder risk is higher than ever because we know more about building science than ever before. As we make buildings more efficient and tighter, we must apply building science best practices. If we don't, then our homes won't be able to dry when they get wet, which will invariably happen. We'll get mold and mildew and rotten buildings. We'll also have inadequate thermal flow and fresh air, and there will be greater combustion risk."
Rashkin went on to talk about health concerns, which he believes will continue to amplify as pollutants in the home proliferate. "The air inside our homes is 2-5 times more polluted than the air outside, which is critical considering that we spend 90% of our time indoors. We need to develop comprehensive approaches for toxin source control, dilution, and filtration."
No discussion about the future of houses would be complete without mentioning water. Rashkin, like many experts, is concerned about our precious water resource. While our population has doubled since 1950, our water use has tripled. Today, over 50% of the US is grappling with drought. In order to adequately address the urgent issue of water scarcity and quality in our country, we need to make low flow fixtures and behavioral modification commonplace, and embrace whole-home greywater filtration and recycling systems that enable homeowners to safely reuse water from sinks, showers, and appliances.
Rashkin boldly confronted our changing climate. "This is not a political issue, it's a building science one," he said. It's paramount that we assess the potential risk of super storms and extreme weather when making decisions about how and where we build. "Tornadoes, hurricanes, wildfires, earthquakes, severe temperatures, floods, and pests are forcing us to rethink historical building zones and consider disaster resistant solutions."
According to Rashkin, creative sustainable solutions for high performance, comfortable, safe, healthy, durable homes are particularly important as our housing stock ages. The average age of a home in the US is 35 years. Approximately 41% of the homes in this country were constructed prior to 1969, and another 17% between 1970 and 1979. Many of these homes have lead and asbestos. Many have moisture, structural, and durability problems. Many offer poor comfort and performance, resulting in health risks and large energy bills.
Rashkin is hopeful that innovation will improve our lives and mitigate the energy, weather, and environmental risks that we're facing. He believes that the accelerating rate of change will result in disruptive technology solutions that will radically transform the way we do things.
What do you think are the hard trends that will define our future? Write to me at sara.gutterman@greenbuildermedia.com or follow me on Twitter or Facebook.
---