A KEEN Sense of Purpose
Sponsored Content
KEEN footwear has earned a reputation for manufacturing tough but stylish outdoor wear and work boots, but the company is also doing its part to promote sustainability and strengthen communities.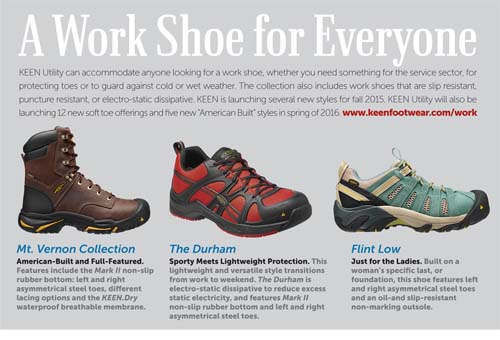 KEEN FOOTWEAR BECAME an overnight success when reps sold 50,000 pairs of shoes as a first-time exhibitor at Outdoor Retailer. Founded by Martin Keen and Rory Fuerst, KEEN has been creating toe-protecting outdoor "lifestyle products" since 2003.
After solidifying its position as a leader in outdoor recreation footwear, the company began to look at what was next. Work boots were a logical progression, as they were already creating products to protect the toes.
"KEEN was founded on the idea of creating hybrid footwear—styles that provided comfort and protection. Safety and work footwear is a natural extension of this principle," says Mark Reilly, senior merchandising manager for KEEN. "We've spent more than a decade perfecting proprietary comfort and performance features. By creating a work boot that shares our outdoor-inspired design aesthetic and features state-of-the-art safety and performance detailing, we've brought something really unique to the industry."
KEEN Utility was launched in 2009. Its first collection, which included the still-popular Pittsburgh style, was unique from the get-go. The outdoor-inspired silhouette with the iconic KEEN toe bumper easily transitions from work to weekend, and the designs stand out among other, more traditional work boot designs offered in today's market.
The Pittsburgh style exemplifies KEEN Utility brand. Crafted with nubuck leather, it features a KEEN.Dry waterproof but breathable membrane. It also features KEEN Utility's signature ASTM-rated asymmetrical steel toes, which provide a roomier toe box and maximum comfort. KEEN credits its dual-density, compression-molded EVA and polyurethane midsole for providing superior cushion, lightness and resilience. Glues are not used in KEEN's American-Built process, to the benefit of factory employees and the environment.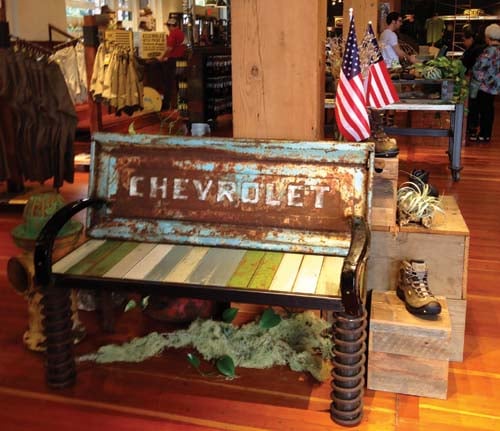 Truck tailgates, old signs and siding find new life at the KEEN Garage retail store in Portland. (Photo: Heather Wallace)
Bringing It Home
While the company can't technically claim that its products are made in the USA, a good many are assembled here. KEEN opened its Portland, Oregon, factory in October 2010. They recently doubled their square footage and currently occupy 30,000 square feet. KEEN gathers innovative, high-quality products from all over the world and then performs the final assembly in Portland. Thirty-eight KEEN styles are currently being built out of the Portland factory (11 are KEEN Utility styles), with plans for more in the future.
"We are incredibly proud to have our KEEN factory building products right here in our home town of Portland, Oregon," says Reilly. "It allows us to support our community with jobs and industry and remain very hands-on during the manufacturing process. Our goal is to continue expanding not only the amount of styles built in Portland, but also investigate how we can use even more American-made materials in the production process."
The Portland factory is a breeding ground for big ideas and experimentation. The facility includes an innovation lab where they are able to take ideas to test very quickly.
"We have a good mix of old school and new school tools [that include a new 3-D printer]," says Steve Smith, head innovation director at KEEN. (Smith designed the famous New Balance 574 shoe style right out of college and also spent 10 years at Nike.) "If we can dream it, we have the potential to build it."
Also located on site is a testing lab, where shoes are randomly taken off the line and put through vigorous testing to ensure they meet KEEN standards. For example, the KEEN.Dry flex test flexes a shoe 100,000 times in approximately 28 hours to check for any faults in the product. The shoe then sits in an oven for one week and gets flexed again 30,000 times in under four hours.
Expecting to produce 400,000 pairs of shoes in 2015, KEEN has set a future goal at one million pairs of shoes per year. Their expansion plan will be accomplished by hiring additional employees and running their production lines 24 hours a day.
A Community Focus
KEEN's goal of "inspiring responsible outdoor participation and land and water conservation," has led to unique partnerships with organizations both locally and globally. KEEN has a strong presence in Portland, which reflects a deep commitment to interacting with and reinvesting in their hometown community. The company's partnership with The ReBuilding Center is a prime example.
The ReBuilding Center of Our United Villages was established in June of 1998. The facility accepts the region's largest volume of used building and remodeling materials, providing resources for the benefit of communities with the goal of promoting sustainable practices. The inventory includes everything from windows and plumbing fixtures to salvaged tile and lumber.
In 1999, The ReBuilding Center took over the 53,000-square-foot building they currently call home. The Center sees around 100,000 visitors a year and moves close to eight tons of recycled materials every day.
The ReBuilding Center also offers its DeConstruction Services, which began in August of 1999. Working by hand, skilled crews of employees and volunteers salvage up to 85 percent of a building's major components for reuse. This service is dependent on a volunteer crew of about 2,000 people a year; however, many of the projects require steel toe shoes that most volunteers don't own.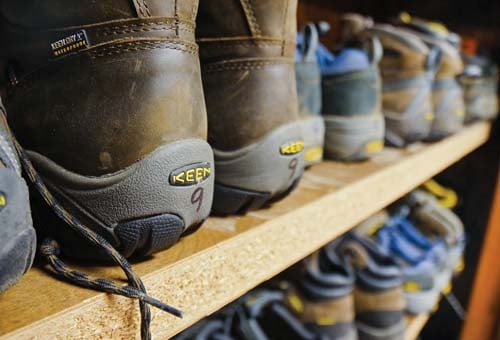 KEEN donates work boots to the Volunteer Boot Library at The ReBuilding Center, a used building material resource in Portland, Ore. (Photo: Sean O'Connor)
Enter KEEN Utility, which has to date donated 30 pairs of work boots to full-time volunteers and 40 additional pairs to create a Volunteer Boot Library. Similar to a bowling alley, volunteers can check out a pair of KEEN Utility steel toe boots on days they are helping out.
KEEN shares an enthusiasm for repurposing with The ReBuilding Center. In 2012, KEEN purchased a building in the Pearl District in Portland, Ore., and began a massive remodel. They achieved an ambitious recycling goal: filling only one dumpster with garbage (it was actually just 80 percent full). The rest of the materials were recycled, reused or donated to local organizations such as The ReBuilding Center of Portland and the Portland Habitat for Humanity Restore. The space now houses the KEEN Garage, a retail space filled with fun, upcycled furniture, an in-house cafe and administrative offices.
KEEN Utility is currently working with a local university to create a plan for recycling and repurposing leftover polyurethane material, which is used to create the cushiony midsole of KEEN shoes.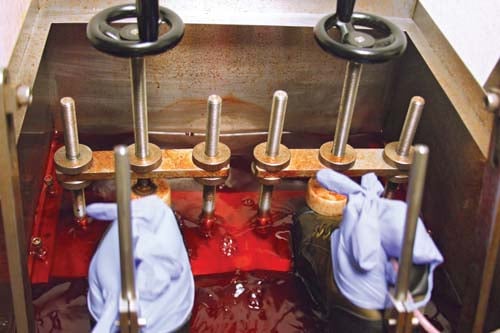 A machine tests the flexibility of KEEN shoes by bending them thousands of times. (Photo: Heather Wallace)
A National Alliance
In June of 2015, KEEN announced a partnership with The Wilderness Society and the 21st Century Conservation Service Corps on Project Build, an initiative that will outfit and connect more youth with our public lands. Through Project Build, KEEN Utility hopes to help protect up to 500,000 acres of land, 100 miles of rivers and dedicate almost 1,000 hours of volunteer time from KEEN employees.
With more than 700,000 members and supporters, The Wilderness Society works to inspire Americans to care for and protect our wildlands. Today, only about 110 million acres of true wilderness remain as part of the 618 million acres of federal wildlands. The Wilderness Society works to preserve these areas and to designate new spaces that qualify for wilderness protection.
The 21st Century Conservation Service Corps (21CSC) is a national effort to put young Americans and veterans to work protecting, restoring and enhancing America's great outdoors. It developed out of the Civilian Conservation Corps, a relief program for unemployed men put in place by Franklin D. Roosevelt in 1933.
The 21CSC's three main goals blend well with KEEN: put Americans to work; preserve, protect and promote public and tribal lands, waters and treasures; and build America's future through service to America.
"The men and women in the skilled trades have helped build this country from the ground up," says Chris Heffernan, KEEN Utility general manager. "At KEEN Utility, we work tirelessly to create the next generation of work boots. To be able to support this next generation of land stewards through this partnership is an incredible privilege."
Along with cash donations, KEEN Utility will outfit 300 Corps members with Utility boots and support 18 Conservation Corps groups across the country. These groups include the LA Conservation Corps, Northwest Youth Corps of Portland, Ore., SCC's Ancestral Lands, based in Gallup, NM and New York City's Green City Force.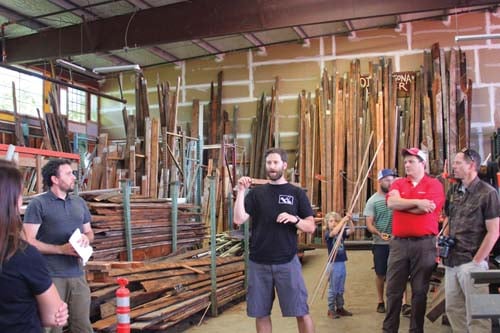 Volunteer services manager Dave Lowe talks to a group of visitors about what they do at The ReBuilding Center. (Photo: Heather Wallace)
Recycling Good Ideas
A group of volunteers created the nonprofit Our United Villages in 1997 by borrowing $15,000 off the credit card of a friend. In addition to managing The ReBuilding Center, which connects people with used building materials, Our United Villages has also created the Community Legacy Program, a free resource for sharing community-building stories, strategies and ideas. The program acts as a catalyst for turning grassroots ideas into actions that strengthen social and environmental vitality at the neighborhood level.
"All of this culminates into identifying the amazing stories about the people making these ideas realities," says Sean O'Connor, outreach and strategic coordinator for Our United Villages. "Our storytelling platform produces short documentaries, written articles and photo essays to illuminate those that are committed to making a local difference with what they have to offer."
Development sessions (consultations) and free meetings and events provide a platform for sharing ideas and projects already underway in Portland, such as Repair PDX, a volunteer group that organizes "repair cafes" all over the city. The ReBuilding Center also allows free use of their training facilities to groups such as the Oregon Tradeswomen, Inc., which promotes the success of women in the trades through education, leadership and mentorship. The Center also gives away free materials to any project (nonprofit or other) that will be open to the public. www.ouvcommunitylegacy.org