A Journey Towards Meaning
January 2015 will mark the tenth anniversary of Green Builder® Media. So much has changed over the past decade. The green building market, and Green Builder Media along with it, has evolved from niche and fringe to mainstream and intelligent. As individuals, corporations, and governments around the world have awakened to our pressing environmental realities, sustainability has become recognized as the most cost-efficient, durable, and efficient building strategy.
Since Green Builder Media's inception, we have aspired not just to report the news about green building; we've broken ground and made headlines with our thought-provoking editorial, advanced VISION House demonstration projects, involvement in the code and regulatory arena, and advocacy efforts. We've joined forces with building professionals, sustainability experts, manufacturers, and organizations throughout the industry, and, together, we've helped shape the national conversation about sustainable living.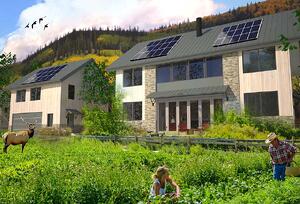 In an effort to fully practice what we preach and bring the sustainability dialogue to the next level, we're embarking on our most ambitious VISION House demonstration project yet. We have purchased a 120-acre in-holding, surrounded by millions of acres of national forest, 10,000 feet high in the mountains of Colorado. On this pristine and precious piece of property, which we lovingly call Mariposa Meadows, we will construct a completely off-grid, durable, fire resistant, resource efficient, and regenerative corporate campus.
Our goal is to apply and test a wide variety of solutions, from high performance building envelope systems to renewables to enabling technologies, even extending into areas such as waste management, clean transportation, onsite food production, and ecosystem protection. We figure that if we can successfully implement these concepts in the extremes of a remote, high altitude location, they can be applied in urban, rural, or suburban settings across the country (of course, with appropriate changes to account for varying climate zones and building science realities.)
Phase 1 of the build out has begun with the VISION House at Mariposa Meadows, consisting of three compact residential structures nestled into a beautiful aspen forest, overlooking an idyllic alpine meadow surrounded by the towering peaks of the Continental Divide.
While our vision for Mariposa Meadows is big, our impact will (hopefully) be small. Like with every good building project, we're doing our best to respect the privacy and solitude of our neighbors—namely, the moose, elk, and beaver. Our master plan is efficient—you won't see any McMansions or oversized structures on Mariposa Meadows, and everything that we've built to date has been so precise that we are net zero-waste (nary a dumpster on the jobsite!)
Through the project, we will deploy strategies that address our changing climate, extreme weather, and disaster mitigation. We look forward to exploring the relationship between sustainable buildings and the surrounding natural environment, studying how the two interact and affect each other. We will collect data and monitor the performance of the structures, keeping a close eye on how they respond to the cold, dry climate and high altitude.
When it comes to the performance of these 100% solar-powered homes, we expect great things—particularly considering that the walls and the roofs are being constructed with Structural Insulated Panels (SIPs) from the Structural Insulated Panel Association (SIPA) and European style tilt & turn windows from Euroline. To further ensure net zero energy performance, the homes will feature super efficient radiant heat systems from Uponor, high performance appliances from Whirlpool, Housewrap and weatherization products from DuPont, and solar powered pumps from Grundfos.
We're also working with UL Environment to conduct an ongoing analysis of the structures' interior toxin levels. Panasonic's quiet and efficient ventilation systems, Beam's most advanced central vacuum system, and low VOC paints, stains, adhesives, and finishes will contribute to healthy indoor air quality.
And, since the homes will serve as a destination location and demonstration project for years to come, they must be high quality and elegantly appointed, so we'll showcase beautiful, sustainable selections such as natural quartz countertops from Caesarstone and green flooring from Mohawk.
The homes will also boast enabling technologies, such as whole-home automation and energy monitoring systems, and keyless entry systems from Schlage.
Water and fire strategies are paramount, so we're working with Kohler on a water management plan and the National Fire Protection Association (NFPA) on wildfire risk mitigation and fire protection strategies.
Ultimately, Mariposa Meadows will be the home not just for the Green Builder Media corporate campus, but also the Green Builder Sustainability Institute—a new research and education organization that we're launching to focus on the creation of forward-thinking, intelligent living solutions for a sustainable future that address our changing climate and urgent environmental needs.
The Green Builder Sustainability Institute will create a collaborative forum in which building professionals, manufacturers, economists, sustainability experts, and homeowners can share ideas about sustainable solutions. We will also host a spectrum of thought leadership summits, corporate retreats, educational workshops, and sustainable living events, trusting that the majestic beauty of the San Juan Mountains will unleash truly innovative thinking.
Through our work at the Green Builder Sustainability Institute, we look forward to transforming markets, developing innovative product ideas, and positively influencing the building industry. To most effectively do this, we're partnering with leading companies that are paving the way towards a more sustainable business environment, such as Ingersoll Rand, who recently made a commitment to address climate change by cutting greenhouse gas emissions from its products in half by 2020, investing $500 million into energy efficiency initiatives, and reducing emissions from its facilities and fleet by 35% by 2020.
We invite you to join us on this wildly exciting journey as we voyage farther than ever into depths of sustainability.
Want to participate in the VISION House at Mariposa Meadows and/or the Green Builder Sustainability Institute? Write to me at sara.gutterman@greenbuildermedia.com or follow me on Twitter or Facebook.
For more information about green building and sustainable living, visit Green Builder Media at www.greenbuildermedia.com, like us on Facebook, and follow us on Twitter for regular updates and breaking news.
---