ARBOR GREEN IS ABOUT more than energy-efficient, affordable apartments, though the project certainly has those bases covered.
Affirmed Housing Group worked with the City of Carson, California, to acquire the lots for this project. The three-story complex, designed by Withee Malcom Architects and built by Wermers Multi-Family, consists of wood-framed units atop a concrete podium parking structure. The 40 one-, two- and three-bedroom apartments are arranged around a central courtyard.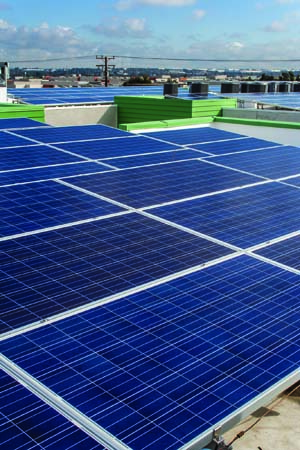 Chris Earl, Affirmed Housing's project manager, says utility bills will only cost residents a few dollars a month. A rooftop solar array powers the complex's central boiler, and should generate almost as much energy as the buildings consume. Energy-efficient lighting and Energy Star appliances help reduce demand.
A mix of stucco and James Hardie siding, accented with drought-tolerant landscaping, make the exterior of this complex especially attractive. Interior finish materials include wood cabinetry, granite countertops, stainless steel kitchen sinks and a durable, laminate flooring product that resembles hardwood.
"People ask us, what exactly is the difference between this and luxury housing?" says Earl.
Headquartered in San Diego, Affirmed Housing Group is dedicated to improving and sustaining the viability of California through the development of high-quality, green affordable housing. Arbor Green includes covered parking and communal laundry, but also such amenities as a "tot lot," library, computer room and community center equipped with a kitchen. Affirmed Housing works closely with property management company Solari Enterprises, which, along with managing Arbor Green, provides staff for social services. These include an after-school program for kids, cooking classes and financial education classes for adults.
Arbor Green began leasing earlier this year, and serves residents who earn between 30 and 60 percent of the Los Angeles average median income. There is already a waiting list.
"Competition can be fierce for these communities," says Earl, who credits the City of Carson, along with Raymond James, for recognizing the need and investing in the project.
Arbor Green will likely earn LEED Platinum certification. Partner Energy helped Affirmed Housing with LEED documentation, energy modeling and HERS verification, and assisted in applying for Savings By Design and California Advanced Home utility incentive programs. These equated to over $40,000 in incentive funds.