INTERIOR AND EXTERIOR SURFACES OF BUILDINGS ARE BEING REDEFINED by landscape architects, architects and engineers to maximize their productive abilities and minimize our ecological footprint. An intensive agricultural-themed green roof terrace at the Visionaire, a condominium building in Battery Park City, New York, offers an ecologically dynamic example of this emerging paradigm. Developed by the Albanese Corporation and designed by Pelli Clarke Pelli Architects, the Visionaire achieved LEED-Platinum certification through a variety of methods including solar panels on the exterior skin and sustainable building materials. Condominium owner Fredric C. Rich decided to take sustainability a step further.
Rich, actively involved in environmental causes and possessing extensive plant knowledge, wanted a productive and aesthetic garden. "My primary goals were threefold," says Rich. "First, I wanted to experiment with the growing of a wider variety of food plants than is typically attempted on a green roof. Second, I sought to enhance the ecological impact of the green roof by converting it from extensive to intensive, varying the growing media depths and introducing a highly diverse range of trees, shrubs and other plants. My third goal was to create a highly functional outdoor venue for personal use, small dinners and large events – a space that could also provide an intense and aesthetically pleasing year-round experience of nature in the city." Rich also hoped the garden would serve as a model to urban dwellers interested in augmenting their diet with specialized local food production. Since the roof terrace is private, Rich planned to publicize his vegetable and fruit yields and selected varieties through a blog site.
From a panoramic view of the Statue of Liberty at one end to vertical growing screens at its tip, this lush garden terrace is an all-season paradise.
Rich selected our firm, Mark K. Morrison Landscape Architecture PC (MKMLA) to implement his vision. MKMLA has been an advocate in embracing a more complex system of roof greening, as outlined in Mark K. Morrison's (MKM's) and Chris Syrett's paper "Moving Beyond Sedum: Challenging Ourselves to Create Better Roofscapes," presented at GRHC's 7th Annual International Greening Rooftops for Sustainable Communities conference in Atlanta in 2009. Morrison's research explores the limits of Sedums – the primary plant material used in extensive green roof construction – for a variety of reasons including: visual/aesthetic (Sedum is low growing, providing no canopy variety); resiliency in the face of climate change as monocultures in general are less able to adapt to changes in temperature and precipitation; and ecosystem diversity. On this last point, Morrison's firm advocates a patch dynamics approach to urban greening, in which green zones, even if separated by concrete urbanized areas, can act as viable wildlife habitat. In this model, canopy-focused green roofs offer complex habitat islands for a variety of bird and insect species. Also, because of increased biomass, intensive green roof systems are more effective than extensive green roofs in ameliorating the urban heat island effect, intercepting stormwater and increasing carbon sequestration.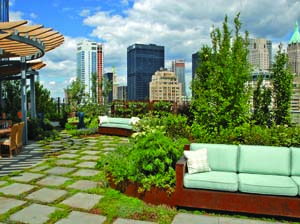 To realize Rich's vision, MKMLA proposed a series of sweeping canopy drifts contained in raised metal planters set directly on the existing extensive roof. These deep berms include built-in seating and define spaces while providing sufficient growing media depth for intensive planting. The curved metal edges of the raised planters have open bottoms (as do all the planters) to accommodate water flow and are attached to spread footings set on the existing green roof for stability. To further enhance the landscape MKMLA designed tree cylinders over existing columns that allow greater growing media depth so that specimen trees such as Stewartia pseudocamellia (Japanese Stewartia) and Acer palmatum 'Trompenburg' (Trompenburg Japanese Maple) can be incorporated into the planting palette.
Rich embraced the idea of the raised mounds: "The design solution identified by MKMLA involving sinuous metal edging of varying heights provided a practical and aesthetically pleasing solution to varying growing media depths and defining spaces. This in turn opened the door to really ambitious plant choices." Morrison's ownership and management of Windsway Construction LLC, a design-build firm, was crucial since Rich wanted the project to be built and planted within several months. Design development and selection of fabricators and artisans took place over the winter of 2010; construction began in late March 2011 and was substantially complete enough to hold an opening party of May 17, 2011.
STAKEHOLDER ENGAGEMENT
The review process for this high -profile building proved challenging: "The barriers and delays caused by the building's review architect and the Battery Park City Authority (BPCA) were expensive and frustrating," says Rich. Indeed, the MKMLA team and Rich attended a series of meetings in order to convince stakeholders that a densely planted surface would create an environmental asset and that the roof garden should not be considered agricultural, which is restricted by NYC zoning, but residential. MKMLA developed numerous visual renderings and elevations to illustrate that vegetation would not be obtrusive from any of the BPCA's buildings, and that the architectural integrity of the building façade would not be diminished. BPCA mandated that the exterior face of those support posts closest to the parapet should be painted grey to conform to existing parapet colors, and that post heights should be lowered so as to be visually unobtrusive. MKMLA modified the positioning and heights of trees in relation to the glass parapet; an evergreen hedge along the east edge of the berm conceals a varied canopy from street level. From the standpoint of the landscape architect, the approval process is often the most interesting, as it represents the intersection between vision and implementation and substantially influences the final shape of a design. Taking charge at that point and being able to produce accurate visualizations were key in gaining the approvals necessary to realize the project.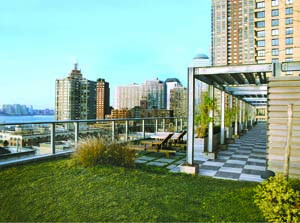 PLANNING TO REUSE
Windsway, MKMLA, and Rich were committed to sustainable construction methods involving the reuse of all existing paving, growing media, decking and plant materials. Finding space for materials and work areas involved careful planning. The construction of the metalwork (poses, screens, and benches with complex curves) necessitated the installation of a preliminary template while metal fabrication took place off­site
MKMLA worked closely with Nat Oppenheimer, PE, of Robert Silman Associates to determine acceptable live/dead /wind loads for the quantities of growing media, metalwork and planes proposed. Weights of saturated growing media, metal and snow were calculated by zone: pedestrian at 6o pounds -per square foot (psf) and non -pedestrian at 70 psf. Trees taller than seven-feet above the terrace floor were designed to be secured with horizontal wires below the growing media; all support posts were bolted directly to the roof slab and then properly waterproofed. All beds and structures were required to be set back from the parapet edge by four inches.
PRODUCTIVITY BOOST
MKMLA increased productive surface area by designing a series of vertical screens. A curved custom-designed steel and copper screen for espaliered Pyrus communis 'Bosc and Bartlett' (European Pear varieties) and Pyrus pyrifolia 'Shineski, Chojuro, and Nijisseiki' (Asian Pear varieties) flanks the curved couch. A fence that separates a neighboring terrace is faced with wire mesh panels for climbing vegetables. The eastern edge of the vegetable garden includes screens for climbing vegetables. A custom-built cold frame greatly extends the growing season. Rich was able to grow spinach and arugula that he could enjoy throughout the winter season.

BPCA mandated four-inch spaces between the pavers. MKMLA removed the pavers entirely; calculations for the finished terrace area show a 32 percent increase finished terrace area show a 32 percent increase in pervious surface area and retains 95 percent of annual rainfall.
Manufactured growing media was specified throughout. MKMLA introduced organic growing media which was stabilized by mixing with a heavier growing media that had been previously placed on the terrace. Growing media stability was paramount on a terrace exposed to the windy New York Harbor; the lightest available growing mix required netting, not appropriate for active gardening, so MKMLA chose a mid-weight mix and planted immediately.
EXTRAORDNARY PALETTE
Due to Rich's willingness to experiment and accept loss, the planting palette is comprised of 160 species of ornamental plant material with numerous urban farming opportunities interspersed throughout the landscape. The fruiting berries include Rubus Canadensis (Blackberry) varieties and Rubus idaeus (Raspberry) varieties, Vaccinium macrocarpon (Cranberry), Fragaria (Strawberry) species and four varieties of Vaccinium corymbosum (High Bush Blueberry). The eight-tree fruit orchard is made up of Prunus domestica (Prune Plum), Prunus persica ssp. 'Nusipersica' Redgold (Redgold Dward Nectarine), Pyrus communis (Pear) and Malus (Apple) trees, both domestic and exotic.
Vitis vinifera 'Mars Seedless' (Mars Seedless Grape) and Vitis vinifera 'Reliance' (Reliance Seedless Grape) are trained up the pergola columns as well as climbing roses Rosa 'Blaze' and Rosa 'Golden Showers'. Adjacent to the dining area is a formal herbal knot garden comprised of Allium (Garlic), Lavandula angustifolia (Hidcote Lavander), Origanum vulgare (Greek Oregano), Salvia officinalis (Sage), Rosmarinus officinalis (Rosemary), to a list a few, and a variety of ground covers are set between the blue-stone pavers, including strawberry, alpines, and sedums. The terrace is visually centered by two hand-cast glass fountains with constantly re-circulating water from a basin set below grade.
Morrison felt that the roof terrace replicated the exposure and extreme temperature fluctuations found in higher elevations, and discovered a good selection of alpine species at Oliver Nurseries in Fairfield, Connecticut. The plant materials create a surprising tapestry of color and form, and require little care. McEnroe Organic Farm, of Millteron, New York, supplied a custom crafted green roof growing media rich in compost (including a specially crafted acidic growing media for the blueberries). McEnroe's green roof growing media was mixed with their Premium Organic Plotting Soil to ensure moisture retention and healthy root development.
The landscape architect searched throughout the greater New York region, parts of Connecticut and into Massachusetts for appropriate dwarf or slow-growing plants. Species were selected for height, form, seasonal interest and continuous production. Nearly a year after the garden was fully planted, less than one present of the plants have died, in spite of unusually brutal seasonal conditions, including winds of over 90 miles per hour, around 56" of snowfall, and 25" of spring rains.
Of the roof garden, Rich says: "I have been surprised that the experience of being surrounded by dense and diverse plantings – not the remarkable views – have been the chief joy afforded by the space."
Annie Novak, the urban farmer who designed and manages Eagle Street Rooftop Farm, planned and tends the vegetables grown on the Visionaire terrace. (To learn more about Eagle Street Farm, please see the Fall 2010 issue of the Living Architecture Monitor)
"Plants are always stressed by windy conditions," says Novak when asked about which vegetables do best on roof terraces. "We look for plants that bear up against the wind, or plants that are low lying." Under the care of her team, the Visionaire garden has been continuously productive. Mr. Rich has hosted a series of dinner parties with food grown entirely onsite. Annie and chef Gordan Colon (the EAT in Greenpoint, Brooklyn, New York) prepared several meals.
Butterflies, birds and honey bees are common in the garden, and there is much evidence of these and other pollinators. While some pests are arriving, there have not been as many as would inhabit a garden at ground level. As is true with much terrace growing, the irrigation needs to be fine-tuned to avoid both dehydration and over-watering.
"The beauty of the project is that it involves an honest trial-and-error approach and that Fred [Rich] gave us the freedom to experiment,' says Novak. "This is very unusual. His attitude creates a value that extends well beyond the individual garden, and our freedom to experiment will enable other rooftop gardeners to learn from our mistakes and successes."
MKMLA's Visionaire project demonstrates that islands of living architecture – specifically roofscapes – contribute significantly to the urban social and ecological matrix. This intensive system points to expanded opportunities for an exceptional variety of plant species to survive in extreme conditions and heights, providing oases for flying species while aiding significantly in carbon sequestration and evapotranspiration. From a development perspective, cultivated planes above-grade offer expanded opportunities for socialization within public and shared spaces.
With half the global population (and rising), living in cites, and with current trends accelerating species collapse, biodiverse canopy-plantings on rooftops should be embraced politically and economically as vital conditions to the social – ecological spatial urban landscape form.
---
Mark K. Morrison, RLA, GRP, FASLA is president of Mark K. Morrison Landscape Architecture PC, based in New York, New York. Anne Vaterlaus, RLA, ASLA, is senior landscape designer, Boston studio director for Mark K. Morrison Landscape Architecture PC, based in Norwood, Massachusetts.
This article was originally published in Green Roofs for Healthy Cities' Living Architecture Monitor: www.livingarchitecturemonitor.com
---