President Obama sees the pathway to a clean energy future and confronts fossil fuel interests that are blocking progress and stifling free markets.
With the Paris Climate COP only months away, the heat is on world leaders to back big talk with viable plans for future climate action. Earlier this week, President Obama, at the forefront of the global stage, kicked off a 100-day climate tour with an impassioned presentation at the National Clean Energy Summit in Las Vegas.
Always the effective orator, Obama set a hopeful vision for a clean energy future, focusing his message on both the imperative and the financial benefits of immediate and decisive climate action.
"We're here today because we believe that no challenge poses a greater threat to our future than climate change," he said. "But we're also here because we are deeply optimistic about American ingenuity. We think we can do good and do well at the same time. We believe we have the power, dynamism, and creativity to solve a big problem while keeping the engines of the American economy moving."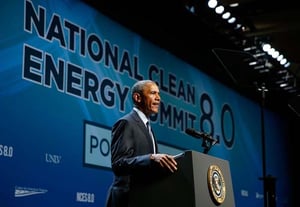 Barack Obama delivers a speech during the National Clean Energy Summit 8.0 in Las Vegas. Photographer: Isaac Brekken/Getty Images via Bloomberg.com
For climate action advocates, Obama's tenure has had its highs and lows. On one hand, during his presidency, America become one of the largest producers of dirty energy (oil and natural gas) in the world, and decisions like approving oil drilling in the Arctic have been unfathomable at best.
On the other hand, we've become a major player in clean energy, which undeniably has boosted our economy and created well-paying jobs. We've also become more aware of sustainability issues, enhanced our energy efficiency, and decreased emissions. This progress is due, in part, to federal mandates, including stringent fuel efficiency standards on vehicles and appliances, as well as the implementation of green building programs at federal, state, and local levels.
Obama's Clean Power Plan promises to help us further clean up our act. Providing the first-ever framework to reduce pollution from power plants, the Clean Power Plan requires states to cut carbon dioxide emissions by 32% from 2005 levels by 2030.
Through the Recovery Act, the Obama administration has bet big on a clean energy future, investing in clean technologies with the hope that the private sector would follow suit. Fortunately, the bet paid off: our nation's solar and wind industries are stronger than ever, with exponential year after year growth, thousands of clean energy projects across the country, and tens of thousands of high-paying jobs.
Today, the U.S. is a global leader in wind power (we produce three times more wind power now than we did in 2008, with 500 wind power manufacturers across 43 states supporting 50,000 jobs and supplying enough energy to power 16 million homes.) Obama projects that wind power could provide as much as 35% of our nation's total energy by 2050.
The solar industry is also experiencing tremendous growth, with twenty times more capacity today than in 2008. Over the past decade, the number of homes with solar rooftop systems grew from 20,000 to 600,000 (80% of that capacity has been added in the past 4 years). Last year alone, solar installations grew by 30%, prices fell by 10%, and a new residential rooftop solar system was installed every 3 minutes. Today, the solar industry employs twice as many Americans as the coal industry. And while it's still less than 1% of our total energy mix, solar represented 1/3rd of our nation's total new capacity in 2014, with strong growth projections for 2015 and beyond.
The growth in renewables—particularly solar—has been driven primarily by increased consumer demand, rapid advances in technology, expanded production, and plummeting prices. With that said, the Obama administration has, no doubt, played an important role in the sector's development through federal investments in innovative products. These market forces have not just leveled the playing field to create price parity for renewables, they have tipped the balance in some areas of the country where renewable energy is now cheaper than fossil-fuel sources.
In our quest for enhanced sustainability, consumer demand and federal action have been bolstered by two other major influencers—cities and businesses. Cities from Seattle to New York have committed to bold plans to reduce emissions and increase climate resiliency (come cities in California, for example, have pledged to generate 50% of their electricity from renewables by 2030.) And businesses like Walmart, Google, Apple, Costco have become some of the largest purchasers of renewable energy in the world, achieving substantial cost savings through the installation of massive systems, simultaneously driving demand up and costs down.
The integrated efforts of consumers, cities, businesses, and the government have placed us firmly on a path to achieve Obama's commitment of generating 20% of our country's energy from renewables (not including hydroelectric) by 2030.
To further expedite that process, Obama is taking steps to make it easier for businesses and low income households to install affordable solar, offering an additional $1 billion in loan guarantee authority for renewable energy systems, increasing solar capacity on military bases, and investing through the Department of Energy in microgrids, rooftop solar systems, and battery storage.
Obama believes that a clean energy future puts the power back in the hands of the people—literally and figuratively. "Six years ago, smart meters were rare," he said in his speech at the National Clean Energy Summit. "Today, 60 million consumers have access to detailed information about the amount of energy they use, including how and when they use it, enabling them to change their habits, use energy more efficiently, and save money without sacrifice… That's power. That's the future, happening right now. It's an American energy revolution that's like evolving from the telegraph to the smart phone in less than a decade. It's happening fast."
In his speech, Obama recognized that some utilities are embracing the reality of a clean energy future and adjusting their business models to take advantage of the market momentum. For example, he cited San Antonio's municipal utility, which is creating a rooftop solar program; Southern Company, which is partnering with Nest and Tesla on power storage; and Oklahoma Gas & Electric, which is implementing smart metering.
He went on to blast fossil fuel interests that are fighting to defend the status quo through massive lobbing efforts to roll back renewable energy standards and block the success of clean technology businesses, claiming that they're undermining competition, obstructing consumer choice, threatening jobs, and standing in the way of the future.
For the first time ever in a public speech, Obama singled out the Koch brothers as blockers of progress. Koch-supported organizations, namely the American Legislative Exchange Council (ALEC), have vigorously fought against renewable energy programs in several states, encouraging states to withdraw from climate commitments, penalize rooftop solar installations, and repeal renewable portfolio standards.
Obama is wholly convinced that "there is something big happening in American right now. For the first time, we can actually see what our clean energy future looks like. And as we get closer to this future, opposition will fight even harder to keep things the way they've been. Folks will get louder in some of that backlash… but we can't pay attention to that. We've got to be able to politely but firmly say, sorry, we're moving forward… This is a debate between those who fear the future and those who are eager to seize the future. And America always comes down on the side of the future. We've always been a people who reach to that more promising future... This generation of Americans is hammering into place the high-tech foundations for a clean energy age."
Ultimately, there are three main factors that will influence the speed of our progress and the amount of pain we have to experience along the way. The first is whether or not Congress will thwart or contribute to Obama's current course of action, cutting emissions, making our country more efficient, investing in renewables, and leading us towards a sustainable future. Since climate change has become such a divisive issue, I suspect that the only way that cooperation will occur is if leaders on both sides of the aisle agree on the financial benefits of such action.
The second is the 2016 Presidential election. It's evident that climate change will play a role in allowing candidates to differentiate themselves, but it remains uncertain how pivotal the issue will be in defining campaigns, shaping debates, and, ultimately electing #45. Clearly, the outcome of the election will determine the future of our country at a critical—dare I say perilous—moment in time for the environment.
The third issue is whether the fossil fuel interests will continue to exert their brawn to stifle the free market and consumer demand, maintaining the status quo of outdated and inefficient business models and preventing the people from freely choosing clean energy, or if they'll have the wisdom and foresight to revise their business models and take advantage of the undeniable market opportunity.
While Obama is certainly setting our country on a positive course towards enhanced sustainability, there are forces at play that could undermine his efforts. Therefore, it's more important than ever that we maintain our courage and solidarity, marching in unison towards a greener, cleaner, and better future.
How do you think we can clear the obstacles that block our way to a sustainable future? Write to me at sara.gutterman@greenbuildermedia.com or follow me on Twitter or Facebook.
For more information about green building and sustainable living, visit Green Builder Media at www.greenbuildermedia.com, like us on Facebook, and follow us on Twitter for regular updates and breaking news.