Climate change becomes depoliticized and common sense as a group of seasoned Republican leaders introduce a carbon tax designed to spur our economy and increase American competitiveness.
We've reached the point of no return—the moment in time that sustainability professionals from both sides of the aisle have been fighting for—when elected officials from both parties agree that we need to address the threats posed by our changing climate.
Putting aside the debate about what has caused climate change—humans or naturally occurring planetary cycles—veteran Republican leaders James Baker III (Treasury Secretary for Regan and Secretary of State for George W. Bush), Henry Paulson (Treasury Secretary for George W. Bush), and George Shultz (Treasury Secretary for Nixon and Secretary of State for Regan), along with Sequoia Capital Partner Thomas Stephenson and former Walmart Chairman Ron Walton, have banded together to form the Climate Leadership Council, which has recently proposed a plan that would place a national tax on carbon emissions.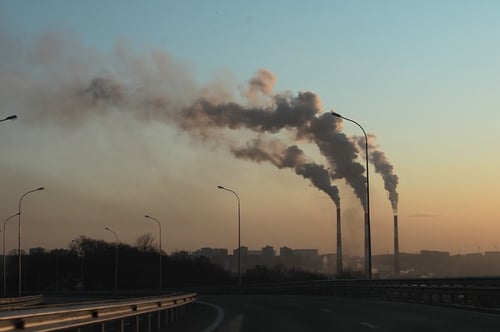 According to members of the Climate Leadership Council, "On-again-off-again regulation is a poor way to protect the environment. And by creating needless uncertainty for businesses that are planning long-term capital investments, it is also a poor way to promote robust economic growth. By contrast, an ideal climate policy would reduce carbon emissions, limit regulatory intrusion, promote economic growth, help working-class Americans, and prove durable when the political winds change."
Through the Climate Leadership Council's proposed plan, fossil fuel companies would initially pay $40 per ton of carbon that they produce (the price would gradually increase), resulting in higher gas and electricity prices. The money raised by the carbon tax would, theoretically, be paid back to consumers through dividend checks (it's projected that a family of four would get an annual dividend payment of approximately $2,000.)
The thesis behind the plan is that higher fuel prices would not only properly account for the environmental impact of fossil fuels and externalities, they would also encourage energy conservation and facilitate the adoption of clean transportation and renewable energy solutions.
Preliminary calculations estimate that the plan would be net positive for lower and middle income families, as their projected dividends from the carbon tax would actually exceed their annual income tax payments.
The architects of the plan have vowed that there is inherent protection for American industry built into the proposal: a per-ton fee would be imposed on imported products from countries that don't have a carbon tax, and companies that export products to countries without a carbon tax would receive rebates for the taxes that they've already paid on those products.
Carbon taxes are on the rise, with full-scale, successful implementation in places like Ireland, Sweden, and British Columbia. But a comprehensive carbon tax has not been proposed in Congress since 2009, when a bill was introduced by Democratic House members Edward Markey and Henry Waxman. Since then, advocates have known that any proposed national carbon tax or cap-and-trade legislation would essentially be dead on arrival in a Republican controlled Congress.
However, climate hawks are hopeful this time around. The proposal certainly isn't everything for everyone, but it represents a step in the right direction and may lead to some desperately needed consensus.
The Climate Leadership Council asserts that their plan is designed to be market driven—encouraging healthy competition that would actually increase conservation and climate leadership rather than imposing it via oppressive regulations. They argue that, with the implementation of this proposed carbon tax, contentious regulations like the Clean Power Plan wouldn't actually be necessary.
The Climate Leadership Council further asserts that their plan could meet America's commitments under the Paris climate agreement and "achieve nearly twice the emissions reductions of all Obama-era climate regulations combined."
Critics of the plan question whether it is aggressive enough to enable us to meet our stated emission reduction targets or if it is adequate to address runaway warming. They also assert that, even if the carbon tax is approved, we would still need proper regulations to control pollution and protect our environment.
While the plan certainly attempts to propose sensible policy to address the threats of climate change, it faces a long, uphill battle with its adoption questionable at best and improbable at worst, especially given the bitter infighting within the Republican Party with respect to climate action, not to mention the hateful partisan acrimony that has shut down any productive conversation about the topic over the past decade.
But with nearly 65% of Americans concerned about climate change, 71% in support of our nation's commitment to the Paris Agreement, and 85% in favor of greater renewable energy adoption, it seems that this proposal offers Congress a compelling opportunity to finally exercise some real leadership and implement a meaningful solution to our very real—and urgent—climate issues.
What do you think about the Climate Leadership Council's proposed carbon tax? Write to me at sara.gutterman@greenbuildermedia.com.
Want to read more? Follow me on Twitter and Facebook. For more information about green building and sustainable living, visit Green Builder Media at www.greenbuildermedia.com, like us on Facebook, and follow us on Twitter for regular updates and breaking news.