How Tall Can Wood Buildings Rise?
A JUST RELEASED SURVEY of exceptionally tall wood buildings demonstrates that high-performance wood structures nearly 10 stories high are both feasable and operational. Most examples of this innovative construction come from Europe, but there's no reason it can't work in the U.S.--once code obstacles are removed.
The key to success in these projects is the same as any big project: Address all of the important design and approval concerns early, including structure type, fire prevention measures and so on. The results, according to the more than 50 case study projects reviewed, are almost universally good.
Durable, liveable buildings with good energy performance, durability and market value.
Read the full report in pdf form HERE, including design tips, survey results and lessons learned.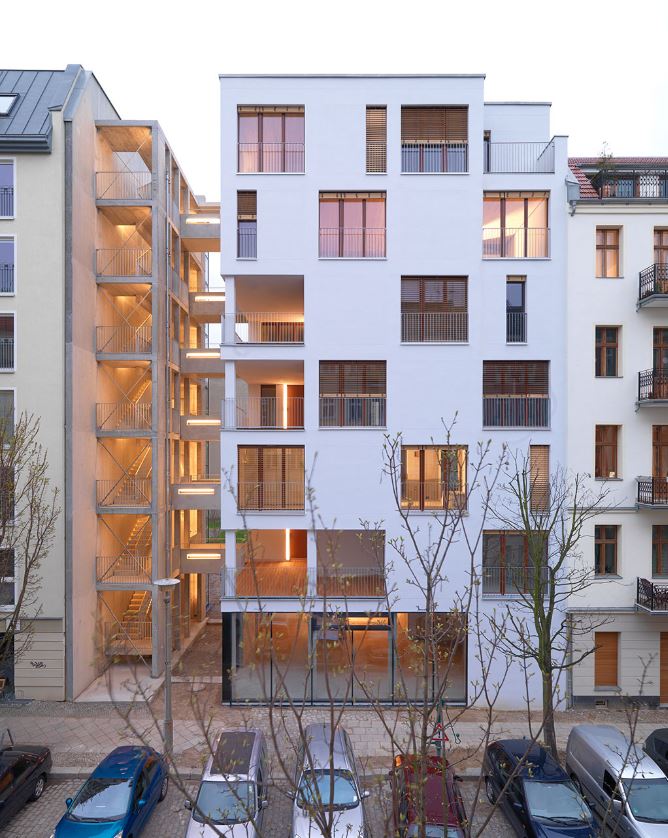 Seven Floors of Wood Framing. The E3 project is a stunning example of what's possible when old meets new. More photos and info HERE.


(the following is an excerpt from the survey)
WHY TALL WOOD?
Based on the feedback gathered from the Owner/Developer of the ten international projects, the following were identified by participants as the most influential reasons for pursuing a tall wood
project:

Low carbon footprint. Realize significant carbon savings compared to conventional structural materials such as steel and concrete, by using more timber in construction. In several cases carbon reductions were pursued in response to governing regulatory policy.

Innovation and market leadership. The opportunity to test a new structural typology with the objective of creating a leading position in the market place
for future development.
▪
Building energy performance. Benefit from the relatively good thermal performance of mass timber products compared to concrete or steel structure to support efficient building energy performance.

Light weight structure. Two projects with sensitive site conditions (Bridport House and Forté) identified that mass timber was particularly appealing for its lighter weight compared to a concrete or in some instances, a steel structure. One participant identified the potential for widespread use of mass timber products in renovation and densification projects where a lighter weight structural material is beneficial for adding storeys to existing buildings.
▪
Durability. Participants from residential building projects indicated they believe mass timber to be a very durable structural option, appropriate for long-term capital and operational investment and to support high-quality finishing in a high- end residential context.

Source: Summary Report: Survey of International Tall Wood Buildings