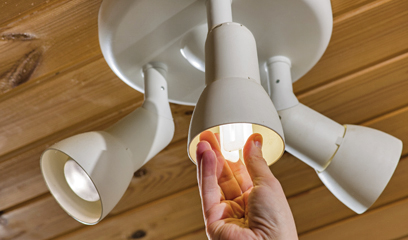 WHAT ARE THE SECRETS to an energy efficient home? We're glad you asked! There are a few things you can do to transform your home from a standard dwelling into an amazing, money-and-energy-saving abode of awesomeness!
1. Insulate Properly
Insulation is key to keeping a home comfortable and energy costs low. Tips to effectively insulation your home include:
Locate problem areas: Many homes have little or no insulation in areas like attic spaces.
Check the 'R' value: An R-value specifies your insulation's resistance to heat flow – the higher the R-value, the greater the insulating effectiveness. Your certified RESNET Home Energy Professional can recommend the right R-value for your home.
Select the right type of insulation: There are several types of insulation – each with properties and applications suitable for different areas of a home. Your certified RESNET Home Energy Professional can recommend which insulation works best for your home.
Seal windows and doors: This is the easiest way to begin insulating your home. Many homes have doors and windows that don't have a proper seal.
Seal vents and ducts with foil duct tape: According to ENERGY STAR, around 20% of heat moving through the vent and duct system of a typical home is lost due to leaks and poorly sealed connections.
2. Light Efficiently
Lighting accounts for nearly 25% of your energy bill, so it makes sense to switch to energy efficient compact fluorescent light bulbs (CFLs). Making the switch can save an average of 8 cents per kilowatt-hour or $45 over the course of the light bulb's life. CFLs generate the same amount of light as traditional incandescent bulbs but last longer and use around 8% less energy.
*Note: We no longer recommend CFL bulbs, because of their inherent risk (ALL of them contain toxic mercury) and unreliable performance. Instead, choose LED bulbs, which last longer, use less energy, and do not have the potential to poison your living space.--Matt Power, Editor-In-Chief, Green Builder magazine
3. Heat with High-Performance Systems

Heating and air is easily the largest home energy expense, accounting for nearly 56% of the household budget. An energy efficient HVAC can significantly reduce this cost, as well as reduce carbon pollution and greenhouse gases. Select furnaces with high SEER ratings, geothermal heating/cooling or min-split heat pumps for best results.
4. Upgrade Appliances
Old and inefficient appliances can be responsible for a lot of energy wastage in your home. Replace them energy efficient ENERGY STAR qualified ones.
ENERGY STAR appliancesoffer the following advantages:
Refrigerators: 20% more efficient than the federal minimum energy efficiency standard.
Dishwashers: 10% more energy efficient than conventional units.
Washing machines: use over 50% less water and 30% less energy than standard washing machines.
5. Invest in Better Windows
Significant energy loss can take place through leaky windows. The most effective to solve this problem is by replacing them with new, energy efficient ones. A couple of points to consider are:
Look for windows that are double-glazed and use low e-technology. Low e-technology involves coating the window to filter the sun's heat and reduce airflow.
Make sure your windows are ENERGY STAR qualified. Windows carrying the ENERGY STAR logo are proven to be energy efficient and can lower your energy bills anywhere from 7% to 15%.
If you can't afford to replace your windows, then weather-stripping them can yield immediate benefits. In addition to financial benefits, your home's comfort level will increase dramatically as well.
For best results, talk to a certified RESNET Home Energy Professional before making any changes to your home. They can advise you how to achieve maximum results in the most cost-effective way possible.
---
This content was originally published by the Residential Energy Services Network (RESNET) here. This content has been republished with the permission of RESNET. RESNET is the independent, national nonprofit organization that homeowners trust to improve home energy efficiency and realize substantial savings on their utility bills. RESNET's industry-leading standards are recognized by the U.S. Department of Energy and the U.S. Environmental Protection Agency, among others.
---