Public Transportation and Walkability benefits everyone. These are five ways smart growth can help the environment.
Smart Growth is defined as planned development that aims to curb urban sprawl and reverse the negative impact on the environment – or to put it positively, Smart Growth development is characterized by compact, well-connected, richly-amenitized communities. In today's rebound economy and vulnerable environment, Smart Growth has never been more applicable.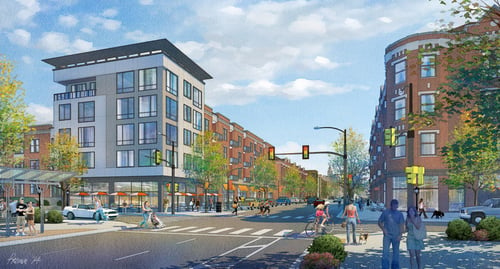 Denton Plan 2030. Image courtesy of Wallace, Roberts & Todd
1) Healthy lifestyles
Smart Growth communities, with networks of complete streets and well-programmed parks, make it easier for people to incorporate physical activity into their daily lives by providing safe places to exercise outside. Recent research shows that America's obesity epidemic is finally turning the corner. Healthier living and working environments can drive the goal of healthier lifestyles home.
2) Protects our most valuable commodity – time
Decades of sprawl development has added greenhouse gases to our environment, and equally importantly minutes to our daily commute. The Housing and Transportation Affordability Index is a good place to start as Smart Growth communities aim for an index under 45%. However, the H+T index does not factor in the opportunity cost of time spent on the road, usually in miles of agonizing traffic. Designing communities near job centers and centered around transit have the dual benefit of saving time and sparing the environment.
3) Creates more housing choices for changing demographic
Smart Growth neighborhoods include a mixture of housing types and tenures - from single-family homes to apartments of all sizes, duplexes, studios, condominiums and lofts. They best cater to 2 major shifts in American demographics – the Millennial population and the growing Baby Boomer cohort. Both are amenable to dense, urban, and innovative housing options.
4) Saves people money
Taking public transportation saves people money. According to about money, comparing the cost of a monthly transportation pass versus driving daily, paying for parking, tolls, and gas, an individual can save $2000 per year by selling their car and taking public transportation. This savings is especially poignant as we endeavor to advance the earning power of a stagnant middle class.
5) Enhances neighborhoods
By reinvesting in existing infrastructure and rehabilitating historic buildings, neighborhoods are being designed that have homes near shops, offices, schools, parks, and other amenities. By involving residents in development decisions, these communities are creating vibrant places to live and work. The high quality of life also makes these communities economically competitive, creates business opportunities, and strengthens the local tax base.
Smart Growth promotes communities and neighborhoods that are beautiful, safe, affordable and easy to navigate. It creates healthy communities surrounded by schools and strong local businesses, and low-cost ways to get around.
---
Wallace Roberts & Todd (WRT), an integrated design firm of architects, landscape architects and planners, is currently working on transforming the city of Denton, Texas to promote reinvestment, improve quality of life, and create an environment that is inspired by the citizen's values. Denton Plan 2030 is multi-phase development process that includes plans for mobility, featuring green streets, pedestrian and bicycle networks, and intelligent transportation systems; parks, conservation and environment, including preserving tree canopy, air quality, and local food production; and housing choices spanning from downtown and university housing to senior house and affordable housing. With the population of Denton, Texas set to nearly double by 2030, Denton Plan 2030 establishes an optimal pattern of growth while improving the quality of life for the future.