A paid distributor of "news," 3BL Media now runs cover for some of the worst environmental offenders, including Nestle and Monsanto.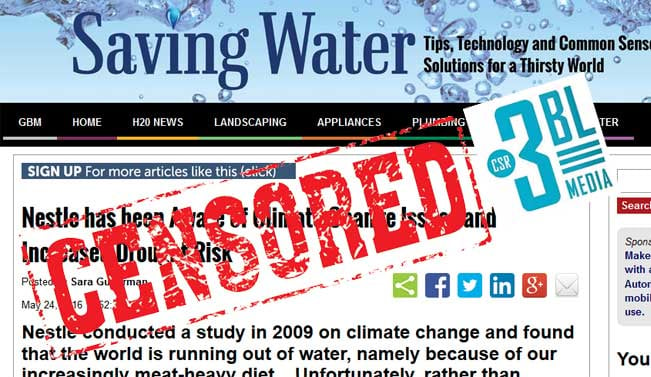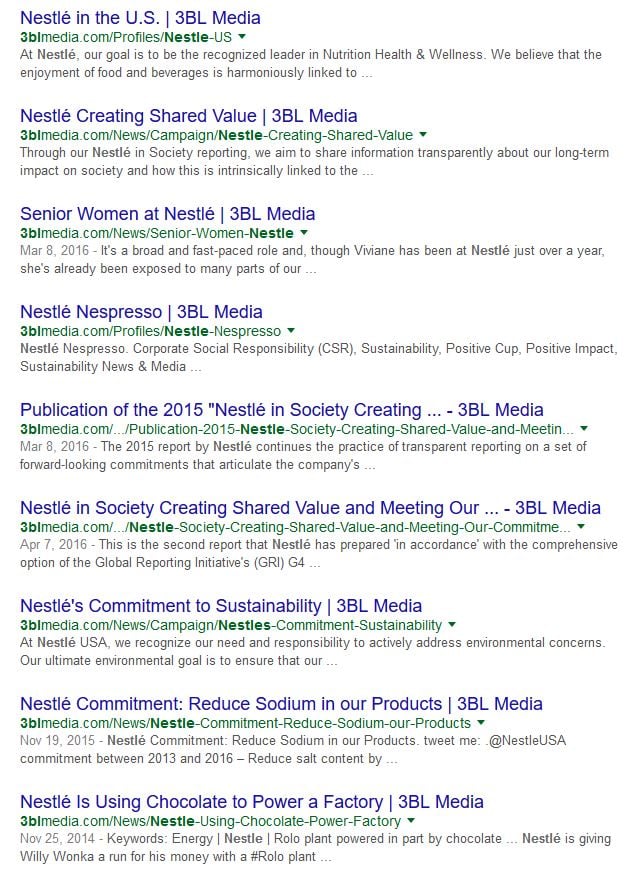 Double Standard Giant corporations such as Nestle are free to run virtually any corporate claims and self promotion they wish, while media outlets that are critical of other 3BL clients are accused of "unfairness" and censored.
The world is awash in information. For those of us who've spent our lives in the journalism business, this makes being "heard" ever more difficult The Internet is especially challenging, because search engines control, to a large degree, what information gets through the gauntlet. And the rules change all the time.
That's why many companies, including ours, have turned to services such as 3BL Media, which promise to amplify and distribute our content to thousands of other editors. But that kind of power, as we learned recently, can be used for good or ill.
Defensive Posturing
Our clash with 3BL began with a strange note from one of their junior employees, Meghan Amrich, informing us that a blog written by our CEO, mentioning Nestle corp would not be pushed out by 3BL's servers. In other words, it had been censored.
The note read like this.
Thank you for your submission of a blog about Nestle. Our team of editors has found the piece to be well-written and solidly researched, and outlines the complex issues around water shortages.
However, the articles and blogs we publish are about solutions, innovations, and initiatives going forward that make progressive change. We do not publish FMRs that examine only negatives, and that do not include course corrections for improvement, which are, from reading your article and others about Nestle, not applicable here as they are not happening. Also, the Nestle story has been written about in many media, from financial news to mainstream business news, and well-covered (although perhaps not always in the thorough and persuasive detail you provide).
We would welcome any future submissions from you that focused on examples of how positive environmental actions made a positive difference in a company's performance.
If you're a journalist, you may instantly understand my stunned reaction to this letter. Not only is it full of logical contradictions, much of what it lays out as acceptable parameters for content is completely counter to how news organizations make editorial decisions about what is "fit to print."
If we as journalists had to report only on positive sustainability steps made by companies ("initiatives going forward that make progressive change.") we'd not only bore our readers to death, we'd have a hard time filling pages.
But perhaps the strangest aspect of this censorship letter is her mention of how the article was well written and solidly-researched, In the world of journalism, that's the gold standard. Information that is accurate is "fit to print" in any context..Criticism of a company, politician or idea is the whole purpose of the 4th Estate. It''s how we journalists keep corporations honest, and accountable, and moving toward sustainability.
The only legitimate reason for censorship is factual error.
Ironically, the article in question wasn't even especially damning of Nestle. In fact, it was written as a column by our CEO, not one of our editorial staff. We had a good laugh about the fact that our CEO, who is typically on the advertising and sponsorship side of most issues, had stirred up such controversy.
Maybe this young employee was just acting overzealously, I thought, not aware of how censorship and greenwashing works.
I expected the issue to be quickly resolved. Typically, once you put an organization's feet to the fire, they back down on censorship issues. But that wasn't happening. Instead, 3BL doubled down, and pushed the issue further up the food chain to Cindy Esposito Schneider, one of the two founders of the company
She wrote:
Megan Amrich has shared todays correspondence with me and I would like to address the issue ...

3BL Media is not in the practice of turning away content or censoring content. However, we do try to balance the needs of all of our clients, Green Builder Media and Nestle alike, while also highlighting important CSR and sustainability issues in a balanced and fair way that will generate the most readership.
What Schneider did not do, however, was offer to reverse the decision to censor our article.
Killing Sustainability with Syntax

I read Schneider's note carefully. Less jargonistic than Amrich, she at least acknowledged that both Nestle and Green Builder media are CLIENTS of 3BL Media. But like Amrich, Schneider uses the Fox-news tainted words "balanced and fair" in a way that is actually doublespeak, and means something quite the opposite. What balanced and fair in this case means is "acceptable to any other 3BL client." In the real world, that means that anything said by Green Builder Media critical of a corporate client such as Nestle would have to be "softened" to avoid alienating that corporation's branding team..
But here's the real rub. No such standard applies to these non-news organizations., because they are not journalists. Of course they won't be criticizing news organizations. They don't give a damn what Green Builder Media or The New York Times is doing, UNLESS GBM is criticizing them. It's a one-way street.
By definition, a media organization's role is to serve as a "watchdog" of industry and government. By limiting what media can say about corporations, 3BL Media, a powerful distributor of information brings the gears of positive change to a standstill, and effectively hands all "green" messaging authority to the corporations. Nestle can talk all day about the wonderful health benefits of bottled water. But if Green Builder criticizes that information, even with a 100 percent factual, researched report, the story may be killed by Cindy, Meghan, and the other self-appointed media watchdogs at 3BL.
3BL Needs to Come Clean
Perhaps we expected too much of 3BL. After all, they're not journalists, or even editors, although they make free with some of the terminology of journalists.They're essentially the modern version of PR flacks. They help companies build brands. Our mistake may have been buying into their branding as an organization concerned about sustainability, like our own. .As Dave Armon, their CMO, later wrote dismissively to us about our censorship grievance:
While we distribute a wide array of content, our mission is to help brands amplify their achievements in corporate social responsibility and sustainability.
For other media companies that mistook the 3BL culture as one of advocacy for sustainability, read that last sentence carefully. 3BL is NOT a morally driven organization with a sustainability mission. To the contrary, their very presence makes achieving real, positive environmental change more difficult, because they auction off messaging to the highest bidder. They are neither neutral nor pro-sustainability. They provide a platform for one-sided greenwashing messages from large companies,.
To add insult to injury, of course, Green Builder, like all 3BL clients, pays a lot to have our content sent to thousands of other editors each month, Maybe Nestle pays more. That's why we'll be switching to another distribution service. If you're a genuine media organization, hoping to promote messages that shake up the status quo, I urge you to do the same. Otherwise you may find your "voice" unexpectedly silenced, when your minor criticism of nefarious corporate behavior targets any of 3BL Media's growing list of greenwashed corporate clients.
Example of a 3BL Monsanto release.
About the Author: Three time winner of the Jesse K. Neal Award from ABM for journalistic excellence, journalist Matt Power recently won the Folio Gold award for "The Celestia Project," a multi-part look at a utopian sustainable future. Winner of dozens of editorial awards over the past three decades, he also taught advanced journalism and reporting at East Carolina University.