3 Things to Know About LEED Green Building Certification
As sustainable building trends increase in popularity, it's
essential for real estate stakeholders to be informed about green trends.
As sustainable building trends increase in popularity, it's essential for commercial real estate (CRE) stakeholders to remain informed.
Green buildings are touted for their cost and health benefits, and sustainability certifications are a stamp of approval that properties meet those standards.
LEED (Leadership in Energy and Environmental Design) is the most-widely used green building rating method around the world.
The certification consists of many lengthy requirements, but if you're just getting started, there are only a few things you need to know.
USGBC Improves the Planet's Health& Uses Fewer Resources
There are Financial Benefits to Certification
It's A Points-Based System With Multiple Levels
This article discusses the most important features of LEED Certification to ensure your conversations during your deals with CRE clients.
1. USGBC Improves the Planet's Health & Uses Fewer Resources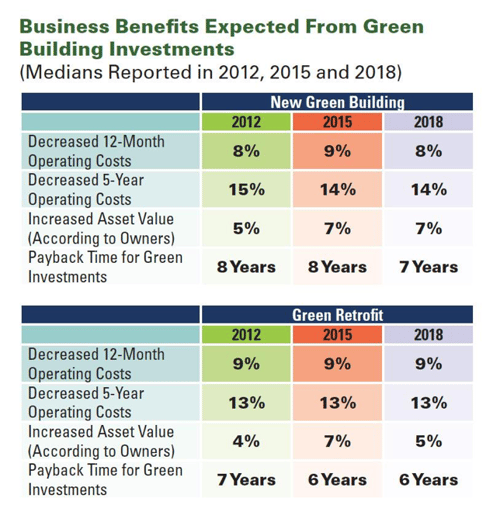 The U.S. Green Building Council (USGBC) is a nonprofit organization that assigns LEED certification. They've created the rating system to make buildings more sustainable — but what does that mean?
Within the context of the built environment, USGBC aims to enhance the health of people and the planet while using fewer resources.
LEED buildings should:
Use less energy and water
Produce less waste
Improve inhabitant health & productivity
The possible characteristics of a LEED building are located under broad categories. The umbrella categories range from water efficiency to proximity to sustainable transport.
For example, within the "Sustainable Sites" category, one feature is "Heat Island Reduction." This means reducing the heat island effect, where urban areas are warmer due to dry, paved surfaces.
Within the "Indoor Environmental Quality" section, you'll have the option of performing "Integrated Pest Management" to reduce both the number of pests and your use of pesticides.
Once you've gathered documentation proving that your building meets those conditions, the USGBC will review the paperwork and assign your certification.
Through meeting the conditions defined by LEED, your property will support the ultimate goal of a more sustainable planet.
2. There are Financial Benefits to Certification
USGBC didn't forget about the economy in its goal of a healthier planet. Investors, brokers, and owners accrue financial advantages by entering LEED property deals.
Certification fees start at over $1,000 and additional costs vary depending on the project. But, there are multifaceted economic benefits that may outweigh initial investment.
According to a 2018 World Green Building Trends Report, there is a business valueassociated with investing in green buildings. Results reported in 2012, 2015, and 2018 all display decreased costs and increased asset value.
Lower operating costs are highlighted by the survey as a consistent response from 65% of respondents.
In relation, LEED reports that over 92% of certified new projects have seen improved energy performance by at least 10.5%.
LEED states that certified buildings enjoy faster lease-up rates, a better resale value, and immediate recognition as a leader in sustainability.
Leaders in the USGBC believe that the environmental benefits of LEED certification also provide economic value.
3. You Have to Earn Points to Earn a Certification
LEED certification is a points-based system with multiple levels of certification. That way, you'll be able to add up exactly where your property ends up on the scale.
Depending on the points you achieve, your certifications range from the basic "Certified" to the sought-after "Platinum."
While earning 80 points will place you as "LEED Platinum," there are 100 possible points to gain.
Before earning these points, your building must meet a foundation of prerequisites. Then, you'll achieve credits that translate into points.
The types of credits you can earn depend on your building project type. There are seven categories, including:
Design and Construction
Interior Design and Construction
Operations and Maintenence
Within each project type, you can choose any number of credits to strategically earn enough points for certification.
For example, within the Operating and Maintenance certification, you can earn a total of 4 points in the Sustainable Sites category.
The word "Credit" to the left of the elements means you'll earn points for implementing that feature. If the column said "Prerequisite," you wouldn't earn points for that action.
LEED offers a variety of resources to help aspirational investors and owners reach the credits they need.
The point-based system provides a transparent way to assign a certification level across any building project type.
LEED's Multifaceted Benefits Attract CRE Stakeholders
Achieving LEED certification is a complex, detailed process. However, reports from USBGC show that following the point-based system will pay off in economic, social, and environmental benefits.
While the sustainable goals for LEED remain the same across property types, there is a different credit system for 7 project categories. By earning credits, you'll earn points toward one of the four certification levels.
CRE stakeholders invest in LEED Certification because of the immediate and long-term value it promises.
---
Nicole Schlabach leads real estate content and research for Clutch, a resource for companies to research, vet, and determine the best
business services for their needs.