Builders aren't the only ones working sustainable policies into their everyday activities. Cities are also taking part, with creative approaches to eco-challenges ranging from greenhouse gas reduction to building code enforcement. Here are three cities—one small, one mid-sized, one large—that have taken steps to promote sustainability with exceptional organization and passion.
Small Municipality Winner: Wellington, Fla., Wellington Environmental Preserve
The Village of Wellington is deeply committed to improving sustainability and quality of life for its residents. In 2012 and 2017, Wellington obtained a Gold Standard certification from the Florida Green Building Coalition for its sustainability practices. Since then, sustainability efforts have only increased.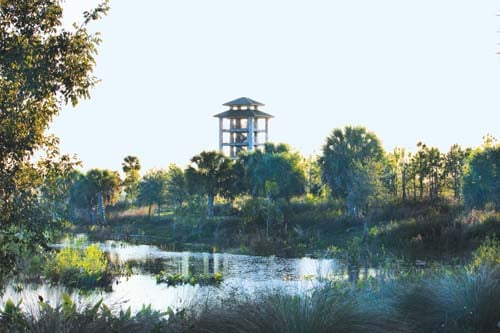 The Wellington Environmental Preserve protects the Everglades, animal life and the public by naturally cleansing storm water runoff.
A highlight is the Wellington Environmental Preserve, which is a byproduct of the cooperative efforts among federal, state, regional and local agencies to restore America's Everglades.
The preserve, a 365-acre rainwater storage area, was built through a partnership between the Village of Wellington and the South Florida Water Management District (SFWMD). It received the "Project of the Year" award from the Palm Beach County Chapter of the American Society of Civil Engineers. The preserve is also used to naturally cleanse storm water runoff of phosphorus from the southern portion of Wellington, through its two-plus miles of combined wetland/marsh areas, littoral shelves and deep water sediment traps prior to its discharge.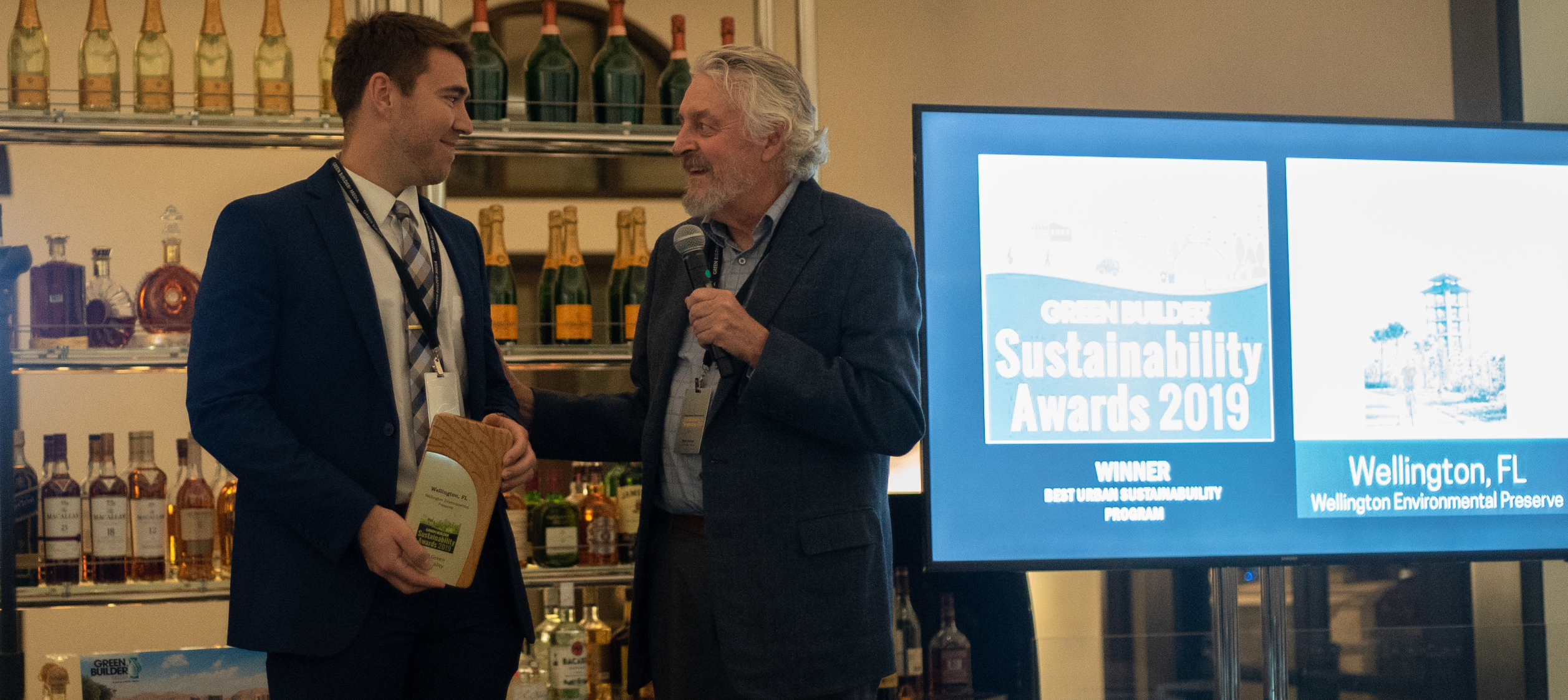 Green Builder Media President Ron Jones presents award to Wellington, Florida for Best Urban Sustainability Program (small)
The preserve also includes nature trails, seven designated learning centers, a six-story observation tower and a 3.6-mile perimeter trail. Segway tours are offered, and many groups meet to use the trail as a running destination. It is considered a top South Florida destination for bird watching and photography.
"The Wellington Environmental Preserve is a great example of a project that can benefit the environment while providing a valued amenity for the residents," says Branden Miller, a planner with the Village of Wellington's Planning and Zoning Department. "It is also a great example of Wellington's commitment to sustainability and improving quality of life for its residents."
Other efforts by the city follow that same philosophy. All governmental buildings constructed since 2012 have been LEED certified, and numerous services and practices have been focused on sustainability efforts. Some of these practices include free electric car-charging stations at municipal-owned facilities, water reclamation for irrigation—which saved more than 200 million gallons of water last year—and an electric vehicle fleet.
---
Mid-Sized Municipality Winner: Orlando, Fla., Green Works Orlando
Since 2007, the City of Orlando has been working to transform into the most environmentally friendly, socially inclusive and economically vibrant city in America. Through Mayor Buddy Dyer's Office of Sustainability & Resilience, also known as Green Works Orlando (GWO), the city has become nationally and internationally known for innovative policies and programs that work to achieve the triple-bottom line of sustainability: improve the quality of life and well-being of people, protect the planet and ensure prosperity for all.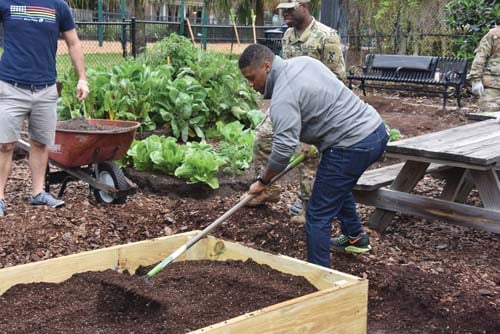 Community gardens and other pro-farming efforts have made Orlando a greener and more sustainably productive city.
The GWO office focuses on advancing sustainability and resilience in seven key areas: clean energy, green buildings, local food systems, solid waste, livability, transportation and water resources. Through this framework, GWO has successfully undertaken numerous green actions, including:
Earth-friendlier transportation. Under GWO's watch, Orlando has expanded its Downtown LYMMO circulator busline, completed the SunRail commuter rail service, launched car sharing with bike sharing, and converted hundreds of fleet vehicles to electric, hybrid or compressed natural gas.
Added energy-efficient buildings and homes. In the past decade, the city has performed energy efficiency retrofits to 1,200 houses, completed 10 LEED-certified municipal buildings, with two more under construction, and completed or approved $19 million in energy efficiency investments to municipal buildings.
Improved community sustainability, such as through the planting of 10,000 trees and establishment of five community gardens, and increasing recycling collection by 35 percent.
Brought farmers and homeowners together. In 2014, the city launched its Fleet Farm program, a tie-in to a new ordinance that allows farming on up to 60 percent of a resident's front yard. Homeowners get 5 percent to 10 percent of the harvest, and the rest is sold to local restaurants and farmers markets. According to Orlando Director of Sustainability Chris Castro, the actions made perfect sense: Lawns are one of the largest sources of pollution in the U.S. due to all the chemical fertilizers and pesticides used to maintain them, and they result in 800 million gallons of gasoline being used for mowing. Plus, unused public lands in lower-income areas have been turned over to neighboring residents, who share the harvests for food and small-community profits.
Planned for a green future. The city has adopted the 2012 Municipal Operations Sustainability Plan and the 2013 Green Works Orlando Community Action Plan, with efforts now underway to implement 2018 plan updates. Both have set guidelines and sustainability goals as the city works toward aligning itself with the Paris Climate Agreement for Cities, which calls for a 90 percent cut in carbon emissions from 2007 levels by 2050.
The efforts are gaining attention. In 2017, Orlando was recognized as the nation's most energy-improved city, and ranked 20th for its energy efficiency policy and programs on the American Council for an Energy Efficient Economy (ACEEE) City Scorecard.
Castro says it's all a matter of prioritizing as to what's most important. "We are working to make sustainability a culture of innovation in Orlando, and positioning us to become a model city in the 21st century," he notes. "But the ultimate beneficiaries of our work will be our children and grandchildren. Working together, we can make a cleaner, greener and better Orlando for generations to come."
---
Large Municipality Winner: New York City, New York City Department of Buildings
Greenhouse gas emissions are a huge threat to the planet's health, and New York City unintentionally does its share because of its massive building stock: CityLab places the number at 1.1 million buildings, all of which emit CO2. City officials estimate that 75 percent of its greenhouse gas comes from those structures.
The New York City Department of Buildings (DOB) is tasked with cutting that number down. Since 2013, DOB's team of plan examiners has worked to enforce the city's efforts toward carbon emissions reduction.
"Before 2013, the energy code compliance program was in its infancy," says Gina Bocra, the city's chief sustainability officer. "[The examiners] were the only line of defense when it came to energy consumption in our buildings."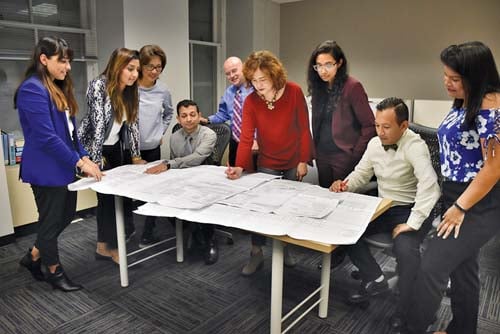 Every day, Department of Buildings plan examiners work to enforce New York City's efforts toward carbon emissions reduction.
In the past half decade, the DOB has implemented numerous programs designed to help the city make program on its climate change goals. Those efforts include:
Full enforcement of the energy code prior to approval for new buildingssomething few cities actually do, according to Bocra. "Our plan examiners have raised awareness and understanding the energy code among applicants, resulting in thousands of buildings in the city being compliant with the code, [and] saving New Yorkers energy," she says. "[This] means dollars in their pockets, as well as securing a better future for all New Yorkers by working to reduce the impacts of climate change."
Creation of the Local Law 87 (LL87) Enforcement Unit. This program took an unfunded mandate to a functional enforcement program that has reviewed the energy efficiency reports for thousands of the city's largest buildings, Bocra notes. To date, it is estimated that the program has helped cut energy use in these structures by up to 6 percent, a total that over time can double, based on national averages, Bocra says.
Establishing the Local Law 84 (LL84) Enforcement Unit. DOB established a dedicated unit to this program, which requires owners of large buildings to report their annual energy usage and water consumption to the city. "Since the LL84 team was brought on board, their support has resulted in an 80 percent reduction in non-compliance," Bocra says. "[This] ultimately means better energy data transparency for building owners, helping them better understand how one building's energy performance compares to another's."
Development of the Energy Code Inspections (ECI) team. In New York City, owners are obligated to perform energy code progress inspections on construction projects, but it often does happen, Bocra notes. Changes are made in the field, and many builders do not know how to keep up with the code. ECI now makes random inspections at construction sites, increasing the awareness of the energy code among builders and trades, and "ultimately is ensuring that what was approved on the drawings is what is happening on the site."
Whereas most municipalities do not actively enforce such codes or laws, the New York City DOB is setting the pace on regulation of energy usage, according to Bocra. "Each of these programs has taken innovation to get it off the ground [and] to create the procedures and resources, with the team using ingenuity to adapt and apply what they could learn from other units at DOB to these new programs," she says. "The team has overcome the challenges in creating new programs and moving them to successful operations through collaboration, teamwork, dedication and passion."