1Valet Customizable Smart Building Ecosystem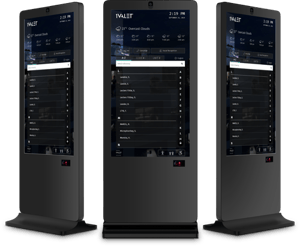 For builders and developers, constructing a luxury multi-residential dwelling has long meant constructing a building that includes a number of traditional mundane amenities, and wrapping it with high-end interior finishes. Today's most desirable multi-family developments are innovative, smartphone-centric buildings that connect residents and empower them to control every aspect of their living experience.
1VALET takes otherwise independent building components and management tasks and combines them into one intuitive, user-friendly building management solution. The platform acts as the operating system of the building, simplifying management operations for new builds or retrofits.
Interactive and sleek touchscreen consoles replace conventional phone-booth-style intercom dialing in lobbies and vestibules. Smartphone video calling and access logs inform users of who is attempting to enter the building, while facial recognition, virtual keys and PIN codes provide keyless community access for residents, guests and staff.
The system's Property Management Portal allows building managers to access and manage any property remotely through an HD camera network dashboard. They can easily manage resident, guest or vendor access privileges, dispatch elevators to any floor, manage all vital building systems, and receive emergency alerts. Even tenant turnover becomes a digital process through one-click door rekeying and resident information removal.
For more information: www.1valet.com