10th Annual Green Home of the Year Award Winner: Net Zero Victorian

Alan Naditz
6 min read
This classic Twin Cities home goes from 'remuddled' to sustainably remodeled.
When Stewart and Linda Herman bought what would become known as the Minneapolis Net Zero Victorian, their goals were simple: Preserve and enhance the traditional character of the now 111-year-old home, and seamlessly reach net-zero-energy living in their retirement without sacrificing any modern conveniences.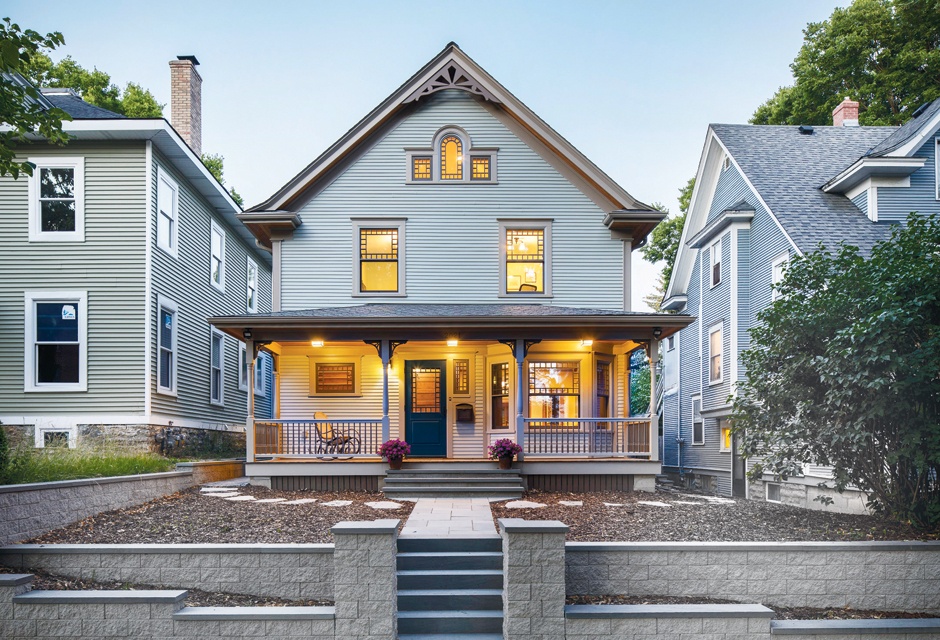 According to SALA Architects Senior Associate Marc Sloot, the project's architect, the Hermans—a pair of retiring college professors—wanted their passion for education and the environment to carry over to this massive rebuild. "Seeing the effects of global warming, and the huge number of aging houses that need improvement, [they] wanted to set an example for net-zero remodeling," Sloot says.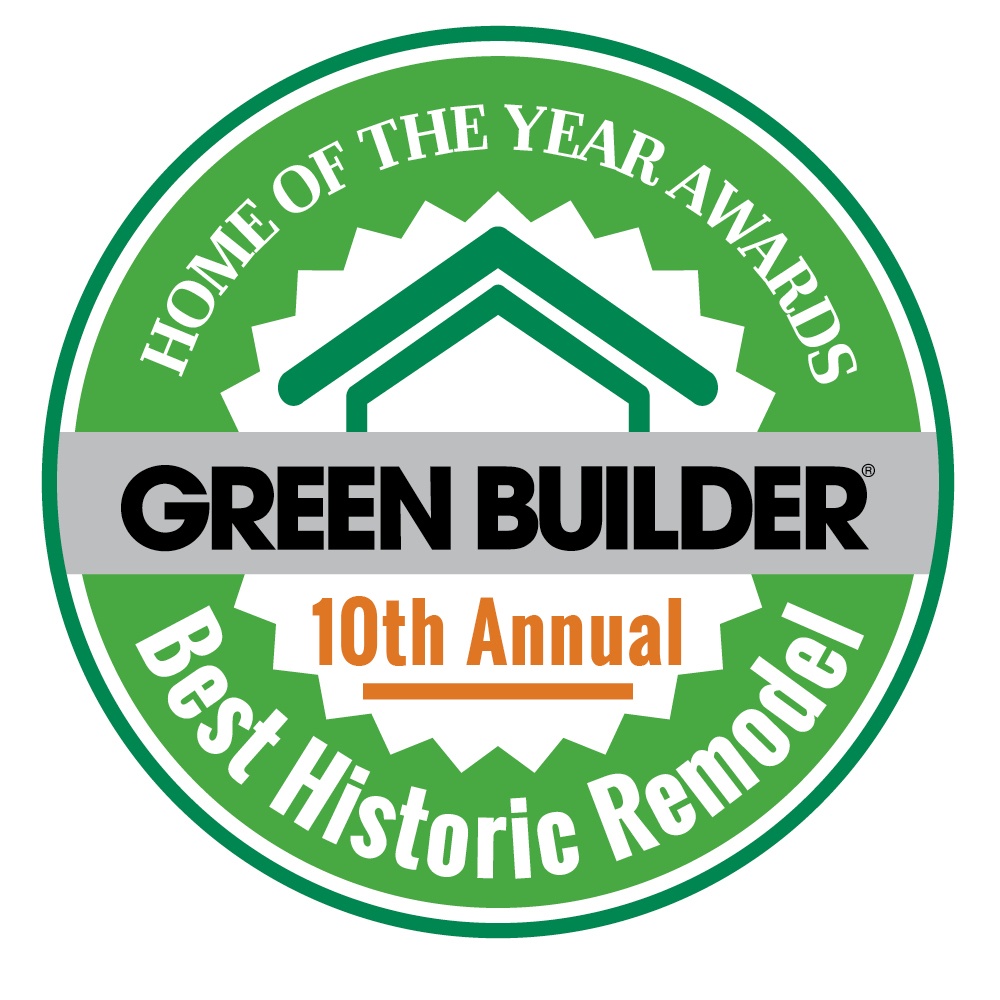 Project Stats


Name: Minneapolis Net Zero Victorian
Architect/Designer: SALA Architects
Builder: Sean Morrissey, Morrissey Builds
Photographer:Troy Thies Photography
After spending their careers living in the Fargo region, the Hermans wanted a home in a dense residential Twin Cities neighborhood that would make for a challenging remodel. Finding that house was relatively easy: a bank foreclosure, built in 1907, on a tight 40-by-120 lot with a number of poorly designed additions by a previous owner.
Although the house was filled with what Sloot likes to call "remuddled" efforts, "it was a house that had some good bones and a real charm to it," he notes. "We could tell it had a really great potential."
The home had a long south-facing wall, which ordinarily should have made it a match for passive solar benefits. But the project's tiny lot resulted in only a 15-foot wall-to-wall clearance from neighboring homes. Because of that housing density and existing trees, "We knew passive solar was out of the picture here," Sloot says. "So to get it to net zero, we had to try really hard to reduce energy consumption as much as possible primarily from the performance of the structure and systems in the house. Luckily the roof of the house was high enough and the garage roof also had good solar exposure to allow for enough electricity production from the roof mounted photovoltaic panels to offset our reduced consumption and reach net zero.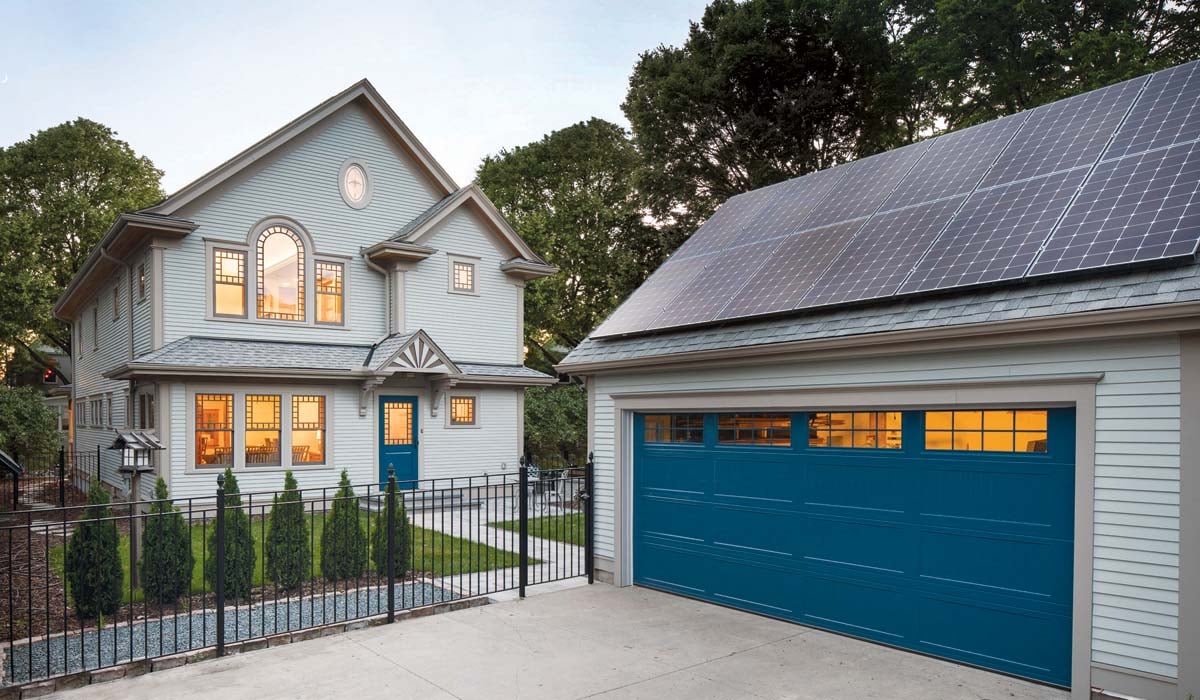 The Case for 'Remuddling'
Structural difficulties started with the roof, which had been "remuddled" in 2005. The previous owners extended it by 15 feet, but not in a good way. "Instead of having the new roof seamlessly match the original roof, the pitch of it was off by about 15 degrees, and it was down a few inches," Sloot notes. "There was a few inches of transition between the old and new roof. Can you imagine putting shingles on a roof like that? They just rolled the shingles down over that edge."
The remuddling continued. The interior, which also held mold and moisture within the walls, simply wasn't engaging, Sloot says. "You've got the original house with its classic trim and windows, and the addition's got a big box store look—the cheapest stuff you could find. Things like that took away from the appearance and functionality of the house."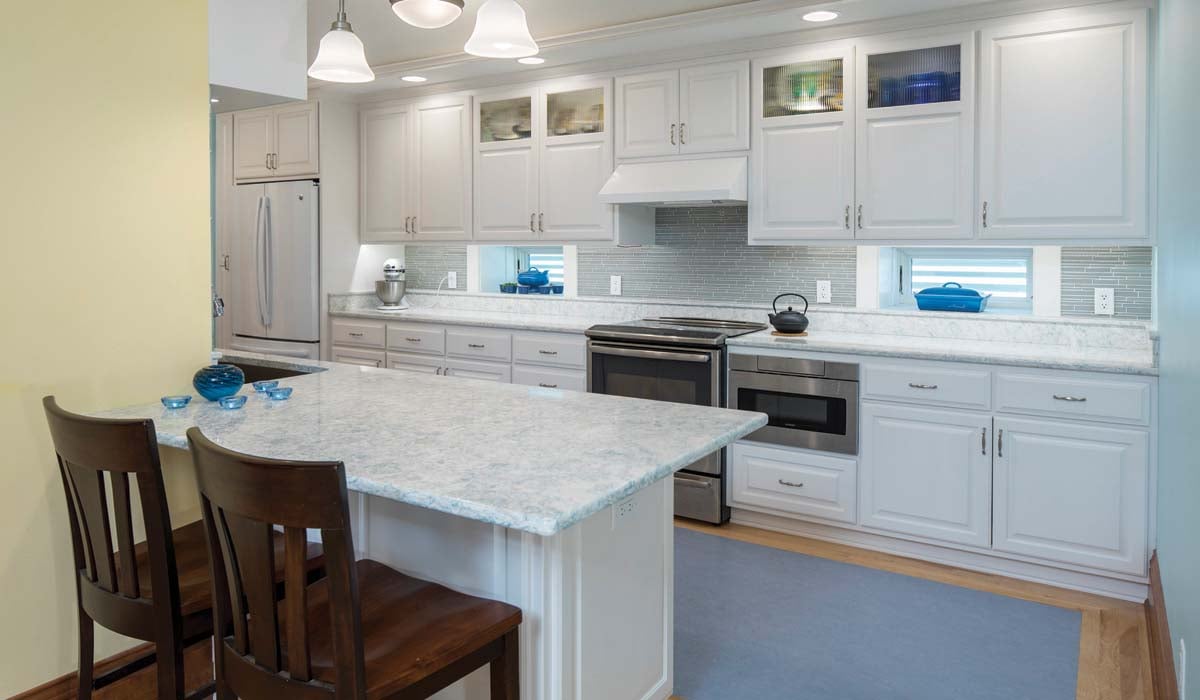 The floors were a basically a replay of the roof. "You go from the existing house on the first floor, to the floor where the addition comes on, and it steps down 3/4 of an inch," Sloot describes. "Again, why would you do that?"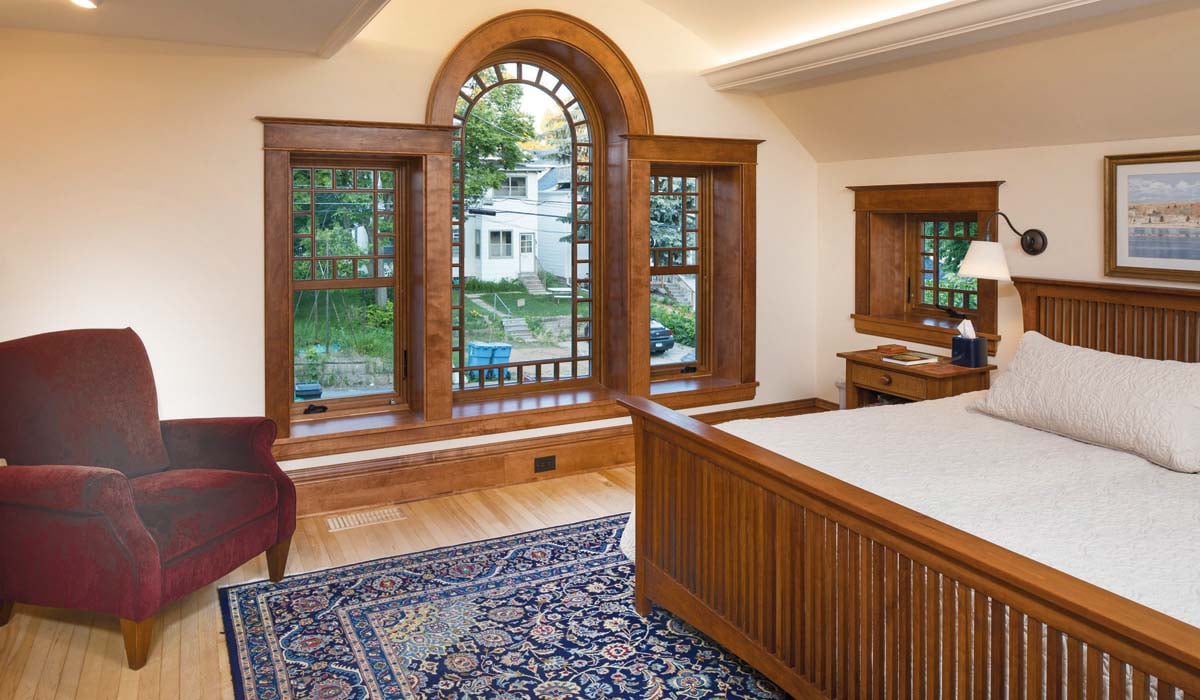 Ditto on the upper level, where "you go from the existing part to the new, and there's a six-inch step up, because they wanted to use different sized lumber that was probably cheaper," Sloot says.
"Some of those things we could easily fix. In some cases, we had to strip it down to the studs and start from scratch," Sloot says. "For other ones, we had to get creative in how we designed around them."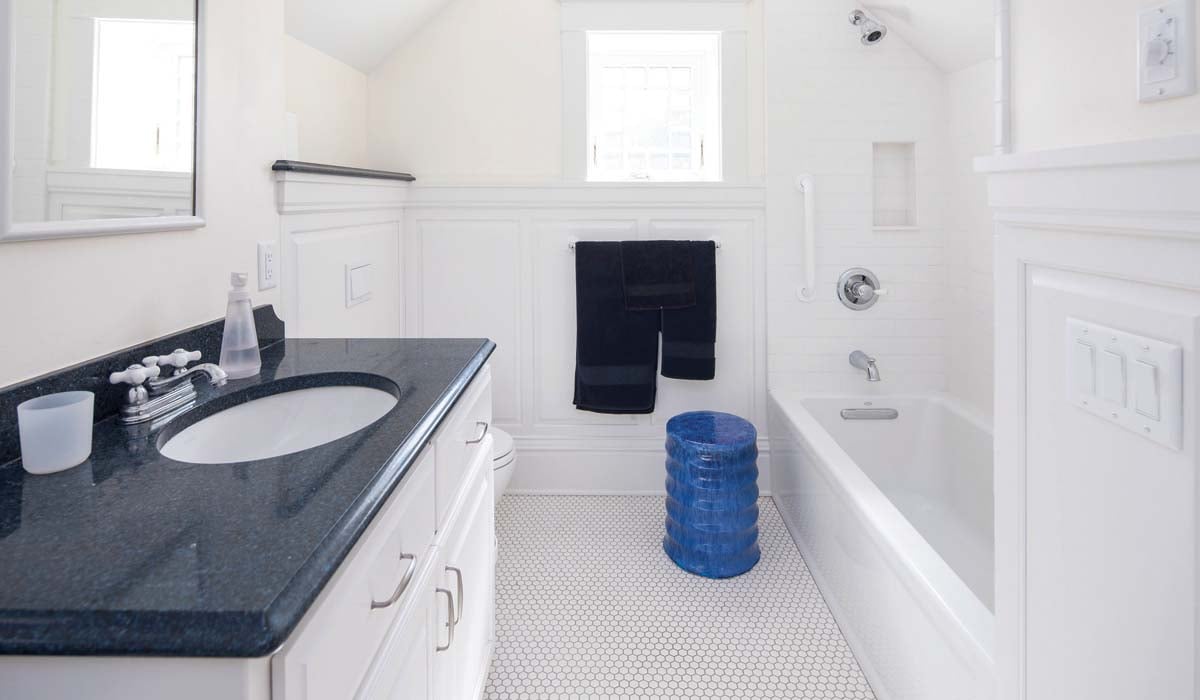 Aging in Place
An example is the insulation used for the foundation. The lot's narrow clearance from neighboring properties made using conventional installation equipment like a back hoe impossible. Instead, remodelers relied upon surgical excavation, in which a five-inch trench is hydro-vacuumed next to the foundation. The trench is then refilled with about two inches of expanded polystyrene (EPS) insulation.
Builders also overcame the effect of a cold, wet Minnesota winter upon the usual self-adhesive membrane used with outdoor insulation. The team chose 3M's Air and Vapor Barrier, which proved pliable, thinner and workable in really cold weather. "We went into this expecting to use a more common form," Sloot says. "But the way the schedule played out, we were having to do a lot of the work during the winter. We had to find a product with a different membrane that would work."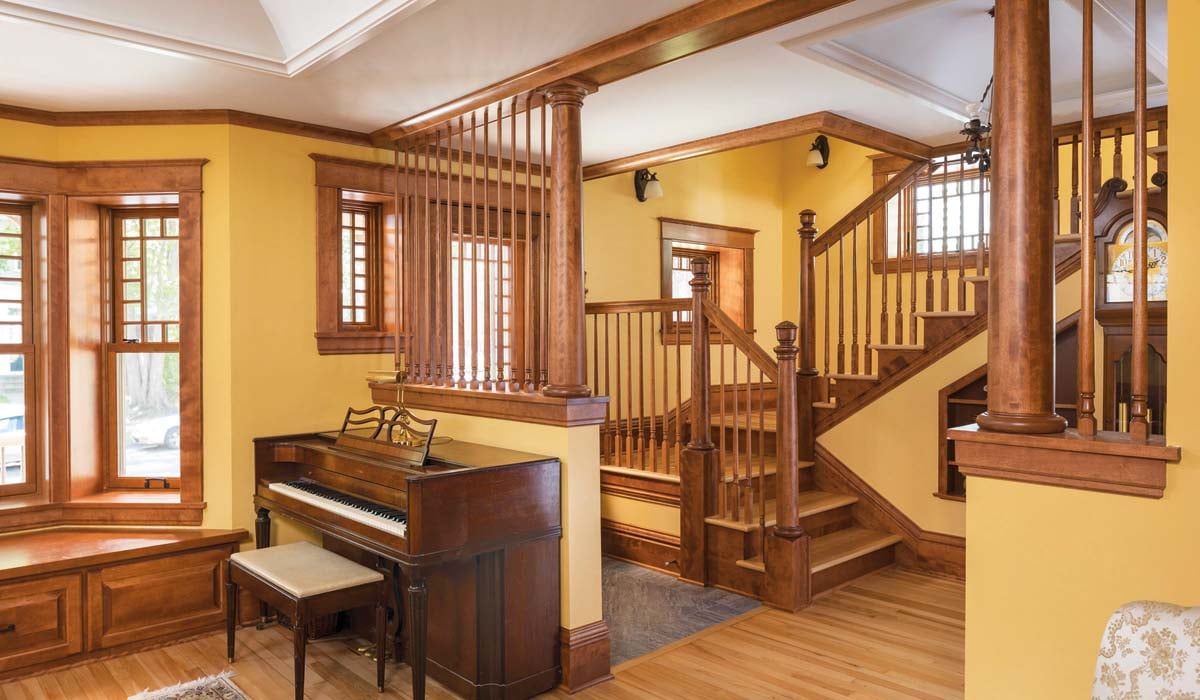 Other upgrades reflected a philosophy of "conservation first." These included continuous air sealing and thick exterior insulation from footing to ridge utilizing Cocoon and Pressure Equalized Rain Screen Insulated Structure Technique (PERSIST) methods, triple-paned windows, a high-efficiency ground source heat pump heating and cooling system, a condensing clothes dryer and water heater with heat pump technology, and LED lighting throughout the home. For energy production, there is a 54-panel photovoltaic solar array on the house and garage.
The Minnesota Net Zero Victorian is a certified Zero Energy Building with the Living Futures Institute and performs at net positive energy, according to Sloot. In its first year of occupation, the house has produced 17,000 kWh while using only 12,000 kWh. Regarding holistic Green Building Certifications, it has achieved the highest GreenStar Level of Gold. They are also seeking LEED Platinum Level, and MN Green Path Master Level. The home's HERS Index score is -9.
Since the project's completion in 2016, the Hermans have eagerly shared their experience through architectural tours. More than 1,600 people have visited the home for ideas on how they could move their residences closer to net zero. "People are able to monitor how the house performed," Sloot says. "It's one thing if it looks great on paper, but you need to see it work in real life."
Key Components
Alternative building systems: Insulation and air sealing system
Exterior Insulation of Existing Foundation: Cocoon exterior foundation insulation system; Surgical Excavation hydro vacuum excavation system; EPS insulation; low expansion closed cell spray foam
Exterior Insulation for Above Grade Walls: Pressure Equalized Rain Screen Insulated Structure Technique (PERSIST)
Exterior Insulation for Existing Walls: 5/8-inch Gypsum board; self-adhesive 3M Air and Vapor Barrier 3015; 7-5/8-inch thick EPS Insulation; 5/8-inch plywood sheathing; Tyvek Home Wrap; plywood furring strips for air space behind siding; Louisiana Pacific Smart Siding
Exterior Insulation System for Roof: PERSIST; self-adhesive roof membrane; new I-Joist; closed cell spray foam with low global warming potential
Appliances: GE slide-in range with induction cooktop PHS920SFSS; Vent-A-Hood Exhaust Hood PRH9130SS; GE refrigerator GNE29GSHSS; KitchenAid dishwasher KDTE254ESS; Sharp under-counter drawer-type microwave SMD2470AS; LG clothes washer WM3570HVA; Whirlpool ventless clothes dryer with heat pump technology WED99HEDW
Automotive (electric car charging, etc.): Schneider EV 2430WS 220-volt charger
Building Envelope: Insulation and air sealing system
Cabinets, Shelves, Millwork: Cabinets and millwork from Accent Precision Wood Products; No Added Urea Formaldehyde (NAUF) material
Countertops: Cambria quartz
Decks: Porch flooring is 1-by-4 Douglas fir tongue and groove; Valhalla Wood Preservatives Ltd. nontoxic wood treatment
Doors and Hardware: Andersen Hardware (exterior doors and windows); reused and salvaged knobs, lock sets and hinges (interior doors)
Electrical: LED lights used throughout
Exterior Finishes: Andersen Windows Maintenance Free Exterior Window and Door Trim; Louisiana Pacific Smart Siding and Trim; MiraTec trim; Boral trim; site-applied stucco on foundation with Dryvit top coat
Flooring: Reused existing yellow birch on main level (front), new birch (rear); reclaimed maple on upper level; Forbo Marmoleum tile
Furniture: Reused from owners previous home
HVAC/Ducts: GeoComfort ground source heat pump with ducted forced air distribution system
Insulation: Lapolla Foam Lok 2000-4G Closed Cell spray foam with low global warming potential (GWP); Rigid EPS with low GWP; Roxul mineral wool with low GWP
Landscaping: Versa-Lok retaining walls; Bluestone natural stone front sidewalk and retaining wall caps; Unilock Umbriano back patio and north sidewalk pavers; fencing is 1-by-4 Douglas fir tongue and groove; Valhalla Wood Preservatives Ltd. nontoxic wood treatment
Lighting: Decorative lighting by Lampin Lighting
Walls Surface Material: CertainTeed AirRenew formaldehyde "eating" drywall
Paints and Stains: Sherwin-Williams
Plumbing/Plumbing Fixtures: Franke, InSinkerator, Kingston Brass, Kohler, Mirabelle, Toto, Nantucket, Delta, Toto
Renewable Energy Systems (Solar, Wind, Etc.): Photovoltaic array (54 PV panels, LG 315 watt each)
Roof: CertainTeed Premium Designer Collection asphalt shingle
Specialty Products: Custom Cove ceilings
Structural Components: New LVL ridge beam with structural steel columns
Ventilation: Broan Energy Recovery Ventilator (ERV)
Water Heating: A.O. Smith hybrid air source heat pump water heater
Water management (Indoor/Outdoor): Indoor/outdoor potable water usage; NDS Flow Well Dry Wells to retain 100 percent of storm water on site and absorb it into the ground
Windows, Skylights, Patio Doors: Anderson A-Series triple-pane glass
Other: Custom hand-turned columns and stair newels, Tuscan Doric design.
---

Alan Naditz is managing editor of Green Builder Magazine. He has covered numerous industries in his extensive career, including residential and commercial construction, small and corporate business, real estate and sustainability.