10th Annual Green Home of the Year Award Winner: Family Hostel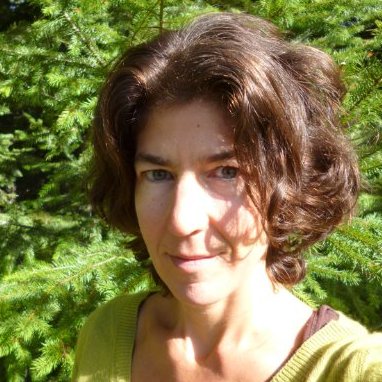 Juliet Grable, Guest Columnist
5 min read
Designed to accommodate generational living, this home sets the bar for market-rate sustainable homes.
Seattle-area design-build firm TC Legend has hit on a winning formula for building market-rate, net-zero-energy homes: Start with a rectangular volume + Use passive solar orientation + Build a well-insulated, airtight envelope using structural insulated panels (SIPs) and high-performance windows.
That strategy is on display in a home completed in 2017 in West Seattle. The 3,160-square-foot home on an urban infill lot is net-positive energy and was built at market rate.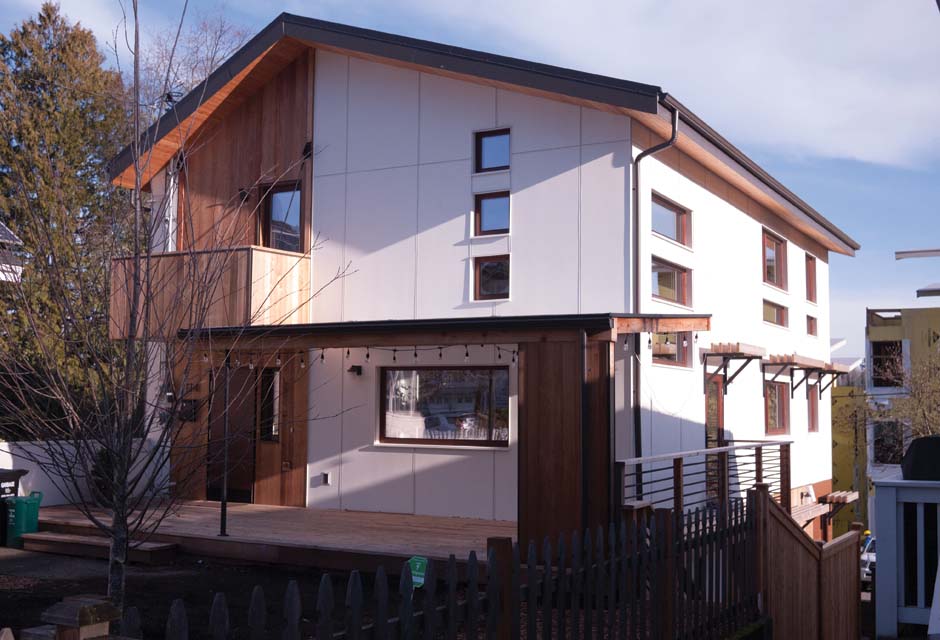 "I still talk to people who don't even know it's possible to build a net-zero home for the same price as a conventional home," says Ted Clifton, designer, builder and owner at TC Legend.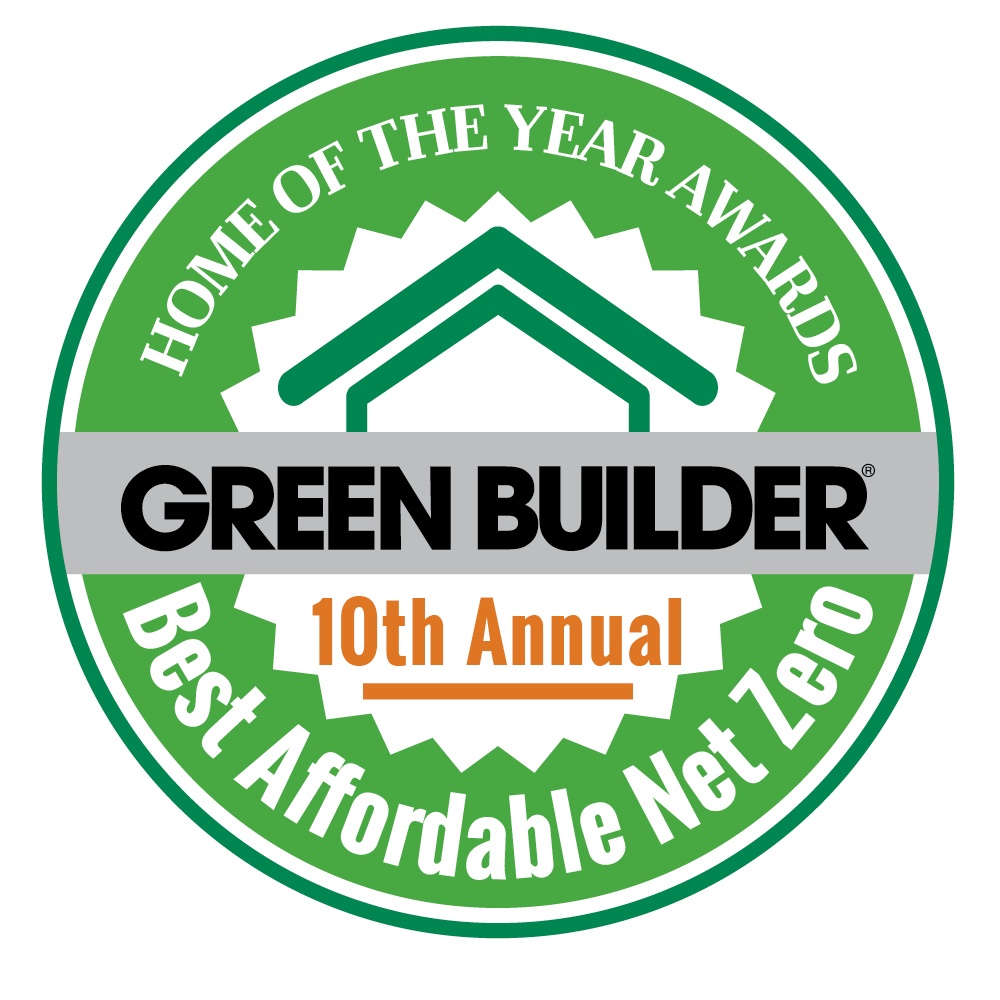 Project Stats


Name: Net Zero Home in West Seattle
Architect/Designer: TC Legend Homes
Builder: TC Legend Homes
Photographer: Jake Evans
When Clifton began building with SIPs 17 years ago, he had reservations about the material. But then his father, also a builder, asked if he'd like to take on a project in Seattle. The home, which cost $124 per square foot to build, went on to capture a Housing Innovation Award from the Department of Energy and has earned Net Zero Energy certification under the Living Building Challenge.
The combination of cost and performance of the SIPs system won Clifton over, and today, he won't build with anything else. The energy shell for the West Seattle home arrived on a truck. The 6.5-inch SIPs panel walls were unloaded and installed by hand; a crane was used to set the 10.25-inch SIPs roof. Triple-pane windows from EuroClime complete the envelope.
Environmentally Attractive and Easy on the Eyes
TC Legend homes aren't just functional boxes; it's important that the homes are attractive, too. On the exterior, Allura fiber cement panels combine with FSC-certified redwood accents to create a durable yet attractive façade. Overhangs and awnings add interest while shading the home from the summer sun.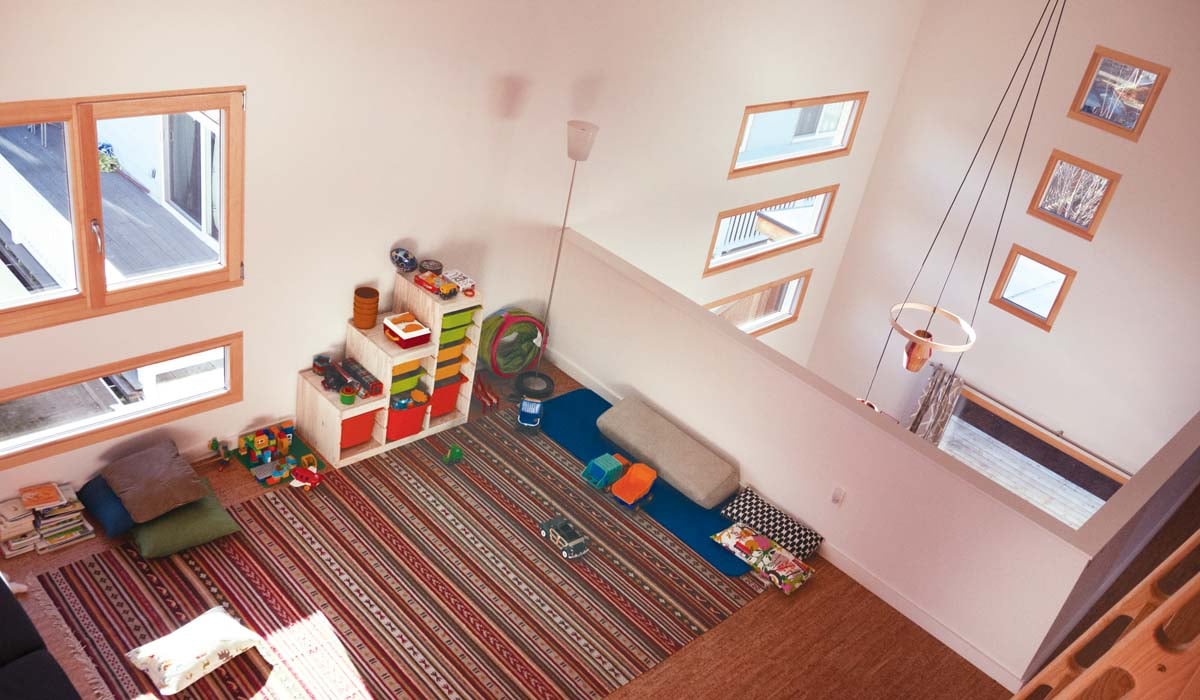 As a case in point, Clifton points to his Tesla S electric car. Yes, it's environmentally responsible. "But it looks really cool, too," he says.
Not content to stop at net-zero energy, TC Legend also integrated a rainwater harvesting system into the home—a first for the company. The system was designed by RainBank; TC Legend installed all of the components. The system consists of four 2,500-gallon cisterns located below the first-floor deck, for a total storage capacity of 10,000 gallons. The water moves through a series of physical filters before undergoing UV treatment. The system supplies all of the water used in the three-story home, including irrigation.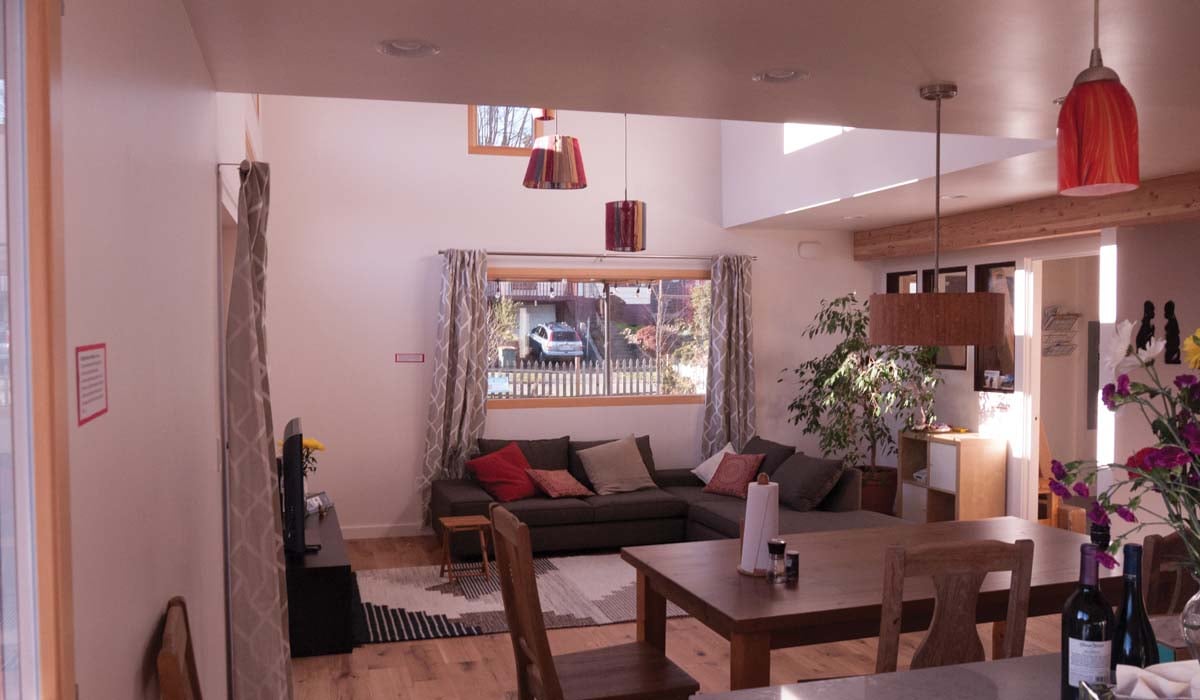 Sizing the rainwater collection system for the three-story house presented a challenge. The limiting actor was the roof area. The cisterns were sized so that they can meet the demand of the occupants, which include a family of five plus guests who stay in the downstairs Airbnb apartment, without overflowing during the rainy season. The system is also connected to the municipal water system, so the cisterns will never run dry.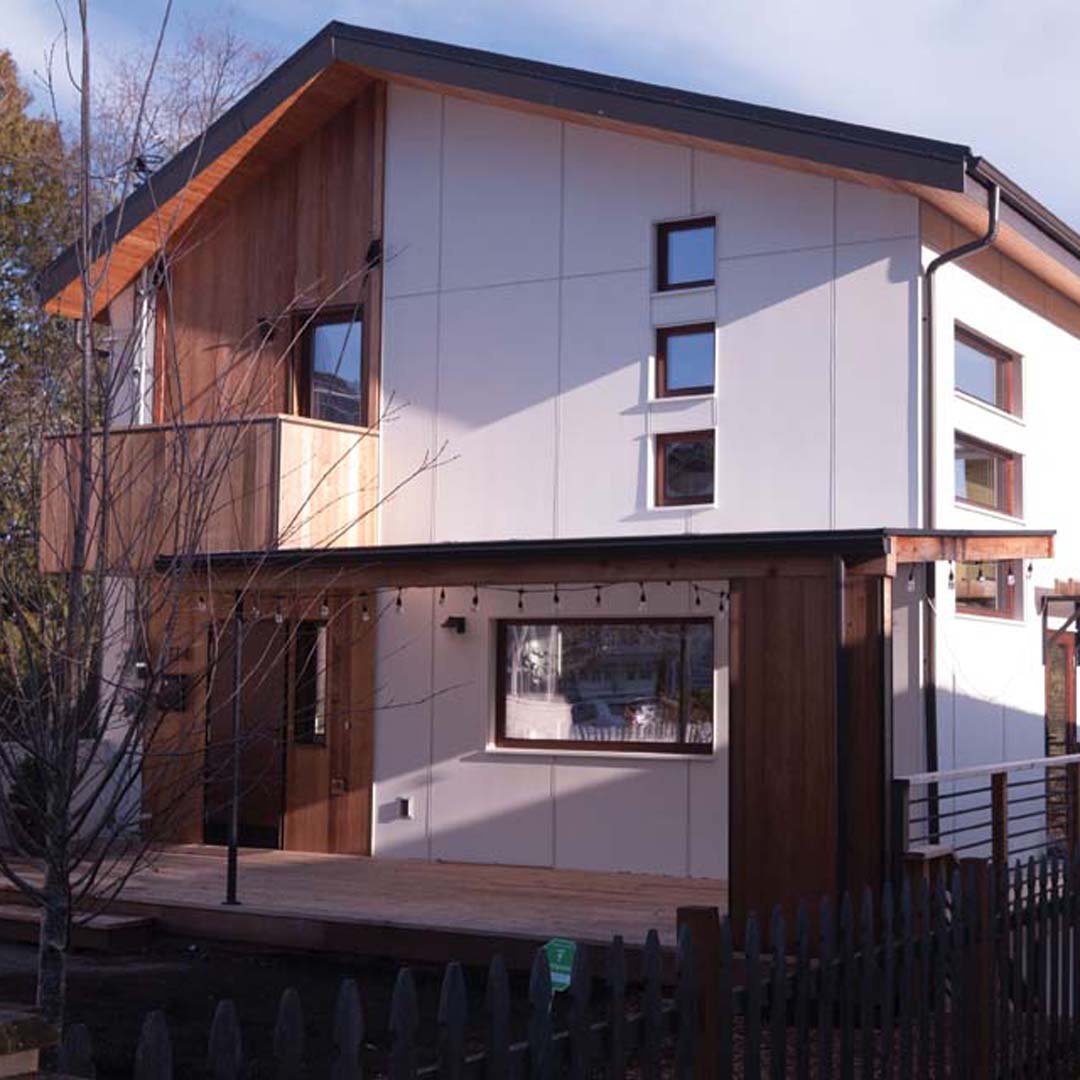 "This was kind of a first for Seattle, too," says Clifton, adding that the city's inspectors were eager to collaborate and get the system permitted. The captured rainwater and site strategies such as permeable pavers also keep stormwater out of Seattle's combined sewer system.
Low-Cost Luxury
TC Legend's goal is to build only net-zero- and net-positive-energy homes for between $200 and $250 per square foot in the Seattle area (less in nearby Bellingham). Cost-cutting strategies start with the site. The home is built into the slope, eliminating the need to import or export soil. The building is a 41.5-foot by 27-foot box, oriented with the long side of the rectangle facing south. Strategically placed glazing maximizes daylighting and solar heat gain in the summer, while openings on the east and west façades are minimized, to prevent overheating.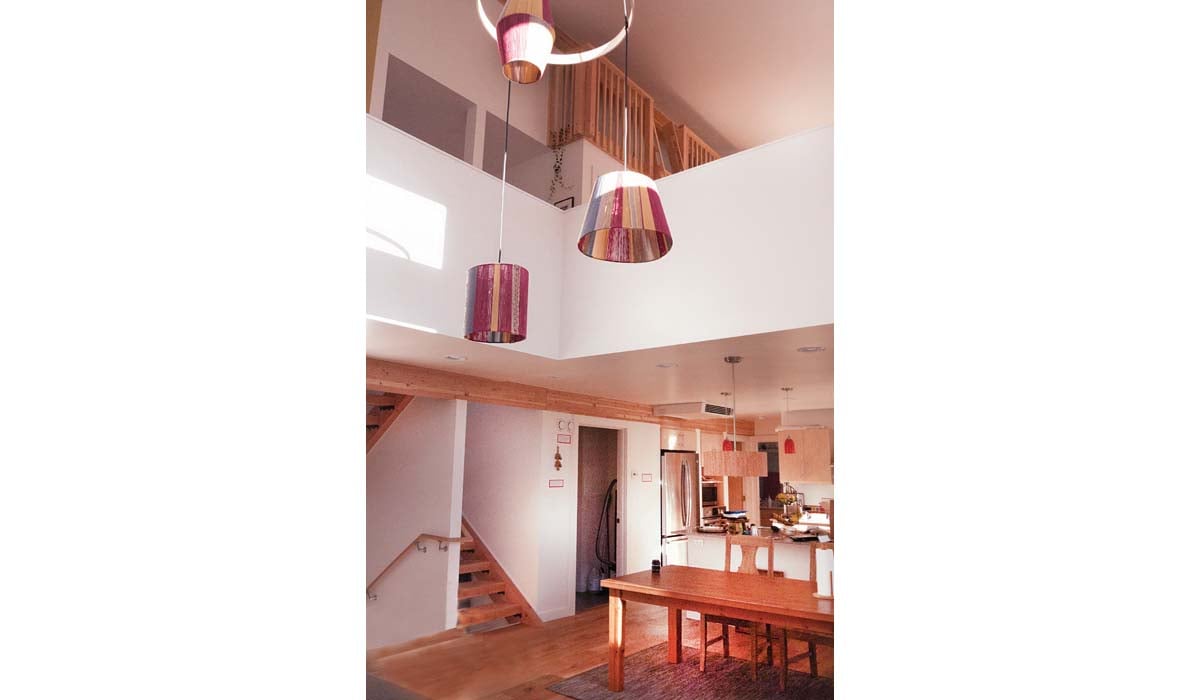 The home's design reduces heat and cooling load significantly. A Chiltrix CX34 air-to-water heat pump supplies heating, cooling and domestic hot water. A hydronic loop runs through the ground floor, while ceiling-mounted fan-coil units provide heating and cooling for the second and third levels.
Though new to the U.S. market, Clifton says the Chiltrix units are relatively easy to install, not to mention five times as efficient as a conventional tank-style water heater. The whole house is ventilated by a Zehnder heat recovery ventilator (HRV) that scavenges 91 percent of the heat from the exhaust air.
Because of the link between natural gas and fracking, TC Legend doesn't run propane appliances in their homes anymore. "The compelling argument for gas is gone," says Clifton. Going all electric also eliminates an entire utility—another cost savings.
Other features that helped the home earn its Emerald Star certification through the Built Green program—the most stringent level—include two electric vehicle charging stations, zero-VOC finishes, FSC-certified lumber and no PVC.
Clifton builds four to five homes a year, but he would like to spread his winning formula more broadly, possibly by partnering with a Seattle-area production builder—one who builds hundreds or even thousands of homes a year.
"From a moral standpoint, it would be a shame to know how to build net-energy-positive homes and not do it," says Clifton.
Key Components
Automotive (electric car charging, etc.): 2 stations: 1 internal, 1 external; 50a 120/240v
Building Envelope: SIPs, ICF formed stemwalls, triple glazing throughout, sprayfoamed RIM
Walls and roof: Premier SIPS platinum with Neopor GPS foam; 6.5-inch walls (R29), 10.25-inch roof (R49)
ICF forms: NuDura ICFs
Cabinets, Shelves, Millwork: locally made, FSC; Blum hardware
Caulks and Sealants: Zero VOC Countertops: Quartz
Decks: Sustainable Northwest Wood—FSC cedar
Doors and Hardware: FSC wood doors
Electrical: 9.9 kW on roof
Panels: 33x itek 300-W solar panels, locally made (Bellingham, WA)
Inverter: SMA Sunny Boy 7.8 kW, US Nurio remote monitoring of solar energy production
Flooring: Marmoleum (70 percent rapidly renewable content, 43 percent recycled content); Wicanders Cork (renewable); QuietWalk (95 percent post-industrial fibers); acoustic subfloor layer; FSC white oak, Salmon Bay concrete (machine grind finish) with 30 percent slag
Garage Doors: R-15 single-car door
HVAC/Ducts: Spiral metal
HRV: Zehnder ComfoAir 250
Heat pump: Chiltrix CX34
Insulation: R-29 walls, R-49 roof, R-23.5 perimeter and R-20 slab
Lighting: 100 percent LED
Paints and Stains: All zero VOC
Plumbing/Plumbing Fixtures: No PVC
Renewable Energy Systems (solar, wind, etc.): Solar, rainwater catchment
Specialty Products: Reclaimed internal glazing
Tile: Stonepeak Zebrino and Palazzo (66 percent recycled content)
50-year lifespan fiber-cement siding panels
Sustainable Northwest Wood, FSC redwood lumber siding sections
Structural Components: SIPs envelope and all FSC structural and non-structural lumber
Water Management (indoor/outdoor): Permeable concrete hard surfaces; rainwater catchment (from metal roof) and purification as primary water source (10,000-gallon water storage on site)
Window Coverings: Custom window shades