10th Annual Green Home of the Year Grand Overall Winner: Elevated Standard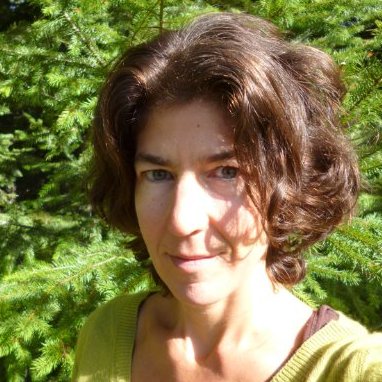 Juliet Grable, Guest Columnist
4 min read
This off-grid mountain retreat is designed to sip energy, resist wildfire and return to the forest at the end of its life.
When Andrew Michler began designing his award-winning passive house, he knew he had a tough client: his family. The MARTaK Passive House, located near the one-stoplight town of Masonville, Colo., was to serve as an off-grid family retreat. Consequently, it had to be flexible, accommodating and architecturally interesting, as well as perform in a tough climate.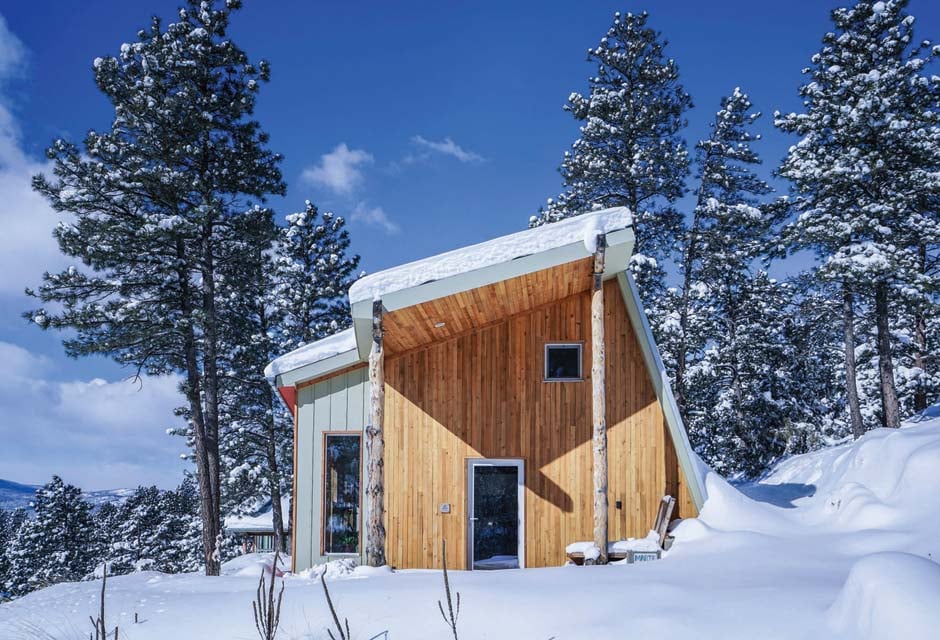 The 1,275-square-foot dwelling is built at an elevation of 6,700 feet, in a ponderosa pine forest increasingly at risk for wildfires. It's the first certified International Passive House in Colorado.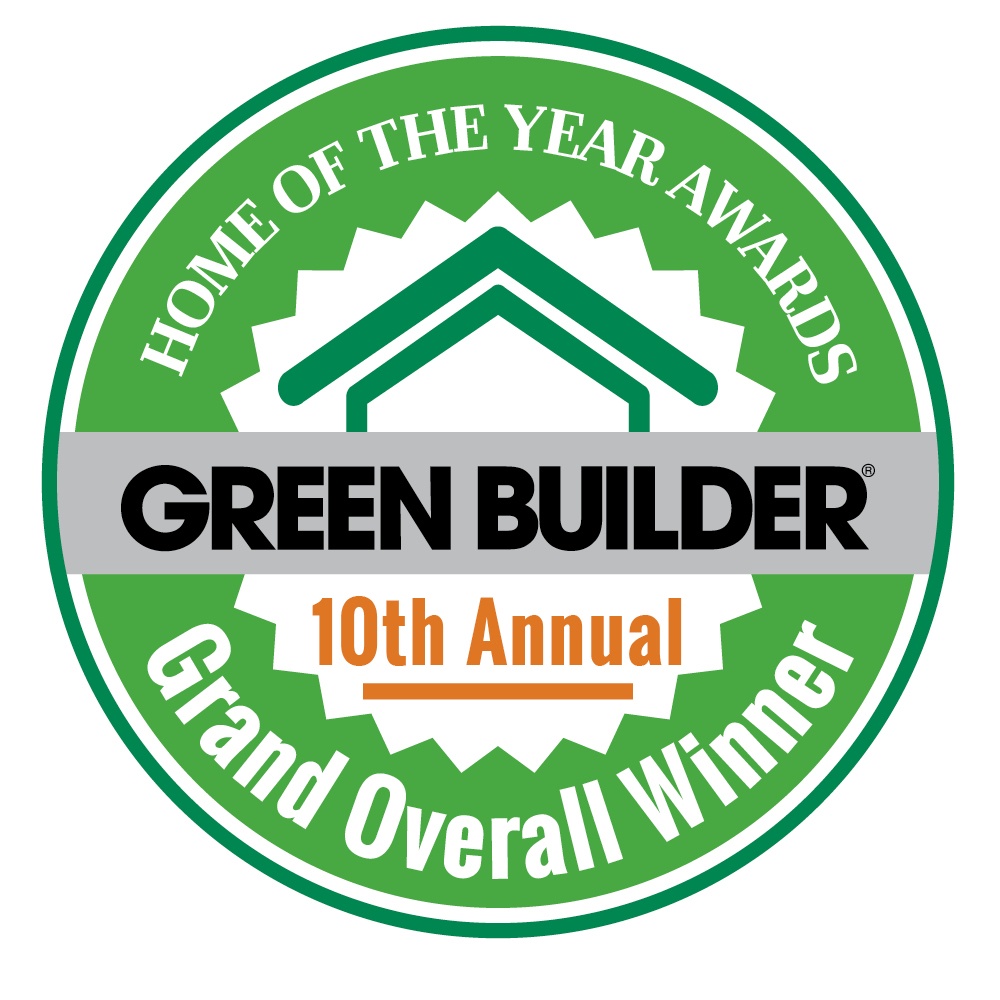 Project Stats


Name: MARTaK Passive House
Architect/Designer: Andrew Michler, Baosol Design
Builder: Baosol Design and Parr Construction
Photographer: Andrew Michler
Michler took design inspiration from the Hogback Mountains, a spine-like ridge in western Colorado. The shed roof of the MARTaK House rises gradually from west to east, and the north wall cants back from the peak. The basic building form is simple—a necessary strategy for achieving Passive House standards—but the asymmetric ceiling and angled south wall help the structure transcend the rectangle, creating dynamic spaces inside.
"One of the tricks for small spaces is you have to think in three dimensions, and play with volume and scale," says Michler, who offers design, writing and consulting services under the umbrella of Baosol Design. The open floorplan includes flexible spaces which range from expansive to cozy. Other features that add flexibility and function include the multi-use stair with its series of nesting boxes and the "net-bed" in the loft, which ensures an exchange of natural light and provides the perfect retreat for kids. Except for the loft, the home is ADA accessible.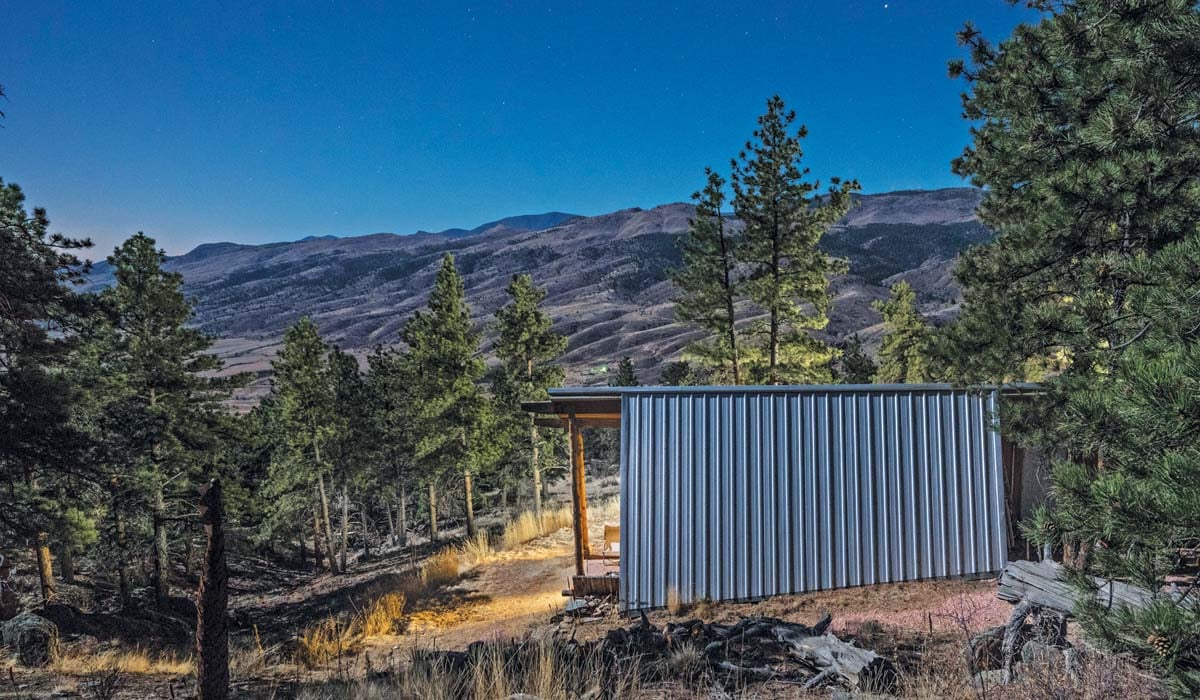 Old School but Effective Insulation
Michler thought carefully about the whole life cycle of the building and embodied energy of the materials. Wood, a renewable resource that also captures carbon, is used extensively in the structure and finish materials. Though many passive houses rely on spray foam insulation to achieve their superior energy performance, Michler decided to not use any foam in the MARTaK Passive House. The home is also built on a traditional crawlspace foundation insulated with cellulose, rather than a concrete slab, greatly reducing the amount of concrete needed. The stem walls rise from an earth-and-tire foundation that Michler salvaged from a previous shop building.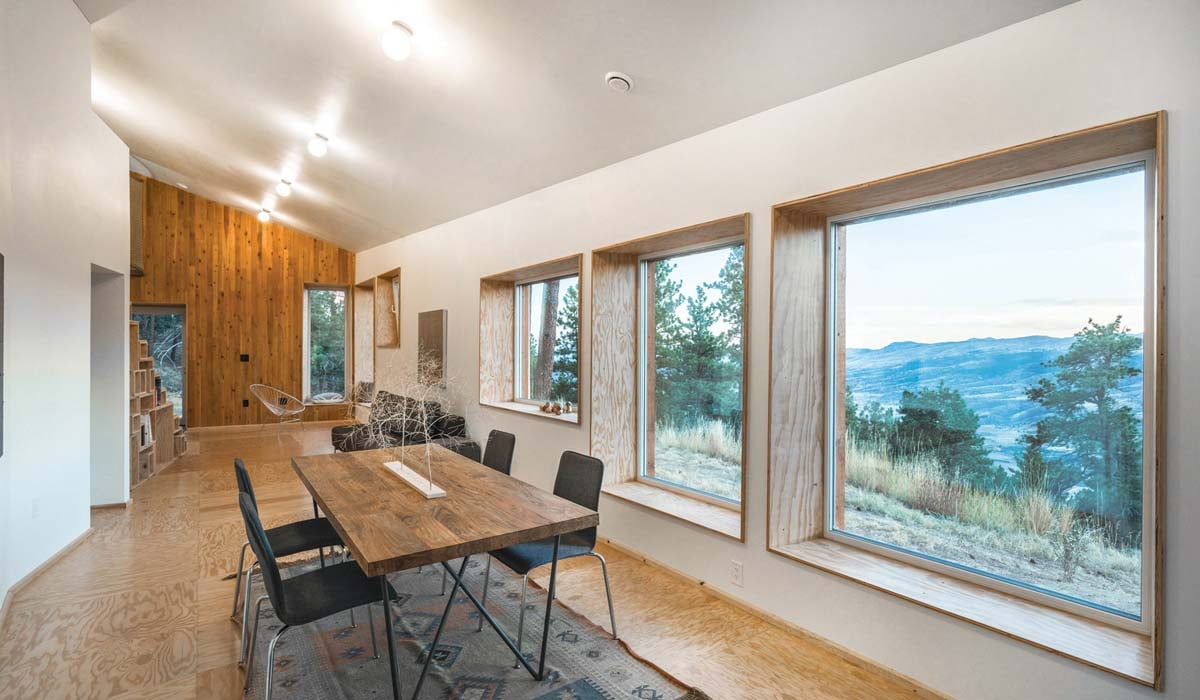 The walls consist of traditional 2-by-4 wood framing skinned with plywood; the cavities are filled with Rockwool mineral wool batts, and joints are taped with adhesive tape from pro clima. Larsen trusses—ladder-like, non-loadbearing frames—attach to the exterior, creating bays that are filled with blown-in cellulose insulation. Rockwool drain boards—a rigid mineral wool product—attach to the Larsen trusses, and the exterior walls are finished with a rainscreen and board-and-batten fiber cement siding. The walls vary in thickness from 16 inches to 24 inches, with the thicker walls on the north side. Triple-pane windows from INTUS complete the envelope.
Key Components
Alternative Building Systems: Reused rammed earth tire foundation, foam-free passive house envelope
Cabinets, Shelves, Millwork: Site-built FSC-certified plywood
Caulks and Sealants: Eco-Bond Adhesive Farm Safe Adhesive; SIGA Primur Roll adhesive compound; pro clima TESCON Vana adhesive tape
Decks: Reclaimed redwood
Exterior Finishes: Cedar picket, James Hardie fiber cement
Fire Protection: Class A fire assembly, tempered triple-pane windows
Flooring: Slate, FSC-certified plywood
HVAC/Ducts: Hydronic in wall and post heater on HRV
Insulation: Applegate Cellulose, Rockwool mineral wool batts and Drain Board sheets
Lighting: Cree LED
Renewable Energy Systems (solar, wind, etc.):
2.3-kW Schott solar PV array; Iron Edison nickel-iron batteries; Outback inverter and charge controller
Roof: Galvalume Steel
Specialty Products: pro clima Intello high-performance vapor retarder; bioPCM Phase Change ENRG Blanket
Ventilation: Air Pohoda HRV
Water Heating: Noritz tankless water heater
Water Management (indoor/outdoor): Toto 0.8-gal toilet, low flow faucets, Oxygenics 1.0 gpm showerhead; rain catchment with WISY diversion filter
Windows, Skylights, Patio Doors: INTUS Eforte triple-pane windows (0.49 SHGC)e
Insulation values are high, even by passive house standards, with the thickest walls reaching R-120. In fact, modeling software showed the project performing at more than twice the certification level.
"We way overbuilt," says Michler. "
It was my first passive house, so there was a lot of learning." Since then, Michler has designed a second passive house, and he recently traveled to Vancouver, B.C., to research high-performance buildings.
With Heating, Less Is More
Passive House design achieves a 90 percent reduction in heating demand. According to Michler, the MARTaK Passive House requires the equivalent of a stovetop burner for heating. The home is heated with a hydronic loop that relies on an efficient propane-fired tankless heater in combination with a heat recovery ventilator. The HRV supplies fresh air to the home and is supplemented with an earth tube for summer cooling.
Because it is an off-grid home in a fire-prone landscape, self-sufficiency and resilience were givens. Materials such as the mineral wool board, metal roof, cement board siding and triple-pane windows provide fire resistance; rain catchment supplements water demand and is available for fire suppression. The home relies on a modest 2.3-kW solar array.
A visit to Baosol Design's website will surprise visitors expecting a tour of award-winning homes. Instead, the site features an eclectic mix of imaginative experiments, some of which qualify as art installations. Drawing on a background in the fine arts, Michler uses Baosol—a mashup of "tree" and "sun"—as a platform for exploring deep design.
"I try to do things that haven't been done before," he explains.
Michler has also founded Passive House Rocky Mountains, a chapter of the North American Passive House Network, which uses training and advocacy to help promote Passive House in the region.
The MARTaK Passive House should go a long way to furthering Michler's mission of demonstrating how we can build for today without compromising the future.