Scientists now assert that we have 10 years to curb our carbon emissions and solve our increasingly urgent climate challenges. Sustainability advocates are bellowing. People are marching. Will Washington listen?
A recent study released by the International Institute for Applied Systems Analysis (IIASA) suggests that we have 10 years to make massive changes in sectors like energy, transportation, and agriculture—or else.
The study, which deployed the newly developed FeliX model (measuring the dynamic interactivity between our planet's social, economic, and environmental systems), compares four scenarios for future energy use and carbon emissions.
In the "high-renewable" scenario, wind, solar, and bioenergy are pervasive (increasing by 5% annually), energy efficiency measures are pursued, and negative emissions approaches (like reforestation and ocean system revitalization) are deployed, resulting in a net emissions peak by 2022 and a reasonable (livable) increase in global temperature.
However, in the scenario with continued reliance of fossil fuels, growing energy consumption, and marginal negative emissions activity, net emissions don't peak until the end of the century and global temperatures rise to as much as 3.5°C (unlivable, for all practical purposes.)
According to the study, in order to have a chance at staying close to the 1.5°C temperature increase target set by the Paris Agreement, "Fossil fuel consumption would likely need to be reduced to less than 25% of the global energy supply by 2100, compared to 95% today. At the same time, land use change, such as deforestation, must be decreased. This would lead to a 42% decrease in cumulative emissions by the end of the century compared to a business as usual scenario."
Sustainability activist Bill McKibben emphasizes, "We only have a short window to deal with the climate crisis or else we forever lose the chance to thwart truly catastrophic heating." He avows that we need to "close the gap between what physics demands and what our political systems have so far allowed in terms of action."
Despite constant and fervent calls from scientists, world leaders, businesses, and concerned citizens across the globe, the current Administration continues its sweeping and unprecedented assault on environmental protections and regulations, emasculating the EPA, attacking the Clean Power Plan, threatening to walk away from the watershed Paris Agreement, and turning climate denial into de facto national policy.
As McKibben asserts, "Trump is trying to give gas-guzzlers new life and slashing the money to help poor nations move towards clean energy… He won't be able to stop solar and wind power in their tracks, but his policies will slow the pace at which they would otherwise grow. Other Presidents and other nations will have spewed more carbon into the atmosphere, but none will have insured, at such a critical moment, that carbon's reign is extended."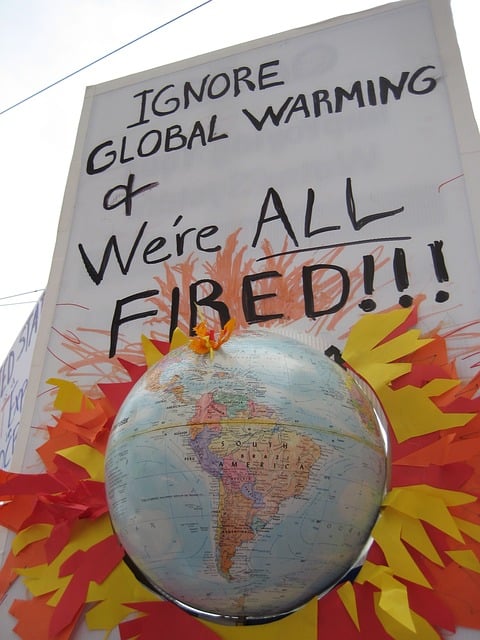 Perhaps the only silver lining of President Trump's war on the environment is its rallying effect. Countries from China to Germany are clamoring to assert their leadership on the global stage, eager for any chance to outshine the U.S.
Red and blue states alike are doubling down on renewables, fighting vigorously against regulation rollbacks, passing their own innovative policies, and creating carbon markets to combat climate change.
And citizens are getting in on the action too. Last Saturday on Earth Day (April 22), tens of thousands of people participated in the March for Science, held in Washington DC and 600 other cities across the globe. The event, hailed as the largest-ever demonstration in support of scientific research and evidence-based policymaking, exhibited a clear and swelling resistance to this Administration's approach to climate action.
This coming Saturday, more protesters will gather in DC and other locations for the People's Climate March to demand enhanced environmental protection. Other issues, like jobs and justice, will be addressed (for example, organizers are calling for a $15 minimum wage and worker assistance so that lower income individuals can take part in the transition to a clean energy economy.)
The goal of these marches is to transform momentum into a massive movement, eliciting a groundswell of passion that can be converted into productive activity, turning marchers into community organizers, and forcing the hand of the Administration to pivot its approach to climate action.
Let's hope that that power of the people—in conjunction with the influence of global leaders, state and local officials, and businesses—hold sway with those in Washington who would turn their backs on the reality of climate change in favor of profitability at any cost.
How do you think that we can convince the current Administration to take action with respect to our changing climate? Write to me at sara.gutterman@greenbuildermedia.com.
Want to read more? Follow me on Twitter and Facebook. For more information about green building and sustainable living, visit Green Builder Media at www.greenbuildermedia.com, like us on Facebook, and follow us on Twitter for regular updates and breaking news.