GB: Tell us why cities are an important subject, when thinking about the broader element of sustainability in the future.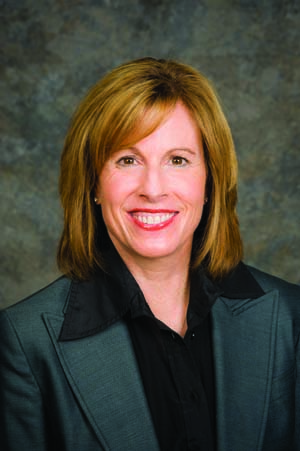 AT: The mega-trend a lot of people are paying attention to is urbanization. People globally are moving in to urban areas. About 82 percent of Americans and 81 percent of Canadians are urban dwellers now, and that trend is increasing. So cities are really looking at their long-term planning in order to accommodate growing populations, as well as populations that are living longer. Urban infrastructure, which is already stressed, is going to have to accommodate those people. There's going to have to be access to transportation and health care. Certainly there is another mega-trend at play here—climate change—so cities are looking at long-term planning through the lens of climate adaptation, too.

GB: In that context, what are some of the greatest challenges that you see in your day-to-day work?
AT:The economy has been difficult for businesses and cities in the last few years, but cities in particular are looking at the need to make great expenditures to expand and improve their aging infrastructure. Cities certainly have a shorter window of planning because their leadership changes so quickly. The mayors come in and have a very tight time frame to deliver. Their voters watch them very carefully and expect them to deliver very quickly. So we see a variety of challenges unique to cities, but what they have in common is a tight time frame to respond.

GB: I would assume, too, that there's an inherent conflict between the interests at the state level for policymakers compared to the individual cities—states, for example, where the fossil fuel industry is a big part of the state's economy.
AT: Yes, that's absolutely accurate. Smaller cities sometimes say, "It's just the big cities that get the attention and get those resources." The larger cities have growing populations and tremendous needs as well, so there can be a real tension within a state when the state government is trying to figure out how to fairly allocate resources. And that pot of resources, of course, is also shrinking. There are states where policies on renewable energy development have been put forth on a state level, and cities have the state's support for renewable energy policies they may want to enact on the city level. But there are also examples of states that have an absolutely different view about, let's say, energy efficiency and buildings, and they've enacted legislation that prohibits their cities from requiring energy efficient buildings within a city.

GB: Given that, how can someone in your line of work be most effective in regard to advancing the sustainability desires of urban centers?
AT: In a few ways. One, sustainability is a topic that really resonates within the business community, so we have a common language and some best practices and challenges that we've tackled. The health, the livability, the viability of the city is as important to a business as it is to the city government, particularly if the business has employees and operations there. My company, in particular, is a global company. We're in about 190 countries and have 390,000 employees worldwide. We often have best practice examples that may come from another country we can share with a city in the United States. So it's knitting together a network of expertise and common language, all wrapped in the fact that we have a common desire to see cities become more sustainable.

GB: Can you give us an example of something that's been applied in that way?
AT: There was a city in India trying to figure out how they could rebuild or build a new modern train hub. Their structure was literally crumbling, and they didn't have a ready source of financial assistance to get that particular building constructed. So they decided to go to the private sector, and offer the private sector a stake in creating a modern transportation hub for rail transportation. They actually gave the land to the private sector, and the private sector provided the expertise and constructed the train station.

GB: Maybe this is a good time to have you walk us through the Green Cities Index.
AT: We started it in Europe. The idea was to survey cities about what they're doing with respect to sustainability, and provide a credible report researched by the Economist Intelligence Unit. Then the cities can compare best practices and ideas from around the world. To be honest, when we put the first report out about cities in Europe, we weren't certain whether the cities that weren't at the top of the index would be happy with us. But as we've moved around the world and done these in various continents, this idea has been very well received. Cities got a little competitive and said they wanted to do better next time and beat their competitor city, but more importantly, they wanted to dive into the report to see what other cities are doing, and how they might be able to solve similar problems.

GB: How did you select which cities to include?
AT: Cities were selected based on population, so obviously there are some interesting cities doing interesting things that we didn't include in this particular index. We looked at the top 20 biggest cities in the U.S. and the top five in Canada, and compared them on nine indicators, which we broke down into sub-indicator categories. These changed a bit from continent to continent.

GB: Can you walk us through some of the results?
AT: San Francisco is at the top. What's really telling is the difference between the score of San Francisco and the scores of Detroit, St. Louis and Cleveland, at the bottom. You can see how the top ten cities stacked up, and every now and then they were tied in the areas of carbon dioxide emissions, energy efficiency, land use, building efficiency, transportation, water, waste, air and environmental governance. And that last category is not just whether they have a sustainability program in place, but whether it has "teeth"—whether it has enforcement behind it, and whether it has transparent reporting and tracking, particularly on an annual basis.

GB: Did you draw some conclusions based on what you found?
AT: Some of our overall impressions from the reports around the world show that wealth certainly helps. The cities that have a pretty high per capita GDP tend to be performing pretty well in this index. Compare cities in the developing world—where clean water and provision of energy is a baseline issue and certainly not a guarantee to the majority of the population—versus the U.S., where the differences tend to break down on aging infrastructure. But effective planning turned out to be the distinguishing indicator that we found, so a city like San Francisco, which has been carrying out sustainability programs, showed a very high level of performance.

GB: What else is noteworthy about programs like San Francisco's?
AT: There was good communication, meaning the citizenry is pitching in to help, or pressuring the city leaders to be more sustainable. Early adoption certainly shows—the longer a program has been running, the more successful it's likely to be. But there are lots of paths to success. New York, Vancouver, Denver and Los Angeles were all near the top of the Index. They're obviously very different cities.

GB: How do the U.S. and Canadian cities compare to the rest of the world?
AT:They bear pretty well in water infrastructure, recycling and environmental governance. Even though aging water infrastructure is a very big issue for a lot of cities, particularly in the U.S., they're not nearly as old as they are in other places around the world, where there may not even be developed water infrastructure. Recycling programs tend to go with wealth and cooperation, so a number of areas in the world have not even started any time of recycling program, versus San Francisco, which has a composting program and diverts a lot of its waste away from landfills. Also, because we have a system of regulation, cities are able to pass ordinances and rely on state regulations as well—they tend to have a more structured plan for sustainability than a lot of cities in the world.

GB: Okay, but what about resource consumption?
AT: Compared to the rest of the world, our carbon dioxide emissions are relatively high and our electricity usage is very high. Obviously we rely on cars more than a lot of other societies. Not only do we have more of them, we don't have the same public transportation systems designed for moving people that areas like Europe have. Our water usage is very high compared to other parts of the world, and urban sprawl, which has a great deal to do with our transportation policy, is also something relatively unique to the United States.

GB: Very interesting. Were there any other surprises as you assembled this?
AT: In putting it together, we were surprised at the lack of data, particularly the fact that we had to go back to relatively old data in order to fairly compare each city with respect to their greenhouse gas emissions. Even though some cities have put into place really aggressive greenhouse gas reduction goals, they were using different methodologies to measure their emissions, which made it very hard to compare cities. To map greenhouse gas emissions for these cities, we had to go back to a university study that was done some years ago. Cities didn't like that, because they knew they had made progress since the early 2000's.

GB:Anything else?
AT: I think the fact that New York was third overall was a surprise to a lot of people who don't necessarily think of New York as green. New York has one of the front-runner programs in sustainability, called PlaNYC. It's been in place for a while. There's annual reporting—they really put stretch goals out there and have measured themselves against the goals. They're ahead of themselves in some of their goals, like the number of trees they wanted to plant, and the fact that there's a central park in New York gave them a great land use score. In addition, the fact that so many people use public transportation in that highly dense environment put them towards the top of the Index.

GB:If you were to look into a crystal ball for some emerging opportunities and technologies around sustainability for cities, what would you see?
AT: Cities are very interested in replacing old infrastructure with infrastructure that gives them more information that they're more easily able to change and respond to from centralized locations. This could have applications in transportation flow, traffic flow, detecting leaks along their water system or even reading meters virtually without needing meter readers riding around. But cities need help with analytics, to utilize the data in ways that help them make decisions. Associated with that, cities are interested in putting more data out to the public. They want their citizens to have the information they need. Citizens are asking for that because they're accustomed to finding a lot of information on the Internet now.

GB: When we think about the development model that we have seen historically in North America, there's an old adage that people really dislike two things: density and sprawl. Yet we find ourselves making a choice between those two. Where is the middle ground?
AT: We see a lot of planning focusing around "hubs," where the area of development may not be right in the center of the most populated area in the region. It's an area that businesses can locate in, residential development can take place, schools and other types of amenities can be present. They're linked through—and this is the key—a publicly accessible transportation route to other hubs, and maybe even the center of the city. We find that where suburbs have sprung up and strip malls or large malls are the hallmark of that area, developers and city officials are beginning to realize they can build around those areas that already draw people.

GB: I see indications that there's a bit of a reverse migration taking place where some companies are looking back towards the Great Lakes region and other parts of the Midwest.
AT: That trend is likely and positively linked to manufacturing. Due to the price of natural gas, there's been a resurgence in interest in manufacturing in the United States. A lot of it is very technically advanced, which means new employment and training opportunities for people who have previously been out of work in these areas. As we see maybe more manufacturing move from overseas into that area of the country (but also from other areas of the U.S.), we see populations are heading in that direction. Civic leaders are getting excited about creating amenities for these businesses, linking them to one another and possibly creating suburban hub type situation.

GB: And is there already a trained workforce for these jobs?
AT: One thing that we've realized is that our technology manufacturing does tend to be very highly specialized, and the typical skills of a typical factory worker may not be applicable to the types of manufacturing that we're asking them to do. They may need to know more about software, for instance. We've had success in partnering with community colleges, putting together programs to train local people who may already be out of work, or young people who are just getting out of high school, to learn these very specific skills.

GB: How can builders and architects, whether they're in a leading city on the Index or a struggling city, apply the information they get on the Index to their business practices?
AT: Atlanta had this great idea. It paired smaller businesses within the core downtown area with a variety of energy service providers. They did kind of a speed-dating format, where the businesses sit in one place and different providers rotate around to talk to them. At the end, the businesses took a pledge to assess energy usage in their buildings. Oftentimes this meant they really had to work with their landlords, and that's a big challenge. So the city was able to recognize improvements after a while because, not only were the assessments done, but a number of the businesses invested in different types of capital improvements to improve their energy efficiency. A lot of these businesses never would have talked to these different idea-providers had the city not put this together.

GB: That is a great idea.
AT: A struggle that particularly very dense cities have is that many of their buildings are owned by the private sector. They don't have any control over them, even though they can put LEED and other requirements on new buildings. If you're a tenant in a building you don't own, you somehow have to band together to persuade your landlord that it's worth that company's while to install energy efficiency measures within the building. The landlord may not see the value in that, particularly if it's the tenant who gets the energy savings. That's tension a number of cities have navigated. They've required, in some cases, energy assessments on any new building, so in the next 5- to 10-year cycle you have to perform an energy assessment, in addition to having to construct your building to some sort of LEED standard. Some have approached it more competitively, so this building can earn an energy label, recognized by the city.

GB:Can you give us a final thought our readers can take away?


AT

: I think the greatest challenge cities will face, especially those that have made great progress and have plans in place, is sustaining that momentum. Once they are more energy efficient, let's say, it becomes more difficult to find the next source of greater efficiency, and businesses face that as well. And that's where real transformational changes can take place, beyond the low-hanging fruit. It will take a very engaged public demanding that those changes take place. I think it's a very exciting time.