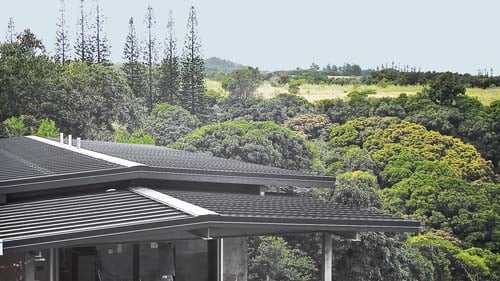 Standing seam metal roofs have proved to be challenging for solar installs due to the logistics of how to install racks without ruining aesthetics. Sunflare's PowerFit 20 flexible solar panel conquers those problems. Designed to be practically invisible upon install, PowerFit 20 is custom fit to sit between the seams of the roof and can cover the entire thing, regardless of length.
There are also no roof penetrations needed, making installations fast, easy and low cost. The modules' butyl adhesive backing provides a secure hold that can withstand gale force winds. Because the modules are less than 2 millimeters thick—15 times thinner than silicon panels—and only about one-third as heavy, staging at the installation site takes less than one-quarter as long as staging with traditional panels.
As with all Sunflare modules, PowerFit 20 includes a bypass diode for each individual cell—when a cell is shaded, only that individual cell is inactive. Traditional solar panels have a bypass diode per string of cells, meaning that if just one cell is covered, the whole string will not produce power. If the shade is across a single row, the entire panel can be knocked out.
For more information: sunflare.sunflaresolar.com/powerfit-20