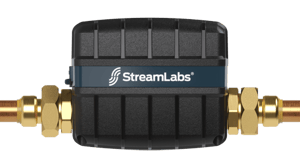 The new ultrasonic StreamLabs Control valve allows monitoring of water use, checking for leaks and turning water off with a smartphone. The device is truly "smart" in that it can learn water use patterns and tip users off to abnormalities, such as excessive flow, or too-high or low pressure, humidity or water temperature. There's also a downloadable drip alert app, Drip Detect, which can be checked daily, weekly or monthly. And, it has Home and Away modes to ensure household protection whenever needed.
StreamLabs Control is compatible with iPhone, iPad and Android phones and tablets, and it integrates with Google Nest and Amazon Alexa for smarthome-style monitoring. API access is available upon request.
The unit's compact size makes it less-obtrusive than competing products. Installation is fairly simple; owners pretty much need to know how to cut the piping. A caveat: The unit is rated only for indoor use or within a weather-proof enclosure. StreamLabs hopes to have an outdoor-compatible unit on the market soon.
For more information: www.streamlabswater.com/control