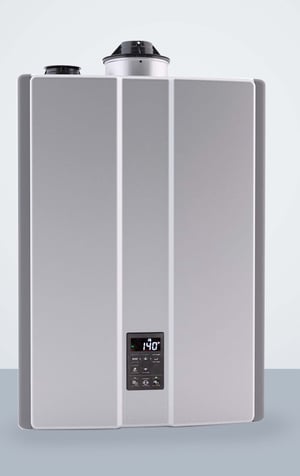 Always an innovator, Rinnai continues to provide homeowners with solutions that are designed to promote comfort while advancing domestic hot water production through compact design, ease of installation and service, and use of emerging technologies. Add the company's I-Series Boiler line to the list of accomplishments.
The I-Series Boiler has a unique advantage to homeowners with the ability for simultaneous usage of home heating and domestic hot water production. That means if the heat is running and someone in the home wants to take a shower, the heat is not interrupted as it is with many traditional boilers in existing homes. The technology also includes an innovative bypass servo valve, which enables precise control of the hot water temperature. This boiler is available in both combi and heat-only models and comes standard with multi-zone heating control.
As with Rinnai's best-selling tankless water heaters, the company manufactures many of the key components and utilizes high-quality materials. This further enables Rinnai to maintain control of the quality of the product.
For more information: www.rinnai.us/i-series-boiler