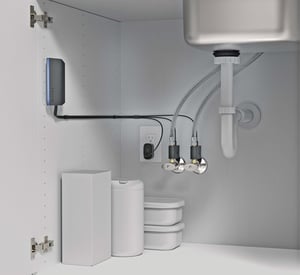 The Phyn Smart Water Assistant is Phyn's new do-it-yourself, whole-home smart water monitor system that provides powerful leak detection and detailed insights on water usage data, all in a compact form that's easily installed under a kitchen sink. With Phyn, users can see exactly how much water they are using in the shower, when washing dishes or watering the lawn so they can take direct actions to conserve water and save money.
There's even more smartness to this water assistant. In the event of a major leak, SWA can connect homeowners to a local plumber in minutes. Over time, the tool learns a home's system and shares water usage down to each fixture. SWA's patented pressure sensing sees ice crystals forming in pipes before they have a chance to freeze and burst, allowing time to take action and avoid damage. And, Phyn's Plumbing Check feature can detect a range of hidden flaws like poor seals and pinhole leaks in a home's water system.
The Phyn Smart Water Assistant works seamlessly with Amazon Alexa and Google Assistant. And with IFTTT, users can have Phyn trigger actions with other smart home devices.
For more information: www.phyn.com