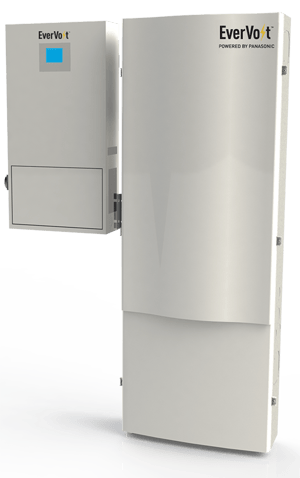 Panasonic, the world's largest maker of lithium-ion batteries, is taking a universal approach with its EverVolt residential energy storage system. The new solar product is compatible with any solar system or inverter and can be tailored to a homeowner's individual needs.
The company is offering EverVolt in AC- and DC-coupled versions, both of which can be scaled down to 5.7kWh of energy storage or expanded to 100kWh. The 5.7 kWh "mini" version has an average backup capability of three hours, the 11.4 kWh "standard" version can run six hours and the 17.1 kWh "plus" model stores up to nine hours of reserve power. The DC version allows unused solar panel-collected energy to flow directly to the battery, an efficiency plus.
In addition, EverVolt requires only a one-person installation and is field serviceable. It also comes equipped pre-programmed time-of-use settings to help manage energy consumption and operating cost, advanced software and a user-friendly app for homeowners, allowing customization between multiple operating modes' visibility into system status.
For more information: www.panasonic.com