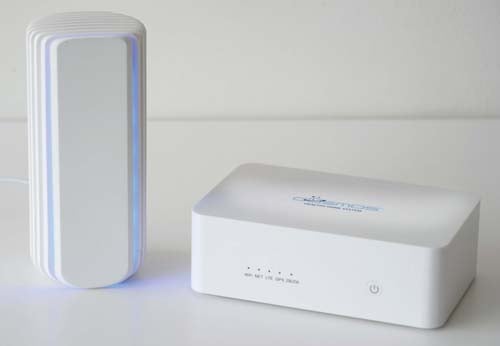 Cosmos Healthy Home System is Panasonic Life Solutions Company America's vision for a suite of indoor air quality (IAQ) products, representing a realignment of the company's new and existing technology. This system's approach integrates indoor air filtration, pollution sensors and ventilation in new ways. Rather than a single product that meets "Healthy Home System" tests, Cosmos adjusts indoor air quality automatically and continuously.
The unit is a complete, professionally installed healthy home system. It continuously monitors four potentially harmful air quality problems: Volatile organic compounds (VOCs), 2.5 M. particulates, CO2, and relative humidity. When air quality is out of range, the unit will activate using Panasonic's WhisperGreen Select, WhisperFresh Select and WhisperHood IAQ to return air quality to normal levels. The Cosmos mobile app is loaded onto a smart device and is used to monitor system operation. The app can be also be used to control fan operation manually, when additional ventilation is needed.
Cosmos is fully customizable, adaptable to any size home.
For more information: na.panasonic.com/us/cosmostm-healthy-home-system