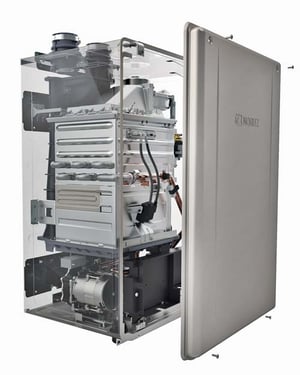 Noritz engineers take their job as innovators and quality controllers seriously. Remove the cover from one of their gas hot water heaters, it looks like the work of a talented watchmaker-turned-engineer.
The NRCR condensing tankless water heater reduces resource waste by combining the high efficiency of condensing technology hot water recirculation. A fully integrated circulating pump inside the NRCR keeps hot water close to even the most distant outlets in the home, minimizing waste of unused potable water. The NRCR heats water strictly on demand, saving energy by eliminating the need to constantly reheat a full storage tank, as with a conventional water heater.
Moreover, the NRCR condensing tankless water heater is made of longer-lasting materials. For example, the unit's two heat exchangers are high-grade stainless steel, so Noritz can offer a 15-year warranty and extend the life cycle of the product. The NRCR also comes with a five-year warranty on parts, and one full year on labor.
For more information: www.noritz.com