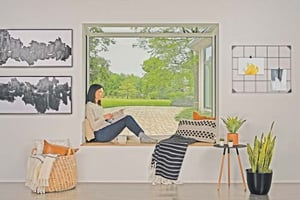 If a home's footprint seems too small, window maker Marvin has a way to easily add a few more square feet per room. The Skycove is a fully constructed, immersive low-e3 glass alcove that extends the functional living space within a home by up to 20 square feet.
Sightlines of less than 3 inches, including vertical posts, create a seamless connection to the outdoors and more light than traditional rough openings. The cantilevered structure provides unique, elevated vantage points and the top glass opens the view to the sky above. The unit can handle more weight than the average outdoor deck—roughly 60 pounds per square foot vs. 50 pounds—without additional structural support.
The depth of the seat is half the width of a queen-sized bed and the largest-sized unit is 8.5 feet long, easily large enough for two but cozy enough for one.
An aluminum interior provides a clean aesthetic with elemental material, and its seating bench can be finished to suit any design style. Skycove comes with an insulated seat base with a color-matched aluminum soffit system so no additional exterior finishing work is needed.
For more information: www.marvin.com