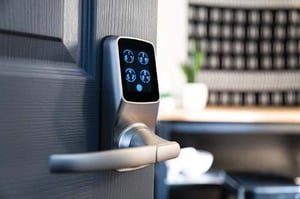 Lockly creates smart security solutions that can be installed onto any door, and provides users with maximum security and convenience. That means heading into high-tech territory with Lockly Secure, a smart lock with amenities such as 3D biometric fingerprint sensors, smartphone-enabled locks and security-enhanced digital displays.
Access codes are a big part of Lockly's success. A mobile app quickly locks and unlock doors and easily creates access codes for family, friends and property tenants. Lockly Secure Pro technology also includes sensors that always monitor door status, and status checks status using the mobile app or voice via Amazon Alexa and Google Home.
All Lockly smart locks are equipped with the company's award-winning, patented PIN Genie software that provides an extra layer of security by scrambling the numbers on the digital display so that they are not stationary and located in the same spot every time. Lockly Secure is also the only smart lock able to generate multiple access codes without an internet connection. This feature is extremely useful for quickly sending remote access codes to any Lockly Secure location without having to rely on Wi-Fi—perfect for multiple home and office locations.
For more information: www.lockly.com