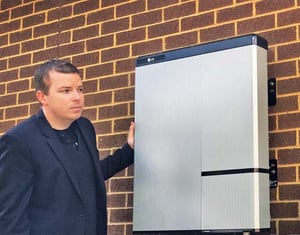 LG Chem has been a player on the solar battery scene for some time now, and its RESU power cell is a major part of the North American market. But the company has upgraded its RESU line with a foray into the high-voltage arena (10H), making it an even greater option in residential energy storage.
The RESO 10H Type R is a powerful player: It utilizes 10kWhr of lithium ion cells rated to 6,000 cycles or more, and the RESU system is modular, allowing multiple battery products to be added to a storage setup if energy demands require it. The batteries are capable of peak shifting for charging during off-peak times and discharge during peak times. And, the batteries can be integrated with renewables, allowing for stabilizing intermittent power by alternating between charging and discharging.
RESU's compact and lightweight nature is designed to allow easy wall-mounted installation. The inverter connections have also been simplified, reducing installation time and costs. Each battery retains at least 80 percent of Nominal Energy for 7 years after the date of invoice and at least 60 percent of Nominal Energy for 10 years after install.
For more information: www.lgchem.com