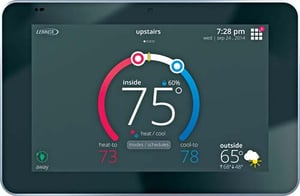 Lennox is known for its line of smart thermostats, has grown exponentially with its iComfort series. The iComfort S30 Ultra Smart Thermostat offers homeowners technological assets in the way they heat their home and keep their household air clean.
Mother Nature is a big part of the smart thermostat's appeal. The iComfort S30 offers seven-day weather forecasts and air quality conditions for the homeowner's local area, so they always know what's going on outside. The thermostat has a "Feels Like" temperature, similar to a weather report, which takes into account indoor and outdoor temperature and humidity to make the home feel exactly like the homeowner wants. S30 also monitors air quality and pollen levels in a homeowner's ZIP code and automatically turns the fan on to clean the home's air when outdoor levels are high.
The iComfort S30 is compatible with Amazon Alexa. Compatibility with Apple HomeKit allows thermostat control via Siri on a smartphone, and it can be paired with an iPad, Apple TV or Apple HomePod. In addition, the "Smart Away" mode works with a smartphone app to detect when the homeowner leaves and returns to the home, automatically adjusting the system to an energy-saving mode.
For more information: www.lennox.com