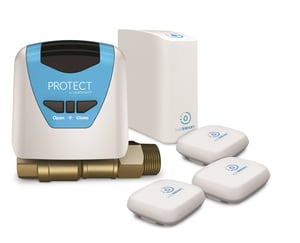 Water damage is no fun—ask any homeowner who has spent thousands of dollars repairing walls or floors, or replacing furniture due to an exploded pipes or cracked water lines. Protect by LeakSmart with Flow is a leak detection system designed to automatically prevent such disasters.
A key innovation is LeakSmart's auto-shutoff capabilities. When unwanted water is detected, the LeakSmart sensor springs into action, sounding an alarm, sending an alert and prompting the system's valve to shut off the main water supply. This fast response can prevent rapid and costly damage that results in significant wasted resources for repairs and replacement of floors, walls and ceilings. About 40 percent of damaging leaks come from appliances, 40 percent from in-wall leaks and 20 percent from natural flooding.
Another innovative feature of this system is its ability to continue monitoring for leaks during a power outage, as there is battery power for the hub and the shutoff valve. Homebuilders and homeowners alike are protected with LeakSmart's five-year manufacturer's warranty when purchased and installed by a professional installer.
For more information: leaksmart.com