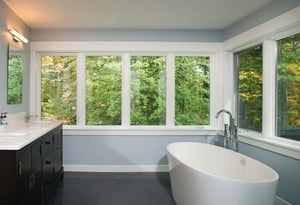 New construction or replacement projects with short lead times can benefit from a strong, stylish window that can be quickly installed. Kolbe Windows' Forgent Series is a high-performance product line constructed of Glastra® —a proprietary hybrid of fiberglass and UV-stable polymer formulated for strength and resilience.
The advanced ladder design adds strength, while promoting long-term durability and energy efficiency for comfortable homes. An integral nailing fin and welded sash and frame provide rigidity—keeping units square, and preventing air and water from entering the joint. It also requires fewer sealing points and is more-rigid than a traditional fin.
A glazing bead receptor helps create a clean breakpoint during painting and staining. An accessory groove allows for quick installation of exterior accessories without additional clips. And, dry-glazed sash allows for serviceable sash and components.
Adapting to the market's aesthetic and performance demands, Forgent Series windows and doors are engineered with Glastra on the exterior, and a choice of wood or Glastra on the interior, both with popular select finishes. The windows' energy efficiency and durability also lead to fewer callbacks, which saves time and money, and keeps customers happy.
For more information: www.kolbewindows.com/Forgent