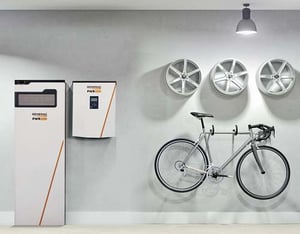 Backup batteries are pretty much a requirement for anyone who wants to get the most out a photovoltaic system when the sun isn't out. But they can be unwieldy and hard to upgrade if energy needs change. Generac's PWRcell offers a customizable power storage system that breaks a few rules but not installers' backs or homeowners' budgets.
PWRcell's modular battery pack system ranges from 8.6kWh to 34.2kWh, and can be increased as needed by simply adding more battery packs to the unit. There's a lot of power potential here: The lightest-capacity configuration has enough surge power to start an air conditioner or sump pump and offers enough continuous output to run most homes.
Meanwhile, the heaviest individual component of the system weighs less than 75 pounds, compared to components that weigh several hundred in competitors' systems. Those units typically require at least two installers, making installation more expensive for consumers and more labor intensive for contractors.
And, an optional, downloadable PWRview app enables users to track power generation, daily energy consumption and battery usage, giving homeowners a way to keep their energy bills in line with their household budgets.
For more information: generac.com