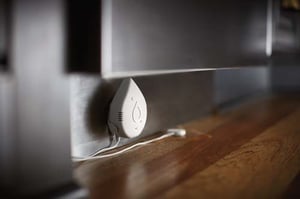 Moen and partner Flo Technologies have become household names in home water security. Its Flo by Moen Smart Water Shutoff already gives homeowners a way to detect leaks and turn off household water via their smartphones to prevent damage to walls or floors. Now, the company's Smart Water Detector ups the ante.
Smart Water Detector is a standalone, 3.5-inch sensor that can be placed anywhere in a house to alert users if, and when, it detects moisture to help prevent water damage and loss. If the detector senses the presence of water, freezing temperatures or high humidity, it will alert users through a push notification in the Flo by Moen and Moen smartphone apps. Homeowners can use and connect multiple detectors within their home and if they also have the Smart Water Shutoff, a leak sensed by the Smart Water Detector can automatically trigger the shutoff feature to protect the home from water damage.
The Smart Water Detector can also work independently from the Smart Water Shutoff, giving consumers the opportunity to achieve smart home water management at any reasonable budget.
For more information: www.moen.com