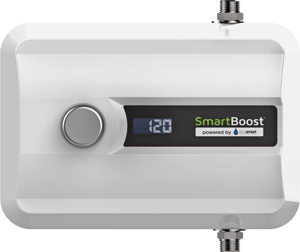 When it comes to showering, the biggest concerns are how long it will take to get hot water and how long it will last. EcoSmart's SmartBoost, which connects directly to the water tank's hot water outlet, enables homeowners to increase the efficiency and performance of their existing gas or electric water heater by 45 percent. This gives it the power of a much larger tank without the installation and renovation costs.
SmartBoost also delivers eco-friendly benefits by activating only when the tank can't keep up with the hot water demanded. When paired with an electric tank, SmartBoost helps save energy and money while homeowners are away through an eco mode and a vacation mode.
Other cosmetic elements include advanced, self-modulating technology, which adjusts energy needs based on how much warm water is needed; a digital display showing outlet temperature, which can be adjusted in single-degree increments; durable heating elements that are threaded for easy replacement; and compact size maximizes valuable storage space. And, homeowners can use their existing electric tank wiring to connect SmartBoost. EcoSmart provides straight forward installation instructions that a savvy do-it-yourselfer can follow.
For more information: www.ecosmartus.com