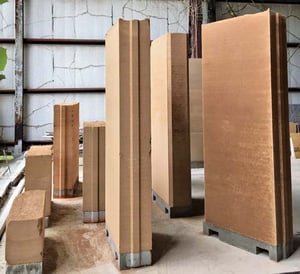 One could use the cliché about how ecoearthwalz' product is dirt cheap. But instead, we'll stick to the fact that this company's construction component is as nature friendly as anyone could hope to find. These prefabricated earth walls are literally made with sub-soil and water. The manufacturer puts them on par with the Great Wall, which has survived for thousands of years without cement or rebar. No one is looking for that kind of longevity here, but they could last "most likely longer than you live."
Once suitable foundation and stem walls are in place at construction site, prefab earth walls up to 2 feet thick, 80 inches long and 10 feet high are delivered to site and installed. Walls for a single-story house can be installed within hours. If desired, walls can be painted and waterproof walls with all-natural eco-friendly materials.
Earth walls are nontoxic and mold-resistant, fireproof, soundproof and pest proof, and can withstand hurricanes, tornadoes and earthquakes, depending on structure. They also have a strong thermal mass, which helps to passively regulate internal temperature and humidity, reducing use of mechanical heating and cooling.
For more information: ecoearthwalz.com