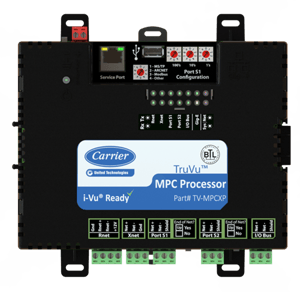 For those with a large investment in HVAC units—such as owners of apartment buildings or senior living complexes—Carrier's TruVu multi-purpose control (MPC) platform can make life a lot easier. TruVu can control multiple pieces of HVAC equipment simultaneously, making it ideal for rooftop units and air handlers.
TruVu includes a comprehensive library of factory-engineered control programs. These programs have been designed and tested to work with both air-side and water-side HVAC systems—without the need for custom programming, saving engineers valuable time. In the event that customization is needed, Carrier's SNAP graphical programming tool can modify the library control programs or create new ones from scratch.
Other features include support for up to nine I/O expansion modules in a compact configuration or remotely mounted up to 1,000 feet away; access to Carrier's communicating sensors for sensing environmental conditions such as temperature, humidity and CO2 in a building; and built-in diagnostic tools to help operators troubleshoot BACnet network communications as well as capture BACnet traffic.
For more information: www.carrier.com